Ethnic Conflict and Civic Life
WARNING
You are viewing an older version of the Yalebooks website. Please visit out new website with more updated information and a better user experience: https://www.yalebooks.com
Hindus and Muslims in India
Second Edition
Ashutosh Varshney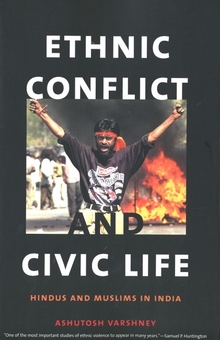 View Inside
Format:

Paper


Price:

$23.95
Also Available in:
Cloth
e-book
What kinds of civic ties between different ethnic communities can contain, or even prevent, ethnic violence? This book draws on new research on Hindu-Muslim conflict in India to address this important question. Ashutosh Varshney examines three pairs of Indian cities—one city in each pair with a history of communal violence, the other with a history of relative communal harmony—to discern why violence between Hindus and Muslims occurs in some situations but not others. His findings will be of strong interest to scholars, politicians, and policymakers of South Asia, but the implications of his study have theoretical and practical relevance for a broad range of multiethnic societies in other areas of the world as well.

The book focuses on the networks of civic engagement that bring Hindu and Muslim urban communities together. Strong associational forms of civic engagement, such as integrated business organizations, trade unions, political parties, and professional associations, are able to control outbreaks of ethnic violence, Varshney shows. Vigorous and communally integrated associational life can serve as an agent of peace by restraining those, including powerful politicians, who would polarize Hindus and Muslims along communal lines.
Ashutosh Varshney is Sol Goldman Professor of International Studies and the Social Sciences and Director of the Brown-India Initiative at Brown University.
"Varshney's rich findings about what types of civil society organizations and activities help contain religious conflict—and which do not—open up a whole new agenda for theorists and activists alike."—Alfred Stepan, author of Arguing Comparative Politics


"A landmark synthesis. Varshney's comparison of communal violence and tranquility in urban India is lucid, theoretically self-conscious, original, and empirically convincing. It should launch a veritable flotilla of comparable studies of civil life in its admirable wake."—James C. Scott, Sterling Professor of Political Science and Anthropology, Yale University


"Ethnic Conflict and Civic Life is an outstanding work of social science, one of the most important studies of ethnic violence to appear in many years. Through systematic, comparative analysis, Varshney develops a compelling explanation of why Hindu-Muslim violence has occurred in some Indian cities and not in others. This book will decisively shape future scholarly research on this subject and deserves to have an important impact on public policy concerning ethnic conflict."—Samuel P. Huntington, author of The Clash of Civilizations and the Remaking of World Order


"South Asia scholars and social scientists will have to read Varshney, they will cite him, and they will learn from him."—Susanne Hoeber Rudolph, University of Chicago


"
Ethnic and Civic Life is
bound to become a classic, since it provides the most comprehensive data on communal riots in India and is a fascinating attempt at disaggregating the national scenarios by comparing local situations. The clarity of Varshney's exposition needs to be emphasized, too: He manages to make social theory without any jargon."—Christopher Jaffrelot,
apsanet.org
"A timely, groundbreaking study of Hindu-Muslim conflict. . . . With statistical research supplemented by surveys and interviews, Varshney . . . documents that communal violence has afflicted some parts of India but not others, and offers an insightful explanation that just might apply to other nations that have experienced intergroup conflicts, including ours. . . . Varshney's overall thesis that civic associations built around common interests can prevent communal violence in the only democracy larger than ours is something to contemplate as America grows more diverse."—Kenneth J. Cooper, Boston Globe


"Varshney's scholarly and sober treatise provides an important counterweight to those who argue that Islam is inherently violent and that multi-racial, multi-religious societies are doomed to failure."—Karim Raslan, Business Times


"A welcome addition to the literature on religious conflicts in India, as well as to political science literature on ethnic conflicts more generally."—Katharine Adeney, Carnegie Council on Ethics and International Affairs

"Varshney's analysis is an example of social science at its best. . . . Brilliantly conceived and executed"—Choice


"In an ingenious research design, Varshney demonstrates that the key factor differentiating cities that experience periodic and gruesome communal violence from those that do is the . . . existence of networks of associations that include members from both religious communities. Varshney has taken us a long way in understanding intra-Indian variations in communal violence, and he leaves a set of unanswered questions for future research. What more can be asked from a work of social science?"—David Laitin, Commonwealth and Comparative Politics


"Apart from the immediate policy relevance of Varshney's book, his material also makes a lasting contribution to our understanding of how to tackle the roots of communal violence in India. This is an issue that Indian policymakers have ignored for too long. Perhaps Varshney's book can help close that gap."—Radha Kumar, Foreign Affairs


"This is a long and detailed book, well argued and not marred by any kind of wishful thinking. There is a fascinating, most scholarly investigation and analysis of some of the colossal problems faced by India."—Robert Govender, The Asian Post


"This book is carefully argued and researched, and represents a major contribution to the subject."—Bhikhu Parekh, Times Higher Education Supplement
"Varshney's book could not be more timely. . . . Varshney's analysis of localized Hindu-Muslim conflict is convincing. His book, a decade in the making, is exhaustively researched, meticulously documented, persuasively argued."—Mira Kamdar, World Policy Journal

"[Varshney's] book, a decade in the making, is exhaustively researched, meticulously documented, persuasively argued."—Mira Kamdar, World Policy Journal
 

"These limitations apart, Varshney's work offers refreshing insights about ethnic conflicts and violence in multiethnic societies and is a must read for students of South Asia, as well as students of politics, history, sociology, and cultural anthropology."—Manish Kumar Thakur, The Journal of Asian Studies
Winner of the 2003 Gregory Luebbert Prize, awarded by the American Political Science Association
Named a "Notable Book" in 2002 by the Kiriyama Prize
ISBN:
9780300100136
Publication Date:
February 8, 2003
400 pages, 6 1/8 x 9 1/4
1 map + 29 charts