Ireland's Holy Wars
The Struggle for a Nation's Soul, 1500–2000
Marcus Tanner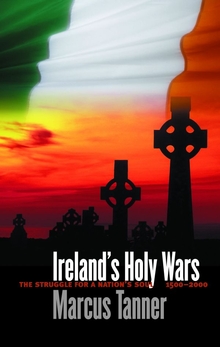 View Inside
Format:

Paper


Price:

$47.00
Also Available in:
Cloth
For much of the twentieth century, Ireland has been synonymous with conflict, the painful struggle for its national soul part of the regular fabric of life. And because the Irish have emigrated to all parts of the world—while always remaining Irish—"the troubles" have become part of a common heritage, well beyond their own borders.

In most accounts of Irish history, the focus is on the political rivalry between Unionism and Republicanism. But the roots of the Irish conflict are profoundly and inescapably religious. As Marcus Tanner shows in this vivid, warm, and perceptive book, only by understanding the consequences over five centuries of the failed attempt by the English to make Ireland into a Protestant state can the pervasive tribal hatreds of today be seen in context. Tanner traces the creation of a modern Irish national identity through the popular resistance to imposed Protestantism and the common defense of Catholicism by the Gaelic Irish and the Old English of the Pale, who settled in Ireland after its twelfth-century conquest.

The book is based on detailed research into the Irish past and a personal encounter with today's Ireland, from Belfast to Cork. Tanner has walked with the Apprentice Boys of Derry and explored the so-called Bandit Country of South Armagh. He has visited churches and religious organizations across the thirty-two counties of Ireland, spoken with priests, pastors, and their congregations, and crossed and re-crossed the lines that for centuries have isolated the faiths of Ireland and their history.
Marcus Tanner, formerly assistant foreign editor of the London Independent, is the author of Croatia: A Nation Forged in War, also published by Yale University Press.
"[Ireland's Holy Wars] is one of the best-written things about Irish history and culture. . . . [Tanner] combines the sense of history that comes from the study of complex sources with the insight of a journalist who can rivet readers with a telling anecdote or aside. . . . Those who want a well-written and engaging religious history of modern Ireland could not do much better than this."—Ronald A. Wells, Christian Century


"Meticulously researched and vividly rendered, this is an authoritative exploration of the enduring conflict in Ireland—and the people who help to sustain it. . . . In this compellingly written book, McCormack assembles a mass of information across a vast canvas of Irish history in a remarkably short space."—Irish Echo

"[Ireland's Holy Wars] is a significant contribution to the popular history genre, rooted as it is in a good spread of primary and secondary resources and ample footnotes, providing a narrative that rarely has one wondering as to where it is going. The book should appeal to historians and lay folk alike. While filling a gap in the literature, it is also welcome for its relatively detailed and compelling overview of an ever-relevant subject."—John Fulton, Irish Economic & Social History


"I enjoyed Marcus Tanner's Ireland's Holy Wars very much. It is full of incident and of new sidelights on Irish history. . . . Tanner has been able to assemble a mass of information across a vast canvass of Irish history in a very short space."—Irish Independent


"The spirit of inquiry and engagement—not judgment—infuses this succinct, occasionally ironic, elegantly written work of Ireland's past. Fine theological discrepancies are central to the book and interestingly meshed with the relentless emergence of the Irish nation. . . . Tanner's sustained viewpoint makes his book a pleasure."—Kate Bateman, Irish Times


"Tanner painstakingly scrutinizes the Irish struggles of the last half-millennium through the lens of religion which by necessity brings to bear facets of ideology, class, politics, and the distribution of wealth and power. . . . [A] marvelously detailed study."—Kirkus Reviews


"Superbly researched and intelligent."—Colm Toibin, New York Review of Books


"[S]alient points in a coherent history make this a provocative read."—Publishers Weekly


"[This book] is excellent, readable, controversial and original. It contains much material that informed readers will encounter for the first time."—John Bruton, The Daily Telegraph


"Tanner's book is astute, well-written, and formidably researched, drawing on both primary archival research and previous scholarship and supplemented by his journalistic investigations."—Fintan O'Toole, The New Republic



"The general reader . . . will be grateful for a balanced conspectus of five centuries of religious and political conflict. Catholics in particular will gain from it a deeper understanding of the historical factors which have made Irish Catholicism so strongly entrenched and at the same time so vulnerable."—The Tablet


"This is a compellingly written book, refreshingly free from jargon. It is well balanced and fair and never stereotypes its subjects. . . . . The whole narrative is enriched by local portraits and personal stories, which illustrate general trends more powerfully than many more detailed academic studies. It is a successful example of the very best history-writing; learned, balanced and thoroughly readable."—Marianne Elliott, Times Literary Supplement


ISBN:
9780300092813
Publication Date:
January 27, 2003
532 pages, 6 1/8 x 9 1/4
36 b/w illus.