The Georgians
WARNING
You are viewing an older version of the Yalebooks website. Please visit out new website with more updated information and a better user experience: https://www.yalebooks.com
The Deeds and Misdeeds of 18th-Century Britain
Penelope J. Corfield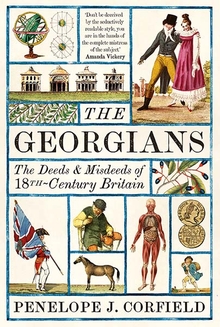 View Inside
Format:

Hardcover


Price:

$38.00
Also Available in:
Paper
A comprehensive history of the Georgians, comparing past views of these exciting, turbulent, and controversial times with our attitudes today
 
The Georgian era is often seen as a time of innovations. It saw the end of monarchical absolutism, global exploration and settlements overseas, the world's first industrial revolution, deep transformations in religious and cultural life, and Britain's role in the international trade in enslaved Africans. But how were these changes perceived by people at the time? And how do their viewpoints compare with attitudes today?
 
In this wide-ranging history, Penelope J. Corfield explores every aspect of Georgian life—politics and empire, culture and society, love and violence, religion and science, industry and towns. People's responses at the time were often divided. Pessimists saw loss and decline, while optimists saw improvements and light. Out of such tensions came the Georgian culture of both experiment and resistance. Corfield emphasizes those elements of deep continuity that persisted even within major changes, and shows how new developments were challenged if their human consequences proved dire.
Penelope J. Corfield is professor of history at Royal Holloway, London University; president of the International Society for Eighteenth-Century Studies; and an optimist. Her books include Time and the Shape of History and Power and the Professions in Britain 1700–1850.
"The novelist Brigid Brophy wrote that "the two most fascinating subjects in the universe are sex and the eighteenth century". Corfield's comprehensive survey of the Georgians assembles evidence for this claim: their deeds and misdeeds, their contributions to cultural and scientific progress and their pursuit of empire and enslavement are a hotly disputed legacy."—Ruth Scurr, Financial Times
"This book is a delight, stuffed with good things. . . . A fascinating . . . richly informative book."—Andrew Taylor, The Times, (Book of the Week)
"Corfield's book is full of such intriguing little nuggets. . . . One of the strengths of Corfield's survey of the Georgians is that she finds lots of room for eccentric and contradictory voices."—Dominic Sandbrook, Sunday Times
"An ambitious chronicle . . . Corfield can write with confidence and authority about the whole sweep of the period because she has already contributed greatly to our knowledge of developments that shaped the age . . . She gives the period a dynastic label, but is well aware that other tags could be applied to it."—Judith Hawley, Times Literary Supplement
"A fascinating book . . . Corfield's grasp and authority are evident throughout. Despite making occasional reference to modern intellectual heavyweights such as Gramsci or Habermas, she maintains a lightness of phrase that makes her book never less than enthralling."—Wynn Wheldon, Spectator
"Offers a clear, comprehensive and enthusiastic survey of public and private customs and practices. . . . The Georgians is manifestly the work of someone who has thought and written about this period for decades."—Freya Johnston, Literary Review
"Whether you are familiar with the age, or one wishes to be introduced to the Georgians, there is much that will satisfy you in this wonderful and wise account."—Richard Foreman, Aspects of History
"A magisterial recreation and analysis of the long eighteenth century in Britain from one of the key architects of this vibrant field; commanding in range, pellucid in prose, brilliant in argument and salted by a sly, dry wit throughout. Decades of learning are worn so lightly, but don't be deceived by the seductively readable style, you are in the hands of the complete mistress of the subject."—Amanda Vickery, author of Behind Closed Doors
"A magnificent book of astonishing depth and range that addresses the complexity of the Georgians and their many legacies with Corfield's formidable insight, expertise and clarity. The book puts the Georgians in conversation with our own time. Without doubt, this is an account of the Georgians of and for the 21st-century."—Karen Harvey, author of The Imposteress Rabbit Breeder: Mary Toft and Eighteenth-Century England
"The Georgians are given to us as an argumentative, opinionated and very lively lot. A major work based on a lifetime of research, this wonderful survey helps us to understand an amazing society which was, perhaps, more than the sum of its parts"—Frank O'Gorman, author of The Long Eighteenth Century
"The Georgians come alive in Penelope Corfield's elegantly written account. The experiences of individuals from all levels of society provide a compelling and accessible understanding of major themes in a crucial period of British history."—Martin Daunton, author of Wealth and Welfare
ISBN:
9780300253573
Publication Date:
February 8, 2022
488 pages, 6 1/8 x 9 1/4
32 color + 5 b/w illus.