Vulcan's Fury
WARNING
You are viewing an older version of the Yalebooks website. Please visit out new website with more updated information and a better user experience: https://www.yalebooks.com
Alwyn Scarth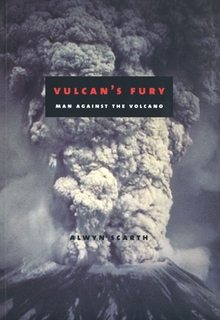 View Inside
Format:

Paper


Price:

$24.00
Also Available in:
Cloth
Volcanic eruptions are the most spectacular displays in the natural world. They also present humanity with devastating environmental disasters. This enthralling book describes fifteen of the most remarkable volcanic eruptions across the centuries and, using rare firsthand accounts, analyzes their impact on the people in their paths.

In 79 a.d. Vesuvius produced the most violent eruption recorded in European history. The eruption of Etna in 1669 marked the first known attempt to divert a lava-flow. In 1783, the eruption of Laki indirectly killed a fifth of the Icelandic population and sent a blue haze over Europe. The eruption of Krakatau in 1883 drowned most of its victims and destroyed much of the island as well. In 1980 Mount St. Helens produced a new type of eruption and scythed down a majestic forest. Alwyn Scarth explores these and other eruptions, reconstructing the physical experience of the disaster, its origins, explosion, and aftermath, and interpreting (in many cases for the first time in English) eyewitness accounts that bring their own vividness to the unfolding drama. The accounts tell of fear, panic, miscalculation, and inefficiency as well as emergency organization, self-sacrifice, religious fervor, and heroism, revealing how each affected population handled—or mishandled—its crisis. Scarth's riveting survey shows that technology and volcanic surveillance have made enormous strides during the present century. But volcanoes remain indomitable: no one has yet learned how an eruption can be stopped.
Alwyn Scarth was lecturer in geography at the University of Dundee. His most recent book is Savage Earth.
A selection of the Natural Science Book Club

"Gripping and richly illustrated. . . . Scarth's book manages to be strangely entertaining."—Robert Kunzig, Discover
"Scarth is a gifted writer and his accounts of events are written in an appealing style, imaginative but short on bombast, sensitive but not sentimental. . . . Those interested in the historic details and odd tangential happenings during past eruptive events will have a field day with the volume. The general public with a passion for volcanoes can find a lot of interesting material here, and will probably constitute the main customer base. . . . This book provides high value for the money for those interested in the details of the historic, social, and psychological aspects of volcanic crises."—Johan C. Varekamp, EOS
"A new subdiscipline has opened up in the past decade or so, dealing with the problems of contemporary geological disaster management, as well as the effects of past disasters on historical societies. Vulcan's Fury is an excellent case-study introduction to this field. . . . I found myself greatly impresses by a well-written account of the effects that volcanoes have had on society."—Michael Ort, Geographical Review

"I found the accounts of each of these contrasting events compelling and highly informative, from both geological and sociological perspectives. . . . [Scarth] is to be congratulated on an excellent book that is easy to read, difficult to put down, and deserving of a very wide audience."—Peter Cattermole, Interdisciplinary Science Reviews
"Scarth . . . presents an informative and interesting collection of case studies that deal with human responses to volcanic activity throughout history. . . . Appropriate supplementary reading for any science or non-science university-level course dealing with natural hazards, environmental geology, or volcanology. . . . Vulcan's Fury is a worthwhile read for anyone with an interest in the interaction of humans and nature."—Gregg J.S. Bluth, Journal of Geoscience Education


"Eerie stories of 15 volcanic eruptions (of the geological variety), with much of the source material drawn from eyewitnesses and contemporary accounts and appearing in English for the first time, from geographer Scarth. . . . Writing with enthusiasm and vigor . . . Scarth displays considerable yarn-spinning talent in these scary narratives, and to know that they come unadorned with tall talk makes them that much more hellish."—Kirkus Reviews
"In a neatly interdisciplinary work, Scarth describes 15 volcanic eruptions important to earth science or to human history, from Italy's Stromboli and Vesuvius to Mount St. Helens, Pinatubo, and Nevado del Ruiz, in Colombia, whose eruption melting a mountain's ice cap, creating horrific floods. Scarth weaves together geology, sociology, folklore, politics and history. . . . Scarth's readers will learn what authorities now know about how to predict and prepare for big eruptions and the riveting accounts he provides of each calamity, eye-witness and secondhand, display the fascination that leads so many scientists to risk their lives to study volcanoes."—Publishers Weekly
"From the eruption at Stromboli in 79 A.D. to that in Pinatubo in 1991, Scarth recounts 15 of the world's most remarkable volcanic eruptions through accounts and photographs by witnesses. Scarth, a British geologist, exhaustively surveyed ancient texts—some appearing here in English for the first time—and reports from people who experienced volcanic eruptions firsthand. From his own perspective, he speculates on the origins and differentiating factors of each volcanic event. Scarth aims to maintain the integrity of the personal accounts and defy myths associated with some eruptions. The text is accompanied by vivid images of eruptions and their aftermath."—Science News
"Scarth . . . has assembled riveting eyewitness accounts from lucky survivors through the ages."—Laurence A. Marschall, The Sciences
"Informative, fascinating and sobering for the professional volcanologist, anyone attracted by volcanoes and, indeed, anyone interested in human resourcefulness."—Hazel Rymer, Times Higher Education Supplement
"Using a description of 15 volcanic eruptions important to earth science or to human history, the author weaves together geology, folklore, politics and history to show what we have and have not learned about volcanoes. Illustrations and eyewitness accounts enhance the book."—Elvita Landau, Public Library Association
Selected as an outstanding book by University Press Books for Public and Secondary School Libraries


ISBN:
9780300091236
Publication Date:
September 10, 2001
312 pages, 6 7/8 x 9 1/2
70 b/w + 30 color illus.