Heaven
WARNING
You are viewing an older version of the Yalebooks website. Please visit out new website with more updated information and a better user experience: https://www.yalebooks.com
Colleen McDannell and Bernhard Lang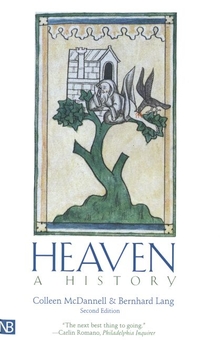 View Inside
Format:

Paper


Price:

$29.00
Also Available in:
Paper
What do Christians believe they will experience after a virtuous life? What will an eternity in the hereafter be like? In this copiously illustrated, lively book, Colleen McDannell and Bernhard Lang describe and interpret the ways in which believers—from biblical authors to medieval mystics, from Jesus to present-day religious thinkers—have pictured Heaven, not just in doctrine but also in poetry, art, literature, and popular culture. In so doing, they shed new light on both the private and public dimensions of western culture. This second edition includes a substantial new preface relating the book to changing views of life after death in the new century.

Praise for the earlier edition:

"[A] fascinating new study. . . . It is a rich and provocative subject and the authors use it as a springboard from which to examine shifting attitudes toward man and God, within the Judeo-Christian tradition."—Michiko Kakutani, New York Times

"The next best thing to going."—Carlin Romano, Philadelphia Inquirer

"Heaven: A History offers a whistlestop tour, thoroughly researched and engagingly written, of the extraordinary things Christians and others have believed about life after death. . . . A compendium of fascinating finds from the past."—John Barton, London Review of Books

"A fascinating survey of Western culture and a delightful tour of the histories of art, literature and theology."—Christian Century

"Heaven: A History provides a rich opportunity for theological reflection. This book can help in constructing a language for the hereafter that will encourage the best hopes of the living and, heaven knows, perhaps guide the reader to a vision of eternal bliss."—St. Anthony Messenger

Colleen McDannell is Sterling M. McMurrin Professor of Religious Studies and Professor of History at the University of Utah. She is also the author of Material Christianity. Bernhard Lang is professor of religion at the University of Paderborn, Germany, and the author of Sacred Games: A History of Christian Worship. Both of these books are published by Yale University Press.
"An informative and readable presentation of ideas about heaven through the centuries."—Hans K'ung
"An impressive social and cultural history of the diverse images used by Christian theologians, philosophers, visionaries, and artists to describe the fate of the soul. . . . An engrossing and sympathetic study of the next world that offers rewarding insights into our struggle to understand the human place in this one."—Kirkus Reviews
"Here is a book that recovers the rich tradition of a notion all but lost to our pretty well dymythologized and inconsolable age." —Boston Phoenix
"A fascinating survey of Western culture and a delightful tour of the histories of art, literature and theology."—Christian Century
"Heaven: A History offers a whistlestop tour, thoroughly researched and engagingly written, of the extraordinary things Christians and others have believed about life after death. . . . A compendium of fascinating finds from the past."—John Barton, London Review of Books
"A substantial volume, dramatically illustrated, it tracks the main Christian concepts of Heaven as recorded by theologians, artists and visionaries through he centuries."—Naomi Lewis, The Listener
"[A] fascinating study in the cultural and intellectual history of how the afterlife has been perceived in the art, architecture and literature of western culture."—Theological Book Review
"As authors McDannell and Lang rightly assert, the story of heaven is at the same time the story of Western culture. Their telling of that story shows why Christian images of heaven, precisely in their shifting and evolving variety, constitute a historian's delight. . . . Insightful and entertaining as cultural history, this chronicle of heaven's images serves as well to animate the perennially humane questions of what we dare hope for and in what our wholeness finally consists."—William P. Loewe, Commonweal
"Much of the material here has been lying about in the human unconscious for millenia: to confront it now can produce highly ambiguous feelings."—Peter Porter, Times Literary Supplement
"The next best thing to going."—Carlin Romano, Philadelphia Inquirer
"[A] fascinating new study. . . . It is a rich and provocative subject and the authors use it as a springboard from which to examine shifting attitudes toward man and God, within the Judeo-Christian tradition."—Michiko Kakutani, New York Times
"In their illuminating study of Heaven, Colleen McDannell and Bernard Lang provide us not with a picture of the eternal synod chamber in the sky—for who can know what that would look like?—but with the different visions of the after-life which Christians have promoted down the ages. It is a fascinating and predictable account of relativities. Each generation and each culture, and even each social class, has tended to project eternity as an extension of its own priorities."—Edward Norman, The Spectator
"Charting the celestial landscape is a challenge and a marvelous idea, and religion scholars McDannell and Lang rightly see their work as part social history, part theological summary."—Miami Herald
"[This book] provides a unique focal point to study changes in cultural and religious beliefs throughout the centuries. . . . .Scholarly and readable, the volume delivers its promise. . . . A hallmark of thematic studies."—Choice
"Heaven: A History is well worth reading. It breaks ground in an area where historical research has been inadequate and offers provocative clues for further study and rumination."—James H. Moorhead, Theology Today
 

"This richly documented work explores the unfolding of Christian promises and hopes about eternal life from biblical times to the postmodern era. . . . The authors not only tell the history of heaven, they also survey those changing and abiding forms of spiritual idealism for which heaven has served as utopian pattern. The book therefore doubles as an introduction to the history of Western Christian spirituality."—Carol Zaleski, Critical Review
"The book is well worth reading as a unique introduction to the wide diversity of heavenly expectations among Christians that offers helpful suggestions about their connections with social circumstances."—James Gaffney, Religious Studies Review
"This book is a fascinating compendium of the vast human effort which has been expanded in attempts to express their beliefs, wishing thinkings or sheer imaginative flights, in scripture, philosophy, theology, poetry, art and architecture. . . . this is an interesting and highly informative book, lavishly illustrated and documented. It has many shrewd insights into the nature of man and his divinely inspired yearning for happiness."—Catholic Herald
 

"A brilliant book."—Arthur Marwick, Ham and High

"[A] fascinating 'history' of heaven."—Campbell Ferguson, The Daily Mail 

"The authors provide a system of classification for the images and theories of heaven which they present. In general they find two models for heaven in the texts they survey. The first is God-centered and the second anthropocentric. . . . The authors have assembled a mass of relevant data in a relatively small volume. . . . McDannell and Lang have presented a great deal of material very creditably. The task they undertook was not one of carrying coals to Newcastle."—Carl J. Peter, Catholic Historical Review

"It should fascinate not only those who have an interest in theology, but anyone curious about the history of ideas."—B.L. Horne, Expository Times

"Scholarly but readable."—Sally Campbell, The Living Church

"Once in a while, historians of religion still write books that capture the audience of the educated public. This should be the case with Heaven: A History, which is recommended for its readable, well-illustrated text and its fresh, immediate treatment of old theological controversies."—William Rice, Smithsonian

"The scope of this book is ambitious, and the evidence of scholarly research is very impressive. For any reader with the slightest interest in the ways that heaven has been portrayed in Western culture throughout the centuries, this volume provides a fascinating account. The book fulfills the promise on its dust cover: it is, indeed, 'wise, informative, and entertaining.'"—William Luther White, Christianity and Literature
 

"This is not a history of heaven, but 'a history of the images Christians use to describe what happens after death, when time ceases and everlasting eternity begins.'"—Theology Digest

"Heaven: A History provides a rich opportunity for the theological reflection. This book can help in constructing a language for the hereafter that will encourage the best hopes of the living and, heaven knows, perhaps guide the reader to a vision of eternal bliss."—Rev. Michael P. Orsi, St. Anthony Messenger
ISBN:
9780300091076
Publication Date:
August 11, 2001
448 pages, 5 x 7 3/4