Yankee Doodle Dandy
WARNING
You are viewing an older version of the Yalebooks website. Please visit out new website with more updated information and a better user experience: https://www.yalebooks.com
The Life and Times of Tod Sloan
John Dizikes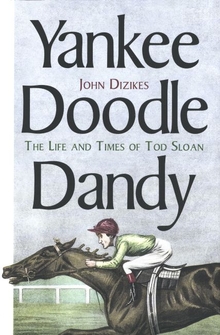 View Inside
Format:

Cloth


Price:

$65.00
Also Available in:
e-book
In the 1890s, feisty Tod Sloan (1874–1933) abandoned the centuries-old jockey tradition of riding in a straight sitting position and instead crouched low on the neck of his horse. The result was not only a string of victories for young Sloan but also a revolution in horse racing. In this entertaining book, award-winning author John Dizikes recounts the remarkable story of the Indiana boy who rose from obscurity to become the most famous jockey in the United States and Great Britain at the turn of the century. Dizikes evokes the turbulent, colorful world of horse racing and gambling in which Tod Sloan rocketed to celebrity—and from which he was just as dramatically ejected.
 
Sloan's innovative riding style helped to transform horse racing into the first nationally popular spectator sport, drawing huge crowds and vast amounts of betting money. But Sloan's career was crushingly ended by those who resented and envied him. A dandy, a big spender, a man whose company women loved, Sloan related to horses in an almost magical way yet foundered in his dealings with people. This book is the biography of a diminutive man who lived in large style, and lives on in George M. Cohan's musical Little Johnny Jones andErnest Hemingway's short story "My Old Man." The book is also much more—a fascinating cultural history that illuminates the history of horse racing and betting, the democratization of sport, changing conceptions of masculinity, the hypocrisy of Victorian morality, the lionizing and demonizing of celebrities, and a variety of other inviting topics.
John Dizikes received the National Book Critics Circle Award for Opera in America, published by Yale University Press. He teaches at the University of California, Santa Cruz, and is occasionally to be found at the Santa Anita race track.
"[Sloan's] influence on his sport and on American culture was substantial and lasting. This first-rate book gives it, and him, all due credit."—Jonathan Yardley, Washington Post
"The Tod Sloan story has finally received the comprehensive treatment and analysis it deserves. . . . This little book is a beautifully crafted work, even-handed in its evaluation of a controversial figure, artfully set against the colorful Gay Nineties and richly spiced with tidbits of racing lore."—Ray Kerrison, Wall Street Journal
"The perfect gift for any racegoer is John Dizikes's short, well-written and beautifully printed life of . . . this delightful rascal and jockey of genius."—Geoffrey Wheatcroft, Sunday Times, (London)
"An absorbing story."—Alan Lee, Times Literary Supplement
"Dizikes details the jockey's rise to fame and fortune and his subsequent fall in the context of the time and of the evolution of racing. . . . The book illuminates a time, a sport, and a personality that merit remembrance."—Booklist (starred review)
"A thoroughbred biography of the brash American jockey whose unconventional style of riding 'overturned two hundred years of tradition.' Dizikes, who won a National Book Critics Circle Award for Opera in America, here provides an enjoyable account of another kind of public drama: horse racing. . . . An engaging blend of personal and cultural history, of scholarship and skillful writing."—Kirkus Reviews
"Dizikes paints a vivid canvas of the Gay '90s and what Dizikes calls its 'flash culture,' featuring Diamond Jim Brady, Lillian Russell and 'plungers' (big gamblers) like Pittsburg Phil Smith. . . . Dizikes's well-written and engaging history deserves a wide readership."—Publishers Weekly
"This work is fun to read for Sloan's engaging world of hedonistic characters—lawyers, land barons, pugilists, Wall Streeters, captains of industry, even English royalty—all gambling, spending, eating and constantly drinking. . . . A charming, well-researched life and times of a little revolutionary; highly recommended."—Library Journal
"[Sloan's] influence on his sport and on American culture was substantial and lasting. This first-rate book gives it, and him, all due credit."—Jonathan Yardley, Chicago Sun-Times
"In Yankee Doodle Dandy, John Dizikes has done his homework, paying homage to Sloan in a truly absorbing cultural history."—Kathy Brown, Lexington Herald-Leader
"[A] gem of a volume. . . . The book represents historical investigative reporting at its finest, with elements that should interest even nonracing readers. Written against the backdrop of a fascinating period of world history, it is a story of gambling, sport, and scandal, from the Wild West to Victorian England."—Mary Simon, Thoroughbred Times
"An entertaining, well-researched, well-written foray into a meteoric life. But Dizikes does more than record the life story of Tod Sloan—he reanimates a bygone era."—Santa Cruz Metro
"A true gem of a book—a page-turner that is nonetheless full of understated wisdom."—Jackson Lears
ISBN:
9780300083347
Publication Date:
September 10, 2000
240 pages, 5 1/8 x 8 1/4
30 b/w illus.