Peiresc's Europe
WARNING
You are viewing an older version of the Yalebooks website. Please visit out new website with more updated information and a better user experience: https://www.yalebooks.com
Learning and Virtue in the Seventeenth Century
Peter N. Miller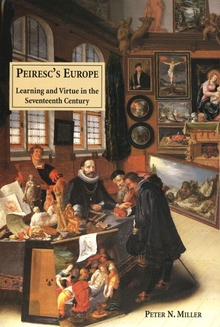 View Inside
Format:

Cloth


Price:

$48.00
Nicolas-Claude Fabri de Peiresc (1580–1637) was, during his lifetime, one of Europe's most famous men. A friend of Pope Urban VIII and Galileo, of Peter-Paul Rubens and Hugo Grotius, of Tommaso Campanella and Marin Mersenne, Peiresc played an important role in the intellectual culture of his time. This book is the first study in English of this extraordinary man, as well as a vivid portrait of his whole circle. Looking through the lens of Peiresc's life, Peter N. Miller brings into focus the early-seventeenth-century world of learning—its people, places, and ideas.

Drawing on the extensive Peiresc archive (more than 50,000 pieces of paper), Miller brilliantly evokes the lives of antiquaries, philosophers, theologians, and politicians of Peiresc's day, only some of whom remain known today. He explores the age in which Peiresc's toleration and sociability, his political action and cosmopolitanism, and his serious scholarship without dogmatism were identified as a set of virtues and practices by which to live. Peiresc's notion of scholarship as a moral exercise, the sweep of his interests, and the cross-Continental reach of his intellectual life show with new clarity what it meant to be a man of learning during the decades around 1600.

Peter N. Miller is a Professor at the Bard Graduate Center in New York City.
 "A work of formidable range and achievement."—Anthony Grafton
"Miller's deeply erudite work attempts to resurrect Peiresc, and along with him an entire culture. . . . Making wonderful use of Gassendi's biography, he shows how this contemporary promotion of Peiresc and his virtues tells us something about the value of learning in an earlier age."—Tamara Griggs, American Scholar

"An important contribution to the study of intellectual communities in early modern Europe, as well as to the burgeoning field of neo-Stoic studies."—Anne Goldgar, Journal of Modern History
"Delightfully written, well-presented, and creatively argued. . . . Throughout the book, Miller employs a very successful kind of intellectual portraiture; not a narrative biography, this book is instead a series of contextualized examinations of different facets of Peiresc's intellectual and social practice. By examining these facets so skillfully, Miller has offered not only a lively portrait of Peiresc but also a thoughtful examination of learned European culture at the outset of the seventeenth century."—Christorpher S. Celenza, Sixteenth Century Journal
"[An] exceptionally intelligent and stimulating book."—Keith Thomas, New York Review of Books
"[Miller] has written a book that is . . . marvelous in its erudition, its intelligence, and its talent. . . . It is rare to find a book of high and impeccable erudition that resounds with such a musical correspondence, so intense and so right, between a writer and his subject. Peter Miller's book is a masterpiece."—Marc Fumaroli, The New Republic

"Written with wit and vigor, this work has few pages that are without a new idea, a surprising discovery, a suggestive analogy, an abiding insight into the life of the mind as a life lived in public. The book makes a grateful for both Peiresc and itself--and for the former not least because he inspired the latter."—Virginia Review Quarterly

Winner of the 2000 Jacques Barzun Prize in Cultural History sponsored by the American Philosophical Society
Winner of the Concors des Antiquités de la France, sponsored by the Académie des Inscriptions et Belles-Lettres in Paris
ISBN:
9780300082524
Publication Date:
October 11, 2000
252 pages, 6 1/8 x 9 1/4
20 b/w illus.