Churchill's Promised Land
WARNING
You are viewing an older version of the Yalebooks website. Please visit out new website with more updated information and a better user experience: https://www.yalebooks.com
Michael Makovsky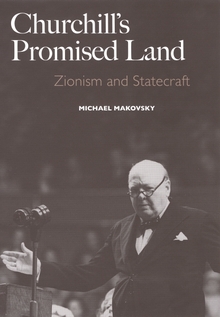 View Inside
Format:

Paper


Price:

$37.00
Also Available in:
Cloth
A comprehensive examination of Churchill's complex political, diplomatic, and intellectual response to Zionism

This book is the first to explore fully the role that Zionism played in the political thought of Winston Churchill. Michael Makovsky traces the development of Churchill's positions toward Zionism from the period leading up to the First World War through his final years as prime minister in the 1950s. Setting Churchill's attitudes toward Zionism within the context of his overall worldview as well as within the context of twentieth-century British diplomacy, Makovsky offers a unique contribution to our understanding of Churchill.

Moving chronologically, the book looks at Churchill's career within the context of several major themes: his own worldview and political strategies, his understanding of British imperial interests, the moral impact of the Holocaust, his commitment to ideals of civilization, and his historical sentimentalism. While Churchill was largely sympathetic to the Jews and to the Zionist impulse, he was not without inconsistencies in his views and policies over the years. Makovsky's book illuminates key aspects of Middle Eastern history; Zionist history; and British political, imperial, and diplomatic history; and further helps us understand one of the pivotal figures of the twentieth century.
Michael Makovsky has a Ph.D. in diplomatic history from Harvard and is foreign policy director of the Bipartisan Policy Center, a think tank based in Washington, D.C. He lives in Washington.
"Churchill's Promised Land weaves a seamless web between diplomatic and intellectual history. Arresting, thoroughly documented, and at times startling, this will be the standard book on Churchill's complex political and intellectual response to the Zionist project. This is the best kind of history: no axe to grind, guided by the sources, it is a work of genuine scholarship written by a discerning and curious historian."—Fouad Ajami, author of The Foreigner's Gift: The Americans, the Arabs, and the  Iraqis in Iraq
"An acutely observed account of the fascinating, evolving, and momentous relationship between Churchill and Zionism. Makovsky's perceptive conclusions about Churchill's romantic attachment to Zionism will intrigue and delight readers."—Andrew Roberts, author of A History of the English-Speaking Peoples Since 1900
"Most studies of Churchill stress his tough-minded realism. Michael Makovsky's graceful and compact study of Churchill's sustained interest in Zionism brings to light a parallel strand of idealism evident through all the latter part of Churchill's career. His book adds greatly to our understanding of the man and also of Britain's stance in the Middle East from World War II down to the 1950s."—Ernest May, Harvard University
"A comprehensive, balanced, and inspired account of Churchill's emotional and political response to Zionism."—Wm. Roger Louis, University of Texas at Austin and St. Antony's College, Oxford
"This is a rich and compelling book. Churchill's attitudes toward Zionism, often vacillating but ultimately resolute, provide a unique window into his worldview. Michael Makovsky has contributed substantively to our understanding of this unparalleled statesman, of the roots of the Israel/Palestine conflict, and of the origins of the modern Middle East."—Michael B. Oren, author of  Power, Faith, and Fantasy: America in the Middle East: 1776 to the Present
"Today, when Western civilization is under severe attack and the legitimacy of national movements, such as Zionism, is being challenged by the new post-nationalist universalists, Michael Makovsky shows in dramatic and vivid detail why Churchill, one of the greatest statesman in centuries, consistently and stubbornly fought for both."—Natan Sharansky, author of The Case for Democracy
"This stimulating essay, the fruit of scrupulous research and careful reasoning, documents the interaction of romance and realism in the heart and mind of one of the most powerful statesmen of the 20th century. It will afford many insights to students of the life and work of Winston Churchill and will be required reading for students of the history of Zionism."—Paul Merkley, Books & Culture
"Michael Makovsky, who received his doctorate in diplomatic history from Harvard University, and who is foreign policy director for the prestigious Bipartisan Policy Center in Washington, D.C., brings his considerable academic and analytical skills to bear in his superb and fascinating new book, Churchill's Promised Land, which meticulously chronicles Churchill's long-standing support of the Zionist movement and the right of the Jewish people to establish an independent Jewish State in the Promised Land of their ancestors."—Jewish Light
"Michael Makovsky's Churchill's Promised Land: Zionism and Statecraft is a fascinating and comprehensive look at Churchill's views on Zionism. The book explains Churchill's ideas, where they came from and how they affected his opinions and policies throughout his career as a politician and author, in and out of office. . . . Anyone who cares about Churchill in general or his attitude toward Jews and Zionism in particular will find Churchill's Promised Land indispensable."—Jewish Ledger


"Michael Makovsky does a very thorough job of tracing not only Churchill's attitude toward and reaction to the Zionist enterprise as he rose through the ranks of government, but his experience and relationship with the British Jewish community as well. . . . One of the major strengths of this book is that Makovsky gives his readers ample background on both the political career of Churchill and on the roots and evolution of Zionism itself."—Daniel E. Levenson, Jewish Advocate


"Makovsky's book demonstrates that Churchill's Zionism did not emerge fully formed but developed gradually, shaped by his other concerns and always ruled by his pragmatism. . . . For an honest, but not hostile, explanation of Churchill's stance toward the Jewish world that also sheds much light on his outlook and his conduct as a politician, Michael Makovsky's account can hardly be bettered."—David Cesarani, Literary Review (UK)
"Makovsky approaches Churchill's Zionism . . . analytically, trying to understand the place of what he calls Churchill's sentimental support of Zionism in his overriding goal of preserving British power and security and Western civilization. . . . A rich picture of Churchill's support of Zionism . . . [the book] also describes the political struggles in the British government over the creation of Israel, which make the establishment of the state even more remarkable."—Jewish Book World
"Churchill's Promised Land . . . is a rigorous and balanced study that puts Churchill's Zionism in perspective. More books will certainly be written about Churchill and the Jews, but probably not better ones."—Philip H. Gordon, Foreign Affairs
"[A] solidly constructed book. . . . We are introduced, carefully and respectfully, to a corner of Churchill's mind and political behaviour that undoubtedly deserves exploration."—David Vital, Times Literary Supplement
"Well-written, and full of striking and surprising insights. . . . Makovsky provides [a] balanced and detached account."—Neil Cameron, Montreal Gazette
"Soundly researched and argued. . . . Recommended."—Choice
"The book's insights are fascinating and revealing."—Jewish Voice & Opinion
"Makovsky's study is scrupulously researched and deeply insightful."—David Cesarani, Journal of British Studies
"A more nuanced understanding of Churchill's philo-Semitism and his pro-Zionism...Churchill's Promised Land offers a necessary foil and more critical treatment of an intricate subject and a complex man."--Sonja P. Wentling, Journal of World History
Finalist for the 2007 Sami Rohr Prize for Jewish Literature, managed by the Jewish Book Council.
Winner of the 2007 National Jewish Book Award in the History category, awarded by the Jewish Book Council.
ISBN:
9780300143249
Publication Date:
September 30, 2008
368 pages, 6 x 9
9 b/w h/t in gallery; 4 maps