Harriot Stanton Blatch and the Winning of Woman Suffrage
WARNING
You are viewing an older version of the Yalebooks website. Please visit out new website with more updated information and a better user experience: https://www.yalebooks.com
Ellen Carol DuBois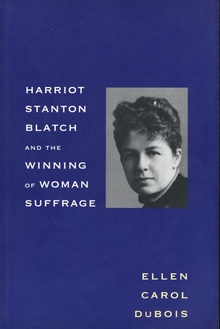 View Inside
Format:

Paper


Price:

$37.00
Also Available in:
Cloth
Harriot Stanton Blatch (1856-1940), daughter of the famous suffragist Elizabeth Cady Stanton, played an essential role in the winning of woman suffrage in the United States. This powerfully written book is both a biography of Harriot Blatch and a new appraisal of the winning and aftermath of the American woman suffrage movement.

Harriot Blatch's dedication to the realization of woman suffrage, marked by a concern for social justice and human liberty, closely paralleled that of her mother. However, says Ellen DuBois, Blatch was also very much her own woman. For almost two decades, she put an ocean's distance between her mother and herself, marrying an Englishman, raising a daughter in England, and absorbing the new political currents of Fabian socialism that helped her see the possibilities of a modern women's rights movement. After her mother's death in 1902, Blatch returned to the United States. There she expanded suffragism's class basis, encouraged a more lively activist style, and brought a genuine political sensibility to the movement. And though she devoted herself to enfranchisement, she also envisioned feminism going further to encompass economic power and independence for women as well. DuBois tells the story of Blatch's life and work, in the process reinterpreting the history and politics of the American suffrage movement and the consequences for women's freedom.

Ellen Carol DuBois is professor of history at the University of California, Los Angeles.
A selection of the History Book Club

"A fascinating read. The book rewrites the history of the suffrage movement in New York in the early twentieth century, restoring Blatch to her position of central importance."—Nancy Cott, author of Bonds of Womanhood
"This long-awaited biography of Harriot Stanton Blatch by the distinguished suffrage historian, University of California professor Ellen Carol DuBois, is a major contribution to the history of the United States women and feminism. It is essential reading for all scholars and students of women's history and early twentieth-century American politics."—Joan Iversen, Emeritus Professor of History, State University of NY at Oneonta, Phoebe
"A fascinating portrayal of Blatch, as well as a pathbreaking reappraisal of the woman suffrage movement in New York in the decades surrounding the passage of the Nineteenth Amendment. . . . We now know, thanks in large part to Dubois' scholarship over the last three decades, that the demand for political equality contained within it a critique of women's economic and sexual subordination within marriage."—Sherri Broder, Women's Review of Books
"DuBois fleshes out Blatch's life with valuable new research. . . DuBois reveals a woman of talent and imagina[tion in] increasingly conservative times. . . Offers instructive lessons for activists."—Phyllis Eckhaus, The Nation
"Ellen Carol DuBois has done more than any contemporary historian to bring to life the history of suffrage politics, and she sees a great deal at stake in these efforts to preserve the sense of a complex historical legacy. She is exquisitely attuned to the undertow of disaffiliation between women in this high-flying political movement."—Christine Stansell, The New Republic
"DuBois's excellent biography insures a distinctive place for Blatch in the historical literature on the winning of suffrage and on left feminism."—Maurine W. Greenwald, Journal of American History
"This book is significant . . . as a challenge to reigning assumptions about the feminist movement. . . . Batch's life demonstrates that the feminist movement was more complex and contained more possibilities than is often acknowledged."—Maureen McCarthy, Canadian Journal of History
"DuBois's book is an impressive achievement. It not only demands the attention of historians, who will have to reckon with DuBois's reinterpretation of the suffrage struggle, but also deserves a wide readership among undergraduates, who will find Stanton Blatch to be a compelling and thought-provoking figure."—Elizabeth R. Varon, American Historical Review
"This is a fine biography."—Janet A. Flammang, SIGNS
"In this meticulously researched and tremendously engaging biography, Ellen DuBois continues her career-long evaluation of the significance of the woman suffrage campaign to the emancipation of American women. . . . DuBois challenges us to rethink the long campaign for women's emancipation, insisting upon the centrality of economics and working-class politics to any understanding of the movement. DuBois's study appears amidst a boom in suffrage scholarship, and readers will find in it some of the best new work in the field."—Lisa Tetrault, Law and History Review
"A compelling interpretation of a figure who was vitally important to the winning of woman suffrage in the United States."—Susan Ware, author of Partner and I: Molly Dewson, Feminism, and New Deal Politics
Winner of the 1998 Joan Kelly Prize given by the American Historical Association
ISBN:
9780300080681
Publication Date:
October 11, 1999
364 pages, 6 x 9
24 b/w illus.