Reinventing Africa
WARNING
You are viewing an older version of the Yalebooks website. Please visit out new website with more updated information and a better user experience: https://www.yalebooks.com
Museums, Material Culture and Popular Imagination in Late Victorian and Edwardian England
Annie E. Coombes

Read this book online via the A&AePortal, our art and architectural history eBook platform. To learn more about how to access this book, please contact us.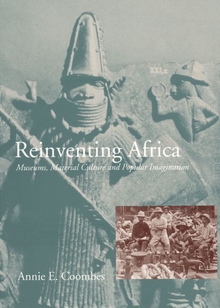 View Inside
Format:

Paper


Price:

$35.00
Also Available in:
Cloth
Art ePortal
Between 1890 and 1918, British colonial expansion in Africa led to the removal of many African artifacts that were subsequently brought to Britain and displayed. Annie Coombes argues that this activity had profound repercussions for the construction of a national identity within Britain itself—the effects of which are still with us today.

Through a series of detailed case studies, Coombes analyzes the popular and scientific knowledge of Africa which shaped a diverse public's perception of that continent: the looting and display of the Benin "bronzes" from Nigeria; ethnographic museums; the mass spectacle of large-scale international and missionary exhibitions and colonial exhibitions such as the "Stanley and African" of 1890; together with the critical reaction to such events in British national newspapers, the radical and humanitarian press and the West African press.

Coombes argues that although endlessly reiterated racial stereotypes were disseminated through popular images of all things "African," this was no simple reproduction of imperial ideology. There were a number of different and sometimes conflicting representations of Africa and of what it was to be African—representations that varied according to political, institutional, and disciplinary pressures. The professionalization of anthropology over this period played a crucial role in the popularization of contradictory ideas about African culture to a mass public.

Pioneering in its research, this book offers valuable insights for art and design historians, historians of imperialism and anthropology, anthropologists, and museologists.

Annie E. Coombes teaches in the art history department of Birkbeck College, University of London. She is co-editor of the Oxford Art Journal.

"Reinventing Africa requires British historians to confront and seriously engage the impact of empire, its artifacts, its purveyors and its exhibitionary impulses at home in the late Victorian, Edwardian period. Coombes has given us an impressively researched study of how the images and peoples of Africa were commodified for broad-based public consumption through the spectacle of the museum and the emergence of anthropology as a discipline and as a science."—Antoinette Burton, Social History
"By rematerializing some of the colonial encounters engendered by such strategic performances of Englishness, Coombes puts Edward Said's insights about the centrality of empire to work in the context of a 'national' metropolitan history."—Antoinette Burton, Social History
"Re-inventing Africa . . . provides valuable insights into some rarely explored interstices of cultural formation in a way which will influence the agendas of several areas of study. . . . It will be essential reading for students of national and ethnic identity."—Tim Putnam, Journal of Design History
"This is a clear and well-written account of British (specifically English) representations of Africa and its cultures during the period 1890-1913. Using a variety of case-studies, Coombes presents a many-stranded discussion of the complex relationship between depictions of Africa in public exhibitions and the broader cultural and intellectual climate of the period."—Alison McKeating, Journal of Museum Ethnography
"The text has been comprehensively researched and draws extensively upon contemporary writings. . . . A fascinating study of the complex network of ideas and images which shaped public perceptions of Africa and African peoples in Britain at the turn of the century."—Moira Simpson, International Journal of Heritage Studies
"This book provides a unique angle through which to understand British imperial designs in Africa. It will make exceptional reading for a variety of audiences: a fine text for African history at the college and graduate levels, a resource book for researchers, and informative reading for the adult reading public."—Emmanual Konde, History: Review of New Books
"The book is well worth reading as a collection of evocative essays about art, politics, and empire."—Deborah Kaspin, American Anthropologist
"Annie Coombes' pioneering book, based on thorough interdisciplinary research, makes a major contribution toward understanding the imperial consciousness of Victorian and Edwardian Britain, particularly in regards to Africa. . . . The book is readable, carefully organized, well-argued, and documented with interesting photographs and illustrations. Because of its interdisciplinary approach and subject matter, the book should engage not only historians of Britain and British imperialism in Africa, but also those examining art history, museum design, and popular culture."—Andrew F. Clark, The Historian
"An innovative, illuminating and important book. Drawing on a wide range of source materials, it opens up new areas of turn-of-the-century British culture to what may be called a critical post-colonial interpretation, and in the process suggests new understandings of the role of popular ethnographic entertainments in the development of British professional anthropology."—George W. Stocking, Jr., Albion
"An in-depth analysis of British perceptions of Africa and African culture at the turn of the century. . . . The combination of thoughtful analysis and meticulously detailed research makes Coombes's book not only a significant contribution to a number of disciplinary interests, but an inspiration for other localized studies of the colonial encounter."—Christa Clarke, Art Journal
"A notable contribution to the cultural history of British imperialism. . . . A valuable book which seeks to understand museums in order to change them."—Felix Driver, Journal of Imperial and Commonwealth History
"Nearly flawless."—Ikem Stanley Okoye, Art Bulletin

"Reinventing Africa is a notable contribution to the cultural history of British Imperialism. . . . Its emphasis on the heterogeneity . . . of racial discourse is very much in tune with the recent concerns of cultural historians and theorists alike. Its discussion of notions of primitivism and degeneracy adds a new level of historical depth to existing accounts of racial theory in this period. . . . Coombes has written a valuable book."—Felix Driver, Journal of Imperial and Commonwealth History

"This is a thoroughly stimulating and path-breaking book. It should be a standard text for all those interested in the development of anthropology, missionary propaganda, race and cultural representations."—John M. Mackenzie, African Studies
Winner of an honorable mention in the 1995 Arnold Rubin Outstanding Publication Awards given by the Arts Council of African Studies Association for books on African Art published between 1992 and 1994

ISBN:
9780300068900
Publication Date:
October 20, 1997
292 pages, 8 x 10
112 b/w illus.