Launching Democracy in South Africa
WARNING
You are viewing an older version of the Yalebooks website. Please visit out new website with more updated information and a better user experience: https://www.yalebooks.com
The First Open Election, 1994
R.W. Johnson; Edited by Lawrence Schlemmer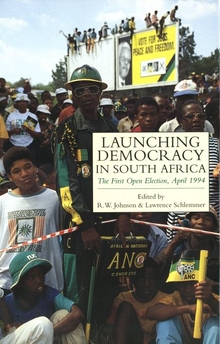 View Inside
Format:

Cloth


Price:

$65.00
South Africa's first-ever democratic electoral contest was one of the most significant global events of the decade. From the ashes of a repressive, segregated, and racist state emerged—miraculously and relatively free of bloodshed—a multi-racial and potentially compassionate new nation. This book, based on a large-scale and non-partisan public information project, provides an unparalleled wealth of fascinating information about the political dynamics of South Africa and the way the election really worked. It represents the definitive statement on the process of democratization in the country.

In the year prior to the April 1994 election, R.W. Johnson and Lawrence Schlemmer assembled a team of leading South African social scientists and political analysts to monitor the campaign, party organization, the media, voter education efforts, and the contest itself, and to conduct eight surveys of opinion about the election and about popular expectations for the future. Using this unprecedented information base, the authors scrutinize the course and context of the election and its results, examining the intricacies of the electoral process and the still-disputed count and revealing both voting irregularities and pervasive fear and intimidation. The book sheds new light on the course of the election, on the construction of a policy consensus, and on the political sociology of the country as a whole. It represents the surest guide to the post-election reality of the new South Africa.
R.W. Johnson is a fellow in politics at Magdalen College, Oxford. He is a regular writer and broadcaster on South African politics, and his books include the best-selling How Long Will South Africa Survive? Lawrence Schlemmer is vice-president of the Human Sciences Research Council of South Africa and the country's senior electoral analyst.
"A major contribution to the political understanding necessary for this longer-term project."—Stuart Wier, New Statesman & Society
"These studies are marked by painstaking honesty—a quality rare in political commentary anywhere. The authors are to be congratulated for it."—Sir Robin Renwick, The Times
"[This book] will become the standard text on the 1994 election and is of immense value to anyone who wishes to understand the political culture of the new South Africa. It is also exemplary as an election study, carefully probing into the sociological dynamics of the voting patterns, providing informed analysis of the political context of the election and reflection on the future of South Africa's fledgling democracy. . . . It is compulsory reading for everyone who wishes to know about the launching of democracy in South Africa."—John D. Brewer, International Affairs
"Few elections this century have been more anticipated than the April 1994 vote that heralded the end of apartheid and the beginning of nonracial rule in South Africa. Surprisingly, after the vote, scholarly attention quickly shifted to the problems facing the new government of Nelson Mandela; relatively little attention was paid to the election itself. Johnson and Schlemmer have now filled this lacunae with a comprehensive study sponsored by the Urban-based Institute for Multi-Party Democracy. Schlemmer and Johnson contribute many of the chapters and draw upon other South African scholars for in-depth studies of particular regions and some specific issues."—Jeffrey Herbst, Political Science Quarterly
"This volume makes an important contribution and it is also 'a good read.' It permits readers to make considered judgments about the future of politics in south Africa as well as to place its experience in the context of liberalization and democratization elsewhere."—Harvey Glickman, Journal of Politics

"There is little question that the book will prove to be invaluable to comparativists engaged in scholarly research and to graduate students. The highly readable text and logical presentation of topical materials make it suitable for advanced undergraduates and general audiences as well."—Donald C. Williams, Western New England College (Perspectives on Political Science)
ISBN:
9780300063912
Publication Date:
February 21, 1996
426 pages, 6 1/8 x 9 1/4