The African Colonial State in Comparative Perspective
WARNING
You are viewing an older version of the Yalebooks website. Please visit out new website with more updated information and a better user experience: https://www.yalebooks.com
Crawford Young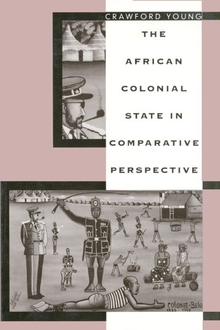 View Inside
Format:

Paper


Price:

$35.00
Also Available in:
Cloth
In this comprehensive and original study, a distinguished specialist and scholar of African affairs argues that the current crisis in African development can be traced directly to European colonial rule, which left the continent with a "singularly difficult legacy" that is unique in modern history.

Crawford Young proposes a new conception of the state, weighing the different characteristics of earlier European empires (including those of Holland, Portugal, England, and Venice) and distilling their common qualities. He then presents a concise and wide-ranging history of colonization in Africa, from the era of construction through consolidation and decolonization. Young argues that several qualities combined to make the European colonial experience in Africa distinctive. The high number of nations competing for power around the continent and the necessity to achieve effective occupation swiftly yet make the colonies self-financing drove colonial powers toward policies of "ruthless extractive action." The persistent, virulent racism that established a distance between rulers and subjects was especially central to African colonial history.

Young concludes by turning his sights to other regions of the once-colonized world, comparing the fates of former African colonies to their counterparts elsewhere. In tracing both the overarching traits and variations in African colonial states, he makes a strong case that colonialism has played a critical role in shaping the fate of this troubled continent.

Crawford Young is Rupert Emerson and John Bascom Professor of Political Science at the University of Wisconsin-Madison. He is also author of Ideology and Development in Africa, published by Yale University Press.

"This erudite study by a senior American Africanist probes the colonial state in new depth to decipher the particular logic and processes that eventually gave birth to independent African governments."—Gail Gerhart, Foreign Affairs
"This book, by a distinguished Africanist scholar, is an articulate analysis of the colonial era and its significance for the postindependence period. . . . This book belongs in every library."—Choice
"Crawford Young has done a masterly job of compiling and analyzing information, dating back several centuries and taken from numerous continents, on the African colonial state. He has distilled his findings in a concise and useful manner. . . . Young presents a sound argument that the principles of the colonial state are tightly woven into troubled modern African states. . . . Continuity with a broader historical discourse and the comparison between the African colonial state and the colonial enterprise elsewhere in the world make this an essential study for specialists and a useful book in courses for advanced undergraduates and graduates alike."—W. Howard Brown, History: Reviews of New Books
"A masterpiece, an inspired and rigorous work that all historians of imperialism and nationalism will find an enduring source of reference as well as analysis."—Wm. Roger Louis, American Historical Review
"Crawford Young is one of the leading scholars of the non-western world. His book is a masterpiece, an inspired and rigorous work that all historians of imperialism and nationalism will find an enduring source of reference and analysis. . . . As Young takes aim, he displays an astonishing mastery of historical sources and social theory. He captures the colonial state in its multiple personality as it reorders society, political structure, and economic production in Africa in less than a century."—Wm. Roger Louis, American Historical Review
"Young's analysis is penetrating and based on impressive scholarship. Its finest accomplishment is the comparative analysis of colonial systems. . . . A fine work and an excellent contribution to an understanding of the challenges facing the African state."—James S. Wunsch, Journal of Politics
"This is a book to be welcomed: it has identified an important subject for political science's consideration, covering an impressive range of comparative readings—on colonial states in North and South America, in India and the East Indies, in the Caribbean. And it is a book which will provoke a debate."—Donal Cruise O'Brien, SOAS Bulletin (School of Oriental and African Studies, University of London)
"Over three decades after the winds of change swept through most of Africa, Crawford Young has written a lucid, compelling, and provocative account of the colonial state and its legacy. . . . Young has brought back to center stage the debate about Africa's developmental problems and the extent to which they can be attributed to European colonialism. Historians, political scientists, and policymakers interested in that debate will find Young's book extremely useful."—Peter A. Dumbuya, Historian
"This work, formidable in learning and unwavering in aim, is dedicated to the proposition that, by comparison with all other imperial constructs in modern history, the colonial state in Africa left a legacy that was unusually malign. . . . Young spins the grand comparisons that historians can then get their empirical teeth into. He has done so with the boldness and clarity that will stimulate a generation more of research."—John Lonsdale, International Journal of African Historical Studies

"This is a superb book, likely to be seen as one of the few absolutely essential works on African politics."—William J. Foltz, Yale University
Winner of the 1994 Best Book Award for the best book in the field of comparative politics given by the American Political Science Association
Winner of the 1995 Gregory Luebbert Book Award given by the comparative politics section of the American Political Science Association for the best book of 1994 in the field of comparative politics
ISBN:
9780300068795
Publication Date:
February 27, 1997
368 pages, 6 1/8 x 9 1/4