Reflections on Gender and Science
WARNING
You are viewing an older version of the Yalebooks website. Please visit out new website with more updated information and a better user experience: https://www.yalebooks.com
Evelyn Fox Keller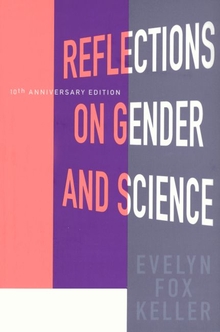 View Inside
Format:

Paper


Price:

$22.00
Also Available in:
e-book
Why are objectivity and reason characterized as male and subjectively and feeling as female? How does this characterization affect the goals and methods of scientific enquiry? This groundbreaking work explores the possibilities of a gender-free science and the conditions that could make such a possibility a reality.
"Keller's book opens up a whole new range of ideas for anyone who cares to think about the history of science, that is, the history of the modern world. . . Let us be glad to be in times when such a sparkling, innovative. . . book can be produced, a book to start all of us thinking in new directions."—Ian Hacking, New Republic
"A brilliant and sensitive undertaking that does credit not only to feminist scholarship but, in the end, to science as well."—Barbara Ehrenreich, Mother Jones
"This book represents the expression of a particular feminist perspective made all the more compelling by Keller's evident commitment to and understanding of science. As a lively and important contribution to the scholarship of science, it will undoubtedly stimulate argument and controversy."—Helen Longino, Texas Humanist
"Provocative arguments, presented with authority."—Kirkus Reviews
"Consistently thoughtful, provocative, and interconnected. . . A well-made book that will be useful in upper-level undergraduate and graduate women's studies, philosophy, and history of science."—E.C. Patterson, Choice
"Written with grace and clarity, [this book] will stand as an important contribution to feminist theory, to the sociology of knowledge and to the continuing critique of the established scientific method."—Lillian B. Rubin
"A powerful book."—Jessie Bernard
Evelyn Fox Keller, professor of mathematics and humanities at Northeastern University, is the author of Feeling for the Organism, a widely acclaimed biography of Nobel Prizewinner Barbara McClintock.
"A powerful book, radical in the sense that it questions the gender neutrality of the criteria for the label 'scientific' and seeks a gender-free science 'premised on a transformation of the very categories of male and female.'" —Jessie Bernard
 

"A brilliant set of investigations into one of the most troubling and important areas of feminist inquiry.  Keller's scholarship ranges from the philosophy of science to an original and remarkable psychodynamic account of the nature of scientific practice, to extraordinary, unforgettable accounts of particular controversies in modern science. The work goes far beyond the specific cases she puts forth: Keller has transformed my own understanding of fundamental issues in social science as well.  Because Keller writes as a scientist, this book should be of enormous interest to scientists; because she writes with unusual clarity and perspicacity, it will be of interest to all people interested in the conditions and character of modern knowledge." —Nancy Chodorow
 

"This is a short book with a powerful punch.  It tackles large questions and answers them subtly, ranging widely in the process from Platonic dialogues to corn chromosomes and slime molds.  You will do yourself a disservice—personally and professionally—if you skip it."—Ruth Schwartz Cowan, ISIS
 

"Her book should quickly establish itself as a central text in feminist theory. . . . A slender volume rich in detail but always focused on demonstrated conclusions."—Donald N. Mager, Criticism
  

"Reflections on Gender and Science is much more than the title suggests.  It is an assault on the dominant mode of scientific thought, a stimulating and provocative challenge to the fundamental premises that underlie scientific inquiry as Western society has defined it.  Written with grace and clarity, it will stand as an important contribution to feminist theory, to the sociology of knowledge and to the continuing critique of the established scientific method."—Lillian B.  Rubin
 

"Provocative arguments, presented with authority."—Kirkus Reviews
 

"The range of topics and the ultimate focus on the relationship between the human mind and nature, however, make this book of far broader interest than it might be were it solely a feminist analysis of science or a technical critique of contemporary scientific method."—Lydia Kirsopp Lake, Radcliffe Quarterly
 

"Keller's book opens up a whole new range of ideas for anyone who cares to think about the history of science, that is, the history of the modern world. . . . Let us be glad to be in times when such a sparkling, innovative little book can be produced, a book to start all of us thinking in new directions."—Ian Hacking,
New Republic
"After encountering Keller's original and provocative ideas, no one can think in the same way about the sciences again.  Whether one agrees or disagrees with details or with the major claims of her study, Keller has introduced questions that will preoccupy scholars (and, one hopes, scientists) for some time to come."—Helen E. Longino, Feminist Studies
 

"Keller has integrated her knowledge of science, psychology, and social theory to produce a cohesive, provocative, and compelling exploration of 'how the making of men and women has affected the making of science'.  This is a deeply probing book that draws on the history and philosophy of science as well as psychoanalytic theory."—Alexandra Symonds and Karen Hopenwassser, News for Women in Psychiatry
 


"A significant study of the assumptions and presuppositions underlying contemporary scientific research, with respect not only to gender but also to the dogma of a single unifying scientific theory.  Highly recommended."—Library Journal
"In nine essays 'premised on the recognition that both gender and science are socially constructed categories,' she considers 'the network of gender associations in science' first historically, then psychoanalytically, and finally scientifically and philosophically. . . . Consistently thoughtful, provocative, and interconnected. . . . A well-made book that will be useful in upper-level undergraduate and graduate women's studies, philosophy, and history of science."—Choice
 

" 'As a woman and a scientist, the status of outsider came to me gratis,' writes Keller in her introduction; yet, throughout this remarkable book it is clear she has retained dual status. She understands science as only an insider can, but her insight is that of someone who has had the courage to step outside for a clearer view."—Elisabeth Carpenter, Psychology Today
 

"There is an obvious masculinity in the western scientific tradition, involving contests between scientists and a collective conquest of nature.  This plain observation is used here by a feminist scientist as a starting point for thoughtful musings, in nine essays, about a large range of topics—historical, epistemological, and ideological—in search of a more friendly and tender-minded alternative.  Stimulating reading in an atmosphere of good thinking!"—
Bulletin of the Menninger Clinic
"Cogent, scholarly. . . . A cohesive, provocative, and compelling exploration of 'how the making of men and women has affected the making of science.'  What is remarkable about this book is that Keller never attempts to reach beyond her own expertise, and yet her thinking has an impact far beyond an understanding of science. . . . A deeply probing book that draws on the history and philosophy of science as well as psychoanalytic theory (in particular object relations theory) to explain the approbation of science by the masculine gender via a cognitive and affective linkage of science, objectivity, and masculinity."—Karen Hopenwasser, M.D., Hospital and Community Psychiatry
 

"The essays are delivered like a series of beautifully constructed, purposeful, and authoritative lectures.  And for sociologists interested in science, knowledge, and ideology, it is a wonderful course of study."—Mary Frank Fox, Contemporary Sociology
 

"Keller has confronted some of the most troublesome—yet, as is often the case, most central—problems in the philosophy of science as well as in feminist studies. . . . Reflections on Gender and Science summarizes the recent progress in feminist research on science and illustrates to what extent that scholarship occupies a vanguard position in our attempts to understand how we manufacture knowledge."—Jill G. Morawski, Contemporary Psychology
 

"There is much in these provocative essays to provide grist for a variety of intellectual mills.  Scientists, historians, philosophers, sociologists, and educators will find new insights into their disciplines.  Keller's search for historical and psychoanalytical explanations for what she terms the 'genderization' of science leads her to formulate an unusually broad and interdisciplinary perspective toward the most basic issues at the heart of all studies of the scientific enterprise."—Susan Sheets-Pyenson, American Scientist
 

"This is the sort of book which should make people begin to realize the broad social significance of a feminist analysis of gender relations."—Ethics
A New York Times Book Review Notable Book Of 1985
Winner of the 1986 Distinguished Publication Award from the Association for Women in Psychology
ISBN:
9780300065954
Publication Date:
March 11, 1996
212 pages, 5 1/2 x 8 1/2