Remembrance and Reconciliation
WARNING
You are viewing an older version of the Yalebooks website. Please visit out new website with more updated information and a better user experience: https://www.yalebooks.com
Encounters between Young Jews and Germans
Björn Krondorfer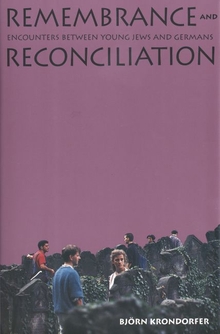 View Inside
Format:

Cloth


Price:

$65.00
While much has been written about the impact of the Holocaust on survivors and their children, little is known about how the Holocaust has affected the third generation of Jews and Germans—the grandchildren of those who lived during the Shoah. When these young people try to get to know one another, they find they must struggle against a heritage of hard truths and half-truths, varying family histories, and community-fostered pride and prejudices. In this book Björn Krondorfer, who grew up in Germany and now lives in the United States, analyzes the guilt, anger, embarrassment, shame, and anxiety experienced by third-generation Jews and Germans—emotions that often act as barriers to attempts to reconcile. He then describes the processes by which some of these young people have moved toward an affirmative and dynamic relationship.

Krondorfer points out that relations between Jews and Germans since the war have consisted of an uneasy truce that does not address the deeply felt pain and anger of each group. He then shows how new relationships can be forged, providing detailed accounts of the group encounters he arranged between post-Shoah American Jews and Germans. He describes how the participants reacted to oral Holocaust testimonies and to public memorials to the Holocaust, the creative work of a Jewish-German modern dance group to which Krondorfer belonged, and finally the students' responses to a trip to Auschwitz, where they developed the courage necessary to trust and comfort one another. Krondorfer argues that friendships between young Jews and Germans can be fostered through creative models of communication and conflict-solving and that their road to reconciliation may become a model for other groups in conflict.

Björn Krondorfer is visiting assistant professor of religious studies at St. Mary's College of Maryland.

"An important and sensitive book that opens a new window into young and conscientious minds, Jewish or German, and characterizes their perplexity about one another honestly and vividly."—Geoffrey Hartman, Yale University
"Krondorfer writes with passion and eloquence of the struggle for reconciliation between young Germans and Jews through dialogue and conversation, rituals and dance. He shows how two peoples traumatized by the same event—the heirs of the victims and the perpetrators—can speak to each other and with each other and can explore the haunting memories that irrevocably bind them together. His book compellingly demonstrates that dialogue is possible and that the more honest the dialogue the more possible the reconciliation."—Michael Berenbaum, Georgetown University
"An engaging meditation on the possibility of reconciliation between the Germans and American Jews who are the grandchildren of the Holocaust generation. . . . His book—in part a report on these therapeutic adventures in Germany and the US, but also an imaginative exploration of themes relating to understanding of the Holocaust—is informative and original. . . . Its strength comes from its vivid, thoughtful accounts of his own and his students' lived experience in Germany and the U.S."—Kirkus Reviews
"This book suggests a fascinating array of new techniques that can be useful in remembering and memorializing the Holocaust."—Choice
"Krondorfer understands the psychological complexities, emotional dangers, sensitive points, and vehement criticism which might be connected to this sort of project and addresses them with thoughtful sensitivity, self-critical honesty, and a sincere desire to improve the current state of Jewish/German relations."—Virginia Quarterly Review

"[A] well-written and interesting book."—Jack Fischel, Jewish Exponent

"A fascinating array of new techniques that can be useful in remembering and memorializing the Holocaust."—Choice

ISBN:
9780300059595
Publication Date:
March 20, 1995
272 pages, 6 1/8 x 9 1/4