Mourning into Joy
WARNING
You are viewing an older version of the Yalebooks website. Please visit out new website with more updated information and a better user experience: https://www.yalebooks.com
Music, Raphael, and Saint Cecilia
Thomas Connolly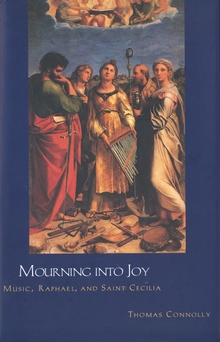 View Inside
Format:

Cloth


Price:

$75.00
Although Saint Cecilia is venerated throughout the Western world as the patron saint of music and Raphael's famous painting The Ecstasy of Saint Cecilia is filled with musical iconography, the ancient origins of Cecilia's association with music have long been shrouded in mystery. This book, a masterful investigation of the Cecilian cult from its beginnings in Christian antiquity down to the Renaissance, explains how Cecilia came to be linked with music and offers a new interpretation of Raphael's painting.

Thomas Connolly finds the key to the mystery in a theme he identifies as "mourning-into-joy." This theme, rooted in the Bible and in Aristotle's doctrine of the passions of the soul, became prominent in the visual and literary arts as well as in theology and spirituality and expressed the soul's passages between vice and virtue as a conversion of sadness into joy. According to Connolly, this idea strongly influenced the legend and worship of Saint Cecilia, a model for all who sought spiritual transformation. Connolly argues that the medieval mystical mind saw music as an intimate expression of the experiences of conversion and spiritual growth and that the conjunction of spirit and music became crystallized in the figure of the saint. His explanation not only provides a better understanding of Raphael's work and other Renaissance and Baroque art but also clarifies puzzling literary questions concerning Saint Cecilia, such as Chaucer's treatment of her in "The Second Nun's Tale."
Thomas Connolly is professor of music at the University of Pennsylvania.
"An impressive and sophisticated piece of scholarship with many new and challenging interpretations and conclusions."—Joseph Dyer, University of Massachusetts at Boston
"Connolly's is a rich book and a passionate one: rich in deep, diffuse, and penetrating knowledge of many fields, from Roman archaeology to biblical texts and commentaries to liturgy, literature, and art history; passionate in tracing the line connecting the legend of the martyr Cecilia."—Nino Pirrotta, editor of Studi musicali
"[This book] shed[s] light on social context and significance. [Connolly] cross[es] disciplinary divides with aplomb, with references to art history providing both source material and method. . . . Particularly handsomely illustrated."—Simon McVeigh, Key Reporter
"Connolly deftly . . . handles intertwining relationships among a variety of disciplines (art, music, literature, theology) across a broad historical spectrum."—Choice
"[This] is one of those rare scholarly works which is genuinely life enhancing."—Glyn Pursglove, Swansea Review
"Connolly has succeeded admirable here. . . . The depth of [this book's] treatment of the visual arts as well as of literature and theology renders it not so much a book about music, but one that should be read to understand music. . . . This work will probably appeal more to students and professionals in art and theology than to those in music. It would be a shame if that were the case however, since all musicians should be encouraged to read and learn from this beautifully written book."—Carol Lieberman, America
"The book is impressive and rich in material. The author's vast knowledge of many fields form Roman archaeology to biblical texts and commentaries to liturgy, literature and music history, is evident not only in the chapters of the book, but also in the appendices and the extensive notes. Connolly presents the reader with many new and challenging interpretations and conclusions that should form the basis of any further investigation of this intriguing topic."—Katherine A. McIver, Sixteenth Century Journal
"A learned and absorbing study of the legend and cult of St. Cecilia. . . . Connolly's work underscores the importance of music and the metaphorics of sound in the medieval and Renaissance spiriutal imagination, and will open the eyes of any admirer of Raphael's masterpiece to a fuller appreciation of its mystical content."—Thomas Willette, Notes
"This book is magnificently produced with wonderful colour plates and figures. . . . It would be a very good addition to anyone's library, but especially to that of the liturgist, the musician or the artist, and, of course, the presbytery and the seminary."—Colin D. Smith, The Australian Catholic Record
"Connolly focuses on Cecilia's significance in the theology and spirituality of the Middle Ages and Renaissance. Among the diverse disciplines and sources used in the book are archaeology, exegesis, iconography, literature, liturgy, hagiography, homiletics, music, philosophy, and theology. . . . This complex book communicates a stimulating vision of the meaning of St. Cecilia in medieval and Renaissance culture. By viewing Raphael's painting from a diachronic perspective on the saint's cult, Connolly succeeds in bringing together intellectual history and iconography to enrich our understanding of both. Connolly's useful study contributes new insights to several disciplines and demonstrates the rewards of thorough contextual study."—Susan Boynton, Speculum—A Journal of Medieval Studies

"An immense amount of work over a long period of time went into this book. It is persuasive in argument, well written, and elegantly printed. Most of it is sober reportage and balanced discussion. . . . An extraordinary book."—James Haar, Renaissance Quarterly

ISBN:
9780300059014
Publication Date:
February 22, 1995
380 pages, 6 1/8 x 9 1/4
34 b/w + 8 color illus.