The Image of Antiquity
WARNING
You are viewing an older version of the Yalebooks website. Please visit out new website with more updated information and a better user experience: https://www.yalebooks.com
Ancient Britain and the Romantic Imagination
Sam Smiles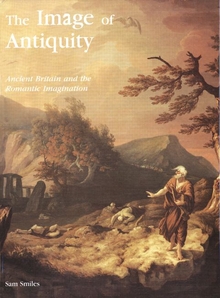 View Inside
Format:

Cloth


Price:

$45.00
How was the remote past of Britain imagined in the eighteenth and nineteenth centuries? What part did the visual arts play in that process? In this book Sam Smiles argues that the ancient Britain of the romantic imagination was a contested world, variously seen as a noble epoch of wisdom and patriotism and as a period of unredeemed savagery and barbarism. The arts, says Smiles, not only reflected these historical debates but actively contributed to them by attempting to bring the archaic past to life.

Smiles examines the interplay of antiquarian research, historiography, and the visual arts in constructing an image of Britain from prehistoric times to the arrival of the Saxons. He discusses such topics as the lengthening of prehistoric time in the contemporary view, the status of antiquarian learning, and the celebration of ancestral peoples as an offshoot of the growing sense of national identity. He describes the Celtic revival during the late eighteenth century, with its iconography that fashioned a pictorial repertoire for megaliths, bards, Druids, and the patriotic leaders Boadicea and Caractacus, who fought off the Romans. He also explains why the Victorians downgraded the Celts and replaced them with the Saxons, preferred by Victorians because they were Christians, because they were English (rather than British), and because they had established organized kingdoms.

Illustrated with images from a wide range of sources, this is the first major interdisciplinary examination of the British image of antiquity that has a particular significance for art historians and historians alike.

Published for the Paul Mellon Centre for Studies in British Art



Published for the Paul Mellon Center for Studies in British Art
Sam Smiles is a lecturer in the history of art at the University of Plymouth.

"Enjoyable and thought-provoking . . . [The Image of Antiquity] suggests a great many starting-points for further analysis and enquiry."—Chloe Chard, The Times Higher Education Supplement
"Sam Smiles develops a provocative theme in his intriguing study of the representations of archaic (pre-Roman) Britain by writers and artists from 1757 to 1851. . . . The most comprehensive study of the early romantic fascination with the pre-Roman peoples of the British Isles in almost two decades. . . . Smiles blends meticulous scholarship with a relaxed writing style that is almost conversational. The use of primary sources is exemplary and the bibliography is comprehensive."—Anthony Lacy Gully, Albion
"This book is a treasure-house of images of confected heroism. They are subjected to some shrewd and well-grounded cultural analysis. . . . The reader will be . . . grateful for this author's tact, circumspection, and erudition."—Malcolm Andrews, International Journal of Heritage Studies
"Students of the classical tradition and of English literature will find it valuable in its equivalence to a perspective from the theory of subjectivist history."—Roy Arthur Swanson, Religious Studies Review
"Anyone wishing to visualize London during the four hundred years covered will find this an invaluable resource, complete with maps, sketches and plans where available, and lists of sources. the result is a fascinating, detailed study of the evolution of the city of London. . . . I came away from this study confident that what there is to know about domestic architecture in London of this period is in this book."—Candace Robb, H-Albion (H-Net)

ISBN:
9780300058147
Publication Date:
September 10, 1994
Publishing Partner:
Published for the Paul Mellon Center for Studies in British Art
262 pages, 8 1/4 x 10 1/4
80 b/w illus.