A Diplomatic History of the American Revolution
WARNING
You are viewing an older version of the Yalebooks website. Please visit out new website with more updated information and a better user experience: https://www.yalebooks.com
Jonathan R. Dull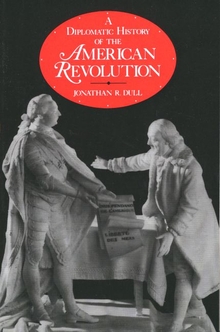 View Inside
Format:

Paper


Price:

$26.00
This introduction to the diplomacy of the American Revolution presents a fresh, realistic, and balanced portrait of revolutionary diplomats and diplomacy.
 
"The best single-volume introduction to the diplomacy of the American Revolution that we have." —H.M. Scott, University of St. Andrews, Scotland

"This book certainly will become the new standard account of the subject….The book's many footnotes and its annotated bibliography provide a rich survey of research in the field. Specialists as well as students should profit from this work. Highly recommended for public and university libraries."—Library Journal

 "The book appears to be designed for use by students but most historians will find it thought-provoking."—Journal of the Early Republic

 "This will become the successor to Bemis's The Diplomacy of the American Revolution for at least as many years as that work has been the standard. Dull's writing is clear and often elegant, the positions are convincing, and the footnotes and bibliography are an important contribution in themselves."—Lawrence Kaplan, Kent State University
Jonathan R. Dull is associate editor for The Papers of Benjamin Franklin.


"The best single-volume introduction to the diplomacy of the American Revolution that we have."—H.M.  Scott, University of St.  Andrews, Scotland
"This will become the successor to Bemis's The Diplomacy of the American Revolution for at least as many years as that work has been the standard. Dull's writing is clear and often elegant, the positions are convincing, and the footnotes and bibliography are an important contribution in themselves."—Lawrence Kaplan, Kent State University
"An academic study of the diplomacy conducted by America and the great European powers during the war for American independence."—Kirkus Reviews
"This book certainly will become the new standard account of the subject, . . . The book's many footnotes and its annotated bibliography provide a rich survey of research in the field. Specialists as well as students should profit from this work. Highly recommended for public and university libraries."—Library Journal
"A particularly lucid, even graceful explanation of the foreign diplomacy practiced by all the participants in the American Revolution."—Booklist
"The book appears to be designed for use by students, but most historians will find it thought-provoking."—Journal of the Early Republic
"Dull is a worthy successor to Bemis. . . . His writing is authoritative . . . and his book is a pleasure to read. Complicated events and complex issues are explained with wonderful clarity in short, crisply written chapters."—Clifford Egan, Journal of Southern History
"A major revision of the long-accepted Bemis interpretation of American foreign policy in the revolutionary era."—Gerard Clarfield, William and Mary Quarterly
"[A] crisp, intelligent account of European and American diplomacy during the American War of Independence. . . . Mr. Dull makes valuable contributions at costs which render this book not so much a replacement as a crucial supplement [to Bemis' work]. . . . A vital book which should be read by all with any interest in the late eighteenth century."—Richard P. Gildrie, History
"The merit of this compact and lucid book is the steadiness of its focus."—J.R. Pole, Journal of American Studies
"A pleasure to read."—Clifford Egan, Journal of Southern History
"A delightful book that will be read with profit by scholars and used in the classroom for years to come.  It renders obsolete Samuel Flagg Bemis' The Diplomacy of the American Revolution (1935), the standard text on the subject for fifty years."—Bruce C. Daniels, Historian
 "A succinct survey that emphasizes the European context of the diplomacy of the Revolution. . . . Dull's little book deserves to become the basic introduction to its field."—Reginald C. Stuart
ISBN:
9780300038866
Publication Date:
September 10, 1987
236 pages, 5 1/3 x 8 1/4