Traitor, Survivor, Icon
The Legacy of La Malinche
Edited by Victoria I. Lyall and Terezita Romo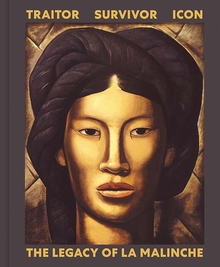 View Inside
Format:

HC - Paper over Board


Price:

$50.00
The first major visual and cultural exploration of the legacy of La Malinche, simultaneously reviled as a traitor to her people and hailed as the mother of Mexico

An enslaved Indigenous girl who became Hernán Cortés's interpreter and cultural translator, Malinche stood at center stage in one of the most significant events of modern history. Linguistically gifted, she played a key role in the transactions, negotiations, and conflicts between the Spanish and the Indigenous populations of Mexico that shaped the course of global politics for centuries to come. As mother to Cortés's firstborn son, she became the symbolic progenitor of a modern Mexican nation and a heroine to Chicana and Mexicana artists.

Traitor, Survivor, Icon is the first major publication to present a comprehensive visual exploration of Malinche's enduring impact on communities living on both sides of the US-Mexico border. Five hundred years after her death, her image and legacy remain relevant to conversations around female empowerment, indigeneity, and national identity throughout the Americas. This lavish book establishes and examines her symbolic import and the ways in which artists, scholars, and activists through time have appropriated her image to interpret and express their own experiences and agendas from the 1500s through today.


Published in association with the Denver Art Museum
Victoria I. Lyall is the Frederick and Jan Mayer Curator of Art of the Ancient Americas at the Denver Art Museum. Terezita Romo is a lecturer and affiliate faculty in the Chicana/o Studies Department at UC Davis.

EXHIBITION SCHEDULE
Denver Art Museum
(February 6–May 8, 2022)

Albuquerque Museum
(June 11–September 4, 2022)

San Antonio Museum of Art
(October 14, 2022–January 8, 2023)
ISBN:
9780300258981
Publication Date:
March 1, 2022
Publishing Partner:
Published in association with the Denver Art Museum
224 pages, 9 x 11
141 color + 10 b/w illus.