The Economic Consequences of U.S. Mobilization for the Second World War
WARNING
You are viewing an older version of the Yalebooks website. Please visit out new website with more updated information and a better user experience: https://www.yalebooks.com
Alexander J. Field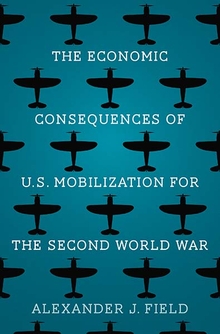 View Inside
Format:

Hardcover


Price:

$45.00
A reminder that war is not always, or even generally, good for long-term growth

Many believe that despite its destructive character, war ultimately boosts long‑term economic growth. For the United States this view is often supported by appeal to the experience of the Second World War, understood as a triumph of both production and productivity. Alexander Field shows that between 1941 and 1945 manufacturing productivity actually declined, depressed by changes in the output mix and resource shocks from enemy action, including curtailed access to natural rubber and, on the Eastern Seaboard, petroleum. The war forced a shift away from producing goods in which the country had a great deal of experience toward those in which it had little. Learning by doing was only a partial counterbalance to the intermittent idleness and input hoarding that characterized a shortage economy and dragged down productivity. The conflict distorted human and physical capital accumulation and once it ended, America stopped producing most of the new goods. The war temporarily shut down basic scientific research and the ongoing development of civilian goods. U.S. world economic dominance in 1948, Field shows, was due less to the experience of making war goods and more to the country's productive potential in 1941.  
Alexander J. Field is the Michel and Mary Orradre Professor of Economics at Santa Clara University. He is the author of A Great Leap Forward: 1930s Depression and U.S. Economic Growth and served as Executive Director of the Economic History Association from 2004 to 2012.
"Alex Field again overturns conventional wisdom, showing that there was no 'productivity miracle' during World War II.  Astute, clever, and methodical, every chapter is full of surprises."—Gavin Wright, Coe Professor of American Economic History emeritus, Stanford University
"With lucid prose and rigorous analysis, Field offers a major re-interpretation of how the war was won and why the postwar economy boomed.  A must-read for all interested in twentieth-century U.S. history."—Paul Rhode, University of Michigan
"Alexander Field overturns the claim that World War II was a great boon to productivity in the United States. The analytical rigor will satisfy the demanding specialist, but the writing is so clear that it is accessible to the general reader. It is a must-read for anyone who wants to understand the evolution of technology and the growth of productivity in the United States."—Hugh Rockoff, author of America's Economic Way of War
"In this provocative account of the U.S. economy in the 1940s, Alexander Field shows that war, even when it may seem to bring prosperity, is fundamentally about chaos and waste."—Mark R. Wilson, author of Destructive Creation: American Business and the Winning of World War II
"While the United States produced prodigious amounts of war goods during WWII, the record of industrial productivity was not a miracle. Alex Field does a brilliant job producing an original, careful, and convincing treatment."—Michael Edelstein, Emeritus Professor of Economics, City University of New York 
 
"Alex Field has added another superb work to his scholarship on the history of productivity in America.  World War II involved sacrifices on the part of so many and he documents the positive and negative impacts of the war on technological change.  His analysis is a must read because it is based on deep dives into the production processes, the data on productivity, and the potential for spillover from military activity to a peacetime economy."—Price V. Fishback, coauthor of Well Worth Saving:  How the New Deal Safeguarded Home Ownership
 
ISBN:
9780300251029
Publication Date:
October 18, 2022
472 pages, 6 1/8 x 9 1/4
25 b/w illus.