Migrants in the Profane
WARNING
You are viewing an older version of the Yalebooks website. Please visit out new website with more updated information and a better user experience: https://www.yalebooks.com
Critical Theory and the Question of Secularization
Peter E. Gordon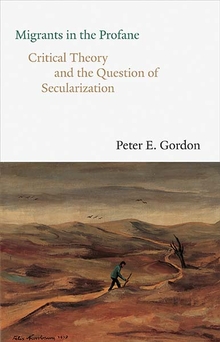 View Inside
Format:

Hardcover


Price:

$35.00
A beautifully written exploration of religion's role in a secular, modern politics, by an accomplished scholar of critical theory

"Rich in historical background, illuminating in its comparative perspective, yet focused on the question of secularization and the normative resources of modernity—a joy to read."—Maeve Cooke, University College Dublin

"Gordon writes with a controlled power, elegance, simplicity, and clarity that is a rare pleasure."—Max Pensky, Binghamton University

Migrants in the Profane takes its title from an intriguing remark by Theodor W. Adorno, in which he summarized the meaning of Walter Benjamin's image of a celebrated mechanical chess-playing Turk and its hidden religious animus: "Nothing of theological content will persist without being transformed; every content will have to put itself to the test of migrating in the realm of the secular, the profane."

In this masterful book, Peter Gordon reflects on Adorno's statement and asks an urgent question: Can religion offer any normative resources for modern political life, or does the appeal to religious concepts stand in conflict with the idea of modern politics as a domain free from religion's influence? In answering this question, he explores the work of three of the Frankfurt School's most esteemed thinkers: Walter Benjamin, Max Horkheimer, and Theodor W. Adorno. His illuminating analysis offers a highly original account of the intertwined histories of religion and secular modernity.
Peter E. Gordon is the Amabel B. James Professor of History and Faculty Affiliate in the Department of Germanic Languages and Literatures, and in the Department of Philosophy at Harvard University.  He is the author of several books in modern European philosophy and social theory, including, most recently, Adorno and Existence.
"It is an extraordinary achievement to explain and illuminate the deepest and darkest thought which motivated the work of the most prominent representatives of the original Frankfurt school: how to save the truth content of religious traditions for the sake of secular modernity while denying at the same time its very foundation in religious belief. Peter E. Gordon brilliantly succeeds in disentangling the different interpretations of this explosive idea in the works of Walter Benjamin, Max Horkheimer and Theodor W. Adorno."—Jürgen Habermas
"This book is rich in historical background, illuminating in its comparative perspective, yet focused on the question of secularization and the normative resources of modernity—a joy to read."—Maeve Cooke, University College Dublin
 
"Gordon writes with a controlled power, elegance, simplicity, and clarity that is a rare pleasure."—Max Pensky, Binghamton University
"Although of Jewish origin, the theorists of the early Frankfurt School—Benjamin, Horkheimer, and Adorno—had a conflictual attitude toward this background. None of them wholeheartedly embraced secularism; and themes, motifs, and allegories from Jewish experience and religion made their way into their writings. In this meticulously documented and beautifully crafted set of essays, Gordon guides us with a sure voice through their most complicated texts."—Seyla Benhabib, Yale University
 
"Gordon's analysis . . . will no doubt be of interest to theologians and critical social theorists alike."—Sid Simpson, Political Theology
ISBN:
9780300250763
Publication Date:
November 24, 2020
208 pages, 5 1/2 x 8 1/2