Materialism
WARNING
You are viewing an older version of the Yalebooks website. Please visit out new website with more updated information and a better user experience: https://www.yalebooks.com
Terry Eagleton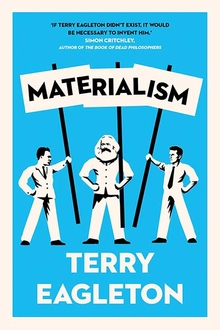 View Inside
Format:

Paper


Price:

$16.00
Also Available in:
Hardcover
A brilliant introduction to the philosophical concept of materialism and its relevance to contemporary science and culture

In this eye-opening, intellectually stimulating appreciation of a fascinating school of philosophy, Terry Eagleton makes a powerful argument that materialism is at the center of today's important scientific and cultural as well as philosophical debates. The author reveals entirely fresh ways of considering the values and beliefs of three very different materialists—Marx, Nietzsche, and Wittgenstein—drawing striking comparisons between their philosophies while reflecting on a wide array of topics, from ideology and history to language, ethics, and the aesthetic. Cogently demonstrating how it is our bodies and corporeal activity that make thought and consciousness possible, Eagleton's book is a valuable exposition on philosophic thought that strikes to the heart of how we think about ourselves and live in the world.
Terry Eagleton is Distinguished Visiting Professor of English Literature at Lancaster University and the author of more than fifty books in the fields of literary theory, postmodernism, politics, ideology, and religion. He lives in Northern Ireland.
"Frequently insightful and quite often witty."—Joseph A. Bracken, Theological Studies
"Materialist thinkers of various stripes have been struggling of late to renew our sense of 'the commons.' They would do well to take to heart Terry Eagleton's new, eminently commonsensical elaboration of the concept of materialism. Eagleton partners up with Marx, Nietzsche, Freud and Wittgenstein to awaken us to the materialism we already live, to which we have always already committed, in our embodied practices. We thereby come to see how the natural history of our forms of life implicates us in a creaturely solidarity with one another, the elaboration of which constitutes the conflict-ridden realm of politics. Eagleton's uncommonly luminous prose holds out the promise that a genuinely common life – call it ordinary life – for creatures such as us might yet be achievable."—Eric L. Santner, author of On Creaturely Life
"[F]requently insightful and quite often witty. . . . [Eagleton] is offering a clear challenge to the ontological priority of form over matter in classical metaphysics."—Joseph A. Bracken, Theological Studies
"Eagleton's book is an excellent and timely treatment of its subject matter, bringing an array of sources to bear in a nuanced account. There will be something for almost any reader to enthusiastically agree—and vehemently disagree —with here"—Daniel A. Rober, Journal of the College Theology Society
"This is a well written and engaging book packed with interesting observations, analyses, some quite brilliant insights, and not a few jokes."—Paul O'Grady, editor of The Consolations of Philosophy
"Materialism is. . . . a book of ethics with valuable political and epistemological dimensions."—Sergio Valverde, Marx and Philosophy
"[Materialism] is an excellent presentation of the strange feedback loop between ideas and their material surroundings."—Mark Dunbar, The Humanist
ISBN:
9780300246629
Publication Date:
September 24, 2019
192 pages, 5 1/2 x 8 1/4