The Cost of Free Money
WARNING
You are viewing an older version of the Yalebooks website. Please visit out new website with more updated information and a better user experience: https://www.yalebooks.com
How Unfettered Capital Threatens Our Economic Future
Paola Subacchi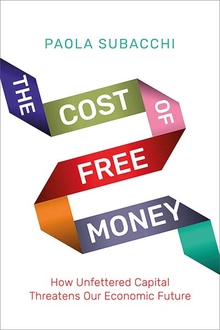 View Inside
Format:

Hardcover


Price:

$30.00
A penetrating account of how unchecked capital mobility is damaging international cooperation, polarizing the economic landscape, and ultimately reshaping the global order

"An expert on global financial and monetary systems . . . lucidly describes the failings of the international monetary 'non-system' that emerged after the collapse of the Bretton Woods system in the 1970s."—Martin Wolf, Financial Times "Best Books of 2020: Economics"

When it comes to the afflictions of the global economy, almost everyone—and especially Donald Trump—is quick to point the finger of blame at the state of international trade. But what about unconstrained capital flows? Unfettered capital has resulted in a string of financial and economic crises that have left our political systems strained and dialogue corroded. The once perceived benefits of openness have been cast to the wayside and the cracks in the global order can no longer be ignored.
 
Paola Subacchi argues that international cooperation and interdependence have become crippled. Regional restrictions will soon strengthen and a multipolar order will take shape, leading to a distinctly transformed economic landscape in which China challenges the dominance of the US dollar. Combining history, analysis, and prediction, this book provides penetrating insight into the challenges facing the international economic order.
Paola Subacchi is an economist and writer. She is professor of international economics and chair of the advisory board of the Global Policy Institute at Queen Mary University of London. Subacchi is the author of The People's Money. She lives in London.
'This highly readable analysis warns of the dangers of unchecked capital flows and weak global cooperation, and persuasively makes the case for the revival of a rules-based international economy. With nationalism on the rise, this is a vital account of the history and likely evolution of the international financial system.'—Niall Kishtainy, author of A Little History of Economics
 
'This book focuses on three tensions: those between the dominance of the dollar and an increasingly multipolar world economy; between free capital flows and financial stability; and that between the US and China. Subacchi highlights that there are no easy ways of relieving these tensions. She may not leave readers confident about our collective international monetary prospects, but it will certainly provoke thought.'—Barry Eichengreen, author of Hall of Mirrors
 
'Using her deep knowledge of the international economy and China, Subacchi eloquently and insightfully explains the increasing pressure on the international monetary system. It is to be fervently hoped that after the latest global shock, policymakers will follow Subacchi's advice to reform and reenergize.'—Tamim Bayoumi, author of Unfinished Business
"Subacchi is an expert on global financial and monetary systems. In this book, she lucidly describes the failings of the international monetary "non-system" that emerged after the collapse of the Bretton Woods system in the 1970s."—Martin Wolf, Financial Times 'Best Books of 2020: Economics'
ISBN:
9780300244045
Publication Date:
September 15, 2020
320 pages, 6 1/8 x 9 1/4