Hannibal
WARNING
You are viewing an older version of the Yalebooks website. Please visit out new website with more updated information and a better user experience: https://www.yalebooks.com
Eve MacDonald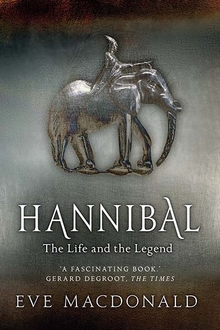 View Inside
Format:

Paper


Price:

$25.00
Also Available in:
Cloth
If history is written by the victors, can we really know Hannibal, whose portrait we see through the eyes of his Roman conquerors?

"Eve MacDonald has produced a real page-turner in this lucid account of Hannibal, the Carthaginian general whose invasion of Italy brought republican Rome almost to her knees. "—Antony Spawforth, author of The Story of Greece and Rome and co-author ofThe Oxford Classical Dictionary

Hannibal lived a life of incredible feats of daring and survival, massive military engagements, and ultimate defeat. A citizen of Carthage and military commander in Punic Spain, he famously marched his war elephants and huge army over the Alps into Rome's own heartland to fight the Second Punic War. Yet the Romans were the ultimate victors. They eventually captured and destroyed Carthage, and thus it was they who wrote the legend of Hannibal: a brilliant and worthy enemy whose defeat represented military glory for Rome.
 
In this groundbreaking biography Eve MacDonald expands the memory of Hannibal beyond his military feats and tactics. She considers him in the wider context of the society and vibrant culture of Carthage which shaped him and his family, employing archaeological findings and documentary sources not only from Rome but also the wider Mediterranean world of the third century B.C. MacDonald also analyzes Hannibal's legend over the millennia, exploring how statuary, Jacobean tragedy, opera, nineteenth-century fiction, and other depictions illuminate the character of one of the most fascinating military personalities in all of history.
An archaeologist, lecturer, and travel guide, Eve MacDonald is currently lecturer in ancient history at Cardiff University. She lives in London.
"Eve MacDonald has written one of the best biographies of Hannibal, at once readable and scholarly."—Andrew Erskine, author of Roman Imperialism
'Who was Hannibal? What motivated his epic struggle against Rome? And how has history remembered him? Eve MacDonald's book does not just tell the story of Hannibal; it offers an acute analysis of the evidence documenting his fascinating life and times.' - Kathryn Tempest, author of Cicero: Politics and Persuasion in Ancient Rome
'Eve MacDonald has produced a real page-turner in this lucid account of Hannibal, the Carthaginian general whose invasion of Italy brought republican Rome almost to her knees. She has succeeded brilliantly in unpicking the military and naval drama of the First and Second Punic Wars, giving the reader an acute sense not just of what Hellenistic warfare was like with all its brutality but also of what was at stake for both Carthage and Rome as they wrestled for hegemony in the western Mediterranean. Her command of the ancient evidence is authoritative and she gives proper weight to the problems, but she always keeps a tight grip on the narrative thread. A truly illuminating read.' - Antony Spawforth, co-author ofThe Oxford Classical Dictionary

"MacDonald has produced a fascinating book."—Gerard DeGroot, Times (London)
'There is much to admire about the clarity with which MacDonald describes the events of Hannibal's life.'—Richard Miles, Literary Review.

"An excellent biography that attempts to understand Hannibal both within and outside the Roman context." —Richard D. Weigel, Bowling Green Daily News
"[T]he book draws a good picture of Hannibal's psychology. . . . It is pleasant to read, based on the good texts, and nothing important has been forgotten: it has its place in any good library."—Yann Le Bohec, Classical Journal.
ISBN:
9780300240306
Publication Date:
September 25, 2018
352 pages, 5 x 7 3/4
8 pp. b/w illus.