Quest for Status
WARNING
You are viewing an older version of the Yalebooks website. Please visit out new website with more updated information and a better user experience: https://www.yalebooks.com
Chinese and Russian Foreign Policy
Deborah Welch Larson and Alexei Shevchenko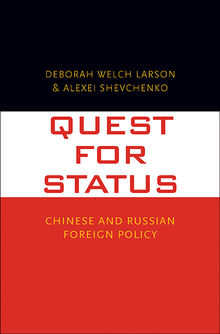 View Inside
Format:

Hardcover


Price:

$40.00
A look at how the desire to improve international status affects Russia's and China's foreign policies
 
Deborah Welch Larson and Alexei Shevchenko argue that the desire for world status plays a key role in shaping the foreign policies of China and Russia. Applying social identity theory—the idea that individuals derive part of their identity from larger communities—to nations, they contend that China and Russia have used various modes of emulation, competition, and creativity to gain recognition from other countries and thus validate their respective identities. To make this argument, they analyze numerous cases, including Catherine the Great's attempts to westernize Russia, China's identity crises in the nineteenth century, and both countries' responses to the end of the Cold War. The authors employ a multifaceted method of measuring status, factoring in influence and inclusion in multinational organizations, military clout, and cultural sway, among other considerations. Combined with historical precedent, this socio-psychological approach helps explain current trends in Russian and Chinese foreign policy.
Deborah Welch Larson is professor of political science at the University of California, Los Angeles. Alexei Shevchenko is professor of political science at California State University, Fullerton.
"A thorough historical and theoretical examination of the status quests of China and Russia, this book offers a wealth of information and will be very useful to anyone trying to understand the behavior of these two states, as well as to policymakers attempting to craft strategic responses to rising powers."--T. V. Paul, author of Restraining Great Powers: Soft Balancing from Empires to the Global Era
 
"Larson and Shevchenko offer a unique take on China's and Russia's tumultuous quests for status and the critical impact the West has had on their choices. This timely book makes a valuable contribution to our understanding of assertive China, resurgent Russia, and the momentous change in world politics under way now."—Yong Deng, professor of political science at the U.S. Naval Academy and author of China's Struggle for Status: The Realignment of International Relations
 
"This long-awaited book is a major contribution to a global understanding of the two most important challengers to the U.S.-centered international order. Larson and Shevchenko offer a powerful socio-psychological analysis of Russia's and China's foreign policies."--Andrei P. Tsygankov, San Francisco State University
"The fact that the Soviet Union both scorned its capitalist rivals and craved respect from them has long been a puzzle. Larson and Shevchenko unravel it by examining 500 years of Russian history and applying social identity theory to show the deep need for status and the alternative ways to gain it, including developing a new pecking order in which Russia has a high rank.  The parallel analysis of China shows that this behavior characterizes other countries as well and is highly relevant for current world politics."—Robert Jervis, author of How Statesmen Think
"Political scientists Deborah Larson and Alexei Shevchenko contribute a valuable study to the expanding literature on Chinese and Russian foreign policy."—J.R. Clardie, Choice
ISBN:
9780300236040
Publication Date:
February 26, 2019
352 pages, 6 1/8 x 9 1/4