The Mystery of Sleep
WARNING
You are viewing an older version of the Yalebooks website. Please visit out new website with more updated information and a better user experience: https://www.yalebooks.com
Why a Good Night's Rest Is Vital to a Better, Healthier Life
Meir Kryger, M.D.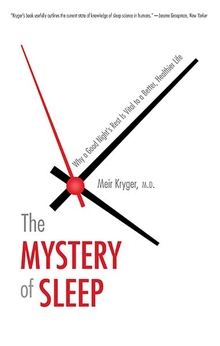 View Inside
Format:

Paper


Price:

$18.00
Also Available in:
Hardcover
An authoritative and accessible guide to what happens when we shut our eyes at night
 
We spend a third of our lives in bed, but how much do we really understand about how sleep affects us? In the past forty years, scientists have discovered that our sleep (or lack of it) can affect nearly every aspect of our waking lives. Poor sleep could be a sign of a disease, the result of a vitamin or iron deficiency, or the cause of numerous other problems, both sleeping and waking. Yet many people, even medical personnel, are unaware of the dangers of poor sleep. Enter Dr. Meir Kryger, a world authority on the science of sleep, with a comprehensive guide to the mysteries of slumber that combines detailed case studies, helpful tables, illustrations, and pragmatic advice.
 
Everyone needs a good night's sleep, and many of us will experience some difficulty sleeping or staying awake over the course of our lifetimes (or know someone who does). Kryger's comprehensive text is a much-needed resource for insomniacs; for those who snore, can't stay awake, or experience disturbing dreams; and for the simply curious. Uniquely wide ranging, The Mystery of Sleep is more than a handbook; it is a guide to the world of sleep and the mysterious disorders that affect it.

Meir Kryger, M.D., is a professor in the Yale School of Medicine and chief editor of the most widely used sleep medicine textbook, Principles and Practice of Sleep Medicine. He is recognized as a global authority on sleep and has appeared on The Dr. Oz Show, CNN, ABC news, and BBC Radio 5.
"Ably marries science with a doctor's advice."—Publishers Weekly
"Dr. Kryger, winner of the National Sleep Foundation's 2014 Lifetime Achievement Award, beautifully describes the enigmatic nature of human sleep from birth through retirement.  A must-read for all sleepers!"—Lauren Hale, Editor-in-Chief, Sleep Health
"This readable book fills an important gap in the popular literature about sleep. Dr. Kryger brilliantly provides patient stories, the background science, and solutions for those suffering from a wide range of these mysterious disorders."—Max Hirshkowitz, Baylor College of Medicine, author of Sleep Disorders for Dummies

"Meir Kryger is the oracle when it comes to the conundrums of when, why, and how we sleep. I cannot recommend him highly enough."—Dotun Adebayo, BBC Radio 5
"Sleep is vital to health and well-being. In The Mystery of Sleep, Dr. Meir Kryger, one of the foremost authorities on sleep and sleep disorders, shares his experience, knowledge, and wisdom, showing that if we're going to truly thrive, we must begin with sleep."—Arianna Huffington, author of The Sleep Revolution: Transforming Your Life, One Night at a Time
"This book introduces readers to the topic of sleep, raises awareness of the effects of sleep disorders on people's lives, and empowers people to use the tools in the book to recognize sleep problems and to seek help."—Ermal Bojdani, Yale Journal of Biology and Medicine
"Kryger, a professor at Yale Medical School, is a leader in the field of sleep medicine, and has treated more than thirty thousand patients with sleep problems during a career that spans four decades. He draws on this voluminous clinical experience in his book, which is an authoritative and accessible survey of what is known, what is believed, and what is still obscure about normal patterns of sleep and the conditions that disrupt it."—Jerome Groopman, New Yorker
ISBN:
9780300234534
Publication Date:
March 20, 2018
344 pages, 6 1/8 x 9 1/4
36 b/w illus.