Conscience and Conversion
WARNING
You are viewing an older version of the Yalebooks website. Please visit out new website with more updated information and a better user experience: https://www.yalebooks.com
Religious Liberty in Post-Revolutionary France
Thomas Kselman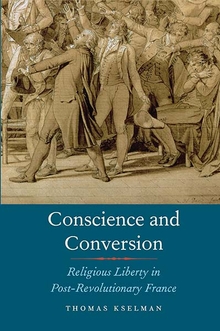 View Inside
Format:

HC - Paper over Board


Price:

$85.00
Religious liberty is usually examined within a larger discussion of church-state relations, but Thomas Kselman looks at several individuals in Restoration France whose high-profile conversions fascinated their contemporaries. Exploring their reasons and the repercussions they faced, Kselman demonstrates how this expanded sense of liberty informs our secular age.
Thomas Kselman is professor emeritus of history at the University of Notre Dame and a former president of the American Catholic Historical Association.
"At once learned and accessible, Conscience and Conversion is a strikingly original addition to the historiography on the culture of nineteenth-century France."—Jan Goldstein, University of Chicago
"Tom Kselman is one of the most accomplished historians working on religion in modern Europe. In this highly original, and—as always—brilliantly researched study, he evokes and analyzes the challenges of religious conversions and the complex story of religious freedom in nineteenth-century France, so relevant today. A fascinating book."—John Merriman, Yale University                                         
"An intimate portrayal of religious conversion and spiritual disenchantment in the post-revolutionary age of religious freedom. Kselman masterfully tells the stories of Jews who turn to Catholicism, Catholics who lose the faith, and the ensuing tales of family disruption and personal pain, as well as new intellectual, social and political adventure."—Ruth Harris, University of Oxford
 
 
"A thought-provoking, emotionally satisfying book. Thomas Kselman brilliantly explores a central, but too-often overlooked, aspect of modern life, namely the freedom to choose one's religious beliefs. With great sympathy and insight, Kselman examines key French figures who struggled mightily with religious choices unknown in the pre-revolutionary past."— Edward Berenson, author of Europe in the Modern World  
 
"With empathy and compassion, Thomas Kselman explores the case of individuals who chose to become Catholics in the aftermath of the French Revolution. This book is relevant to all who must negotiate the complex connection connections between belonging and belief."—Darrin M. McMahon, Dartmouth College
 
"Kselman makes a major contribution to understanding the implications of the revolution for the experience of religion in 19th-century France. Most important, he reveals that the religious freedom inaugurated by the French Revolution was not just a given."—Rebecca McCoy, Reading Religion
"This fascinating book looks into the experiences of a number of prominent figures who exercised their freedom of religion by changing their faith in post-revolutionary France. This might seem somewhat esoteric, but the generic issues that it highlights are of enduring relevance and have contemporary resonance."—Malcolm D. Evans, Journal of Church and State
 "Sure to be of interest to historians and theorists of secularism, although his evidence and analysis are too complex and nuanced to fit neatly into any one camp."—Joseph Peterson, Church History
"Kselman's work constitutes an important leap forward, and if it is given its due, it will bring others to think carefully about the place of religion, and the nature of religious freedom, in the decades following the Revolution."—Julie Kalman, American Historical Review
ISBN:
9780300226133
Publication Date:
February 6, 2018
400 pages, 6 1/8 x 9 1/4
9 b/w illus.