Joy
WARNING
You are viewing an older version of the Yalebooks website. Please visit out new website with more updated information and a better user experience: https://www.yalebooks.com
Edited by Christian Wiman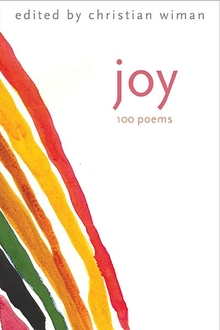 View Inside
Format:

Hardcover


Price:

$25.00
Also Available in:
Paper
One hundred of the most evocative modern poems on joy, selected by an award-winning contemporary poet

"Bursting with energy and surprising locutions. . . . Even the most familiar poets seem somehow new within the context of Joy."—David Skeel, Wall Street Journal
"Wiman takes readers through the ostensible ordinariness of life and reveals the extraordinary."—Adrianna Smith, The Atlantic
 
Christian Wiman, a poet known for his meditations on mortality, has long been fascinated by joy and by its relative absence in modern literature. Why is joy so resistant to language? How has it become so suspect in our times? Manipulated by advertisers, religious leaders, and politicians, joy can seem disquieting, even offensive. How does one speak of joy amid such ubiquitous injustice and suffering in the world?
In this revelatory anthology, Wiman takes readers on a profound and surprising journey through some of the most underexplored terrain in contemporary life. Rather than define joy for readers, he wants them to experience it. Ranging from Emily Dickinson to Mahmoud Darwish and from Sylvia Plath to Wendell Berry, he brings together diverse and provocative works as a kind of counter to the old, modernist maxim "light writes white"—
no agony, no art
. His rich selections awaken us to the essential role joy plays in human life.
Christian Wiman is the author of numerous books, including My Bright Abyss: Meditation of a Modern Believer. He is professor of the practice of religion and literature at the Yale Institute of Sacred Music.
"Christian Wiman takes readers through the ostensible ordinariness of life and reveals the extraordinary."—Adrianna Smith, The Atlantic
"This bold anthology provides readers with a wealth of reflection and insight on the epiphanies, large and small, that help give meaning to our lives. These poems remind us that joy is deep, and necessary."—Kathleen Norris, author of Acedia & Me and Journey: New & Selected Poems
"The force of this wonderful collection (and the wonderful introductory essay) is the recognition that joy cannot be argued away. In the centre of our human nightmares something opens and flowers, completely unreasonably, completely undeniably. That is what is celebrated here."—Rowan Williams, theologian and poet (Cambridge)
"Joy is an indispensable collection that will buoy up the darkest reader. Truly, Christian Wiman is a genius to have ranged so far (and deep!) to gather in one spot so many unforgettable poems to convince this glum bunny there's more light than dark in our wiggly world."—Mary Karr, author of The Liars' Club, Lit, and Sinners Welcome
"Amid the darkness of this season — nay, this moment in history — this book of poems is certainly prescriptive, the antidote to deepening psychic ails. . . . Wiman's own history of mortal sufferings. . . makes him a sharp-eyed explorer, on vigilant watch for those shimmering shards of joy along the circuitous climb. . . . In an introduction worthy of memorization, Wiman writes: 'Joy is the only inoculation against the despair to which any sane person is prone.'"—Barbara Mahany, Chicago Tribune (featured in Chicago Tribune's holiday roundup)
"Bursting with energy and surprising locutions. . . . Even the most familiar poets seem somehow new within the context of Joy."—David Skeel, Wall Street Journal
"This is an original, necessary, and illuminating book: it shines a light on an often overlooked aspect of poetry, and on Wiman's own work, too."— Paul Elie, author of The Life You Save May Be Your Own and Reinventing Bach
"Since the Christmas season is a time for joyful contemplation, it would be particularly fitting to linger with the poems in Joy: 100 Poems. They testify to many different experiences of joy in many different poetic forms.—Commonweal
Selected as the 2020 Yale Book Award for Eastern Massachusetts
ISBN:
9780300226089
Publication Date:
November 7, 2017
232 pages, 5 1/2 x 8 1/4