Pollock's Modernism
WARNING
You are viewing an older version of the Yalebooks website. Please visit out new website with more updated information and a better user experience: https://www.yalebooks.com
Michael Schreyach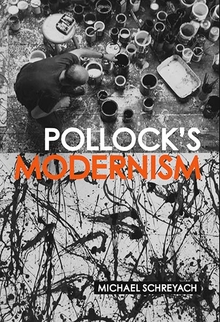 View Inside
Format:

Hardcover


Price:

$45.00
Pollock's Modernism provides a new interpretation of the art of Jackson Pollock (1912–1956), one that is based on a phenomenological investigation of the pictorial effects of particular paintings. Focusing on major works that span the artist's career – including Mural (1943), Cathedral (1947), Number 1A, 1948, One: Number 31, 1950, and Portrait and a Dream (1953) – Michael Schreyach argues that Pollock's achievement is best understood by attending to how, technically and formally, he instituted certain modes of pictorial address and structures of beholding in his paintings.  From this perspective, Pollock is shown to be an artist who transformed the means by which the phenomenological interdependence of sensation and cognition in our embodied experience could be represented.  Offering a provocative counter-argument to dominant accounts of Pollock's work, this book advances bold claims about Pollock's intentions as they are expressed in his art, and illuminates what constituted the artist's unique form of modernism at mid-century.
 
Michael Schreyach is an associate professor at Trinity University in San Antonio, Texas. 
 
"It's more than sixty years since Jackson Pollock's death, and in all that time there has been no major, powerful, at once historical and critical study of his art. Now Michael Schreyach's superb Pollock's Modernism is here to supply that lack. For the first time, the epochal all-over drip paintings of 1947–50 as well as the radical black paintings of 1951–52 are given their due in a series of brilliant, in-depth analyses that are also tours de force of theoretical sophistication. From this moment on, discussions of Pollock (and abstract painting generally) will have to reckon with Schreyach's exemplary account, which is not likely ever to be bettered." – Michael Fried, author of The Moment of Caravaggio
"What is perhaps most distinctive about Pollock's Modernism is Schreyach's insistence on drawing distinctions: among the various works within Pollock's oeuvre and what he convincingly shows to be their markedly different forms of pictorial address; between the literal, material qualities of those paintings and the pictorial ones to which they give rise; and, finally, between the work and the viewer standing before it. It is a remarkable achievement – an account as complex, surprising, and subtly nuanced as the paintings themselves." – Lisa Florman, Professor and Chair, History of Art Department, The Ohio State University
"Rarely does a book appear that changes the direction of scholarship – this is what Michael Schreyach has accomplished with his deep phenomenological study of Jackson Pollock's art. Schreyach acknowledges the fine work that has been done in recent decades on the social, cultural, and political context of Pollock's career. But all too often, he notes, 'any "Pollock" will do to illustrate some point.' Schreyach instead analyzes the specific address to the viewer that key paintings by Pollock create. Rather than representing a link in our established cultural history, Pollock comes alive again under Schreyach's intense scrutiny – the feeling, thinking artist that he was." – Richard Shiff, Effie Marie Cain Regents Chair in Art, The University of Texas at Austin
"In his detailed observations and astute analyses of Pollock's works, Schreyach proves an unmatched guide" – Choice
"This book evinces much scholarly dedication and concerted theorisation." —David Anfam, The Art Newspaper
 "Schreyach brings a new level of imagination, insight and erudition to an understanding of Pollock's work" —Eileen Costello, The Burlington Magazine
"The book is a pleasure to read"—Eva Ehninger, Nonsite
ISBN:
9780300223262
Publication Date:
September 26, 2017
344 pages, 6 x 9 1/2
45 color illus.