On Being Human
WARNING
You are viewing an older version of the Yalebooks website. Please visit out new website with more updated information and a better user experience: https://www.yalebooks.com
Jerome Kagan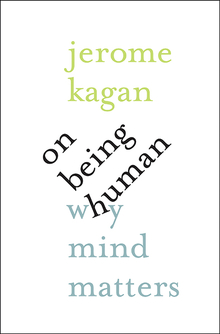 View Inside
Format:

Cloth


Price:

$71.00
A revered psychologist invites us to re-examine our thinking about controversial contemporary issues, from the genetic basis for behaviors to the functions of education

In this thought-provoking book, psychologist Jerome Kagan urges readers to sally forth from their usual comfort zones. He ponders a series of important nodes of debate while challenging us to examine what we know and why we know it. Most critically he presents an elegant argument for functions of mind that cannot be replaced with sentences about brains while acknowledging that mind emerges from brain activity.   
 
Kagan relies on the evidence to argue that thoughts and emotions are distinct from their biological and genetic bases. In separate chapters he deals with the meaning of words, kinds of knowing, the powerful influence of social class, the functions of education, emotion, morality, and other issues. And without fail he sheds light on these ideas while remaining honest to their complexity.  
 
Thoughtful and eloquent, Kagan's On Being Human places him firmly in the tradition of Renaissance essayist Michel de Montaigne, whose appealing blend of intellectual insight, personal storytelling, and careful judgment has attracted readers for centuries.
Jerome Kagan is emeritus professor of psychology, Harvard University. During his pioneering career in developmental psychology, he received the Distinguished Scientist Award from the American Psychological Association, is a member of the National Academy of Medicine, and is the author of hundreds of research papers, two textbooks, and fifteen books. He lives in Belmont, MA.
"Kagan is a master prose artisan. . . . Frankly, this book is quite amazing—James Joyce with logic and rigor, or perhaps a twenty-first century version of Montaigne. Reading this book is a rich learning experience for almost anyone."—Jay Schulkin, Georgetown University
"This book is Kagan through and through. Smart, informative, engaging."—Joseph LeDoux, author of Anxious
"In these elegantly written essays, Jerome Kagan addresses some of the most compelling aspects of human experience, ranging from morality to mortality. With his characteristic wisdom and frankness, Kagan illuminates fundamental questions concerning the basis of cognition and emotion. I enthusiastically recommend On Being Human to anyone interested in the workings of the human mind."—Daniel L. Schacter, author of The Seven Sins of Memory: How the Mind Forgets and Remembers
"Kagan's arguments are convincing and pose a timely question: How can the social sciences treat the complexity of their subjects responsibly? . . . His quiet insistence on the devastating moral costs of less easily quantifiable sources of human suffering, such as poverty, makes clear the high stakes of this question."—American Scholar
"Kagan's thought is easy to follow, his prose pleasant to read, and his opinions clear."—Publishers Weekly
"On Being Human is an extensive and sharp account of the fundamental issues in psychology. You will not agree with all the reasoning, if you are critical and reflective, but it will make you think. And that, of course, is a mark of an excellent book."—Metapsychology Online Reviews
"You probably will not read this book in one sitting. But if you read each essay in the evening over a glass of wine, as Kagan suggests in his preface, or in the morning on your treadmill, as I did, you will finish the book understanding much about human behavior than when you started. You will have peered inside Kagan's mind and learned how even wise psychologists in their late 80s can contribute in one book more than many psychologists contribute over a lifetime through dozens of brief journal articles."—Robert Sternberg in PsycCRITIQUES
ISBN:
9780300217360
Publication Date:
March 22, 2016
320 pages, 6 1/8 x 9 1/4