Before Religion
WARNING
You are viewing an older version of the Yalebooks website. Please visit out new website with more updated information and a better user experience: https://www.yalebooks.com
A History of a Modern Concept
Brent Nongbri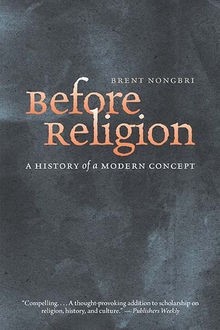 View Inside
Format:

Paper


Price:

$20.00
Also Available in:
Cloth
e-book
For much of the past two centuries, religion has been understood as a universal phenomenon, a part of the "natural" human experience that is essentially the same across cultures and throughout history. Individual religions may vary through time and geographically, but there is an element, religion, that is to be found in all cultures during all time periods. Taking apart this assumption, Brent Nongbri shows that the idea of religion as a sphere of life distinct from politics, economics, or science is a recent development in European history—a development that has been projected outward in space and backward in time with the result that religion now appears to be a natural and necessary part of our world.
Examining a wide array of ancient writings, Nongbri demonstrates that in antiquity, there was no conceptual arena that could be designated as "religious" as opposed to "secular." Surveying representative episodes from a two-thousand-year period, while constantly attending to the concrete social, political, and colonial contexts that shaped relevant works of philosophers, legal theorists, missionaries, and others, Nongbri offers a concise and readable account of the emergence of the concept of religion.
Brent Nongbri is a postdoctoral researcher at Macquarie University in Sydney, Australia.
 
"Recent scholarship exposing the modern origin of 'religion' has awaited a treatise precisely like this: a wide-ranging yet careful exploration of the prehistory of the powerful idea. Written with clarity, ease, and grace, it is exceedingly informative and provocative."—Tomoko Masuzawa, author of The Invention of World Religions: Or, How European Universalism Was Preserved in the Language of Pluralism
"This book provides a wonderfully clear and concise account of our modern notion of 'religion.' Written with erudition and insight, it challenges us to rethink everything we have thought about religions, past and present."—Peter Harrison, The University of Queensland
"This lucid, broad and well-documented book focuses on the crucial periods of late antiquity and early modernity. In it, Brent Nongbri makes a convincing case for a more careful and self-conscious use of the term religion. A remarkable synthesis."—Guy G. Stroumsa, author of A New Science: the Discovery of Religion in the Age of Reason
"In this brief but challenging book Brent Nongbri defamiliarizes the notion of religion as commonly used. Even if one does not agree with all of his conclusions, the study of 'religion,' be it in antiquity or today, will never be the same after the standards set by his book."—Jan Bremmer, University of Groningen
"Inevitably, we use our own concepts to make sense of the past; failing to realize this, however, is an indictment of our work. Luckily, Brent Nongbri's genealogy of the concept 'religion' will help keep scholars honest by making it tougher for them to portray their modern interpretations as disinterested descriptions."—Russell T. McCutcheon, author of Manufacturing Religion: The Discourse on Sui Generis Religion and the Politics of Nostalgia
"Compelling . . . a thought-provoking addition to scholarship on religion, history, and culture."—Publishers Weekly
"Sharp and learned . . . In addition to being an absorbing historical polemic, Before Religion is a fine example of the kind of curiosity and skepticism it advocates."—Adam Kirsch, Barnes and Noble Review
"Fascinating."—Andrew Sullivan, The Dish
"Valuable . . . a coherent, lucid, book-length argument that ought to convince the skeptic that 'religion' is a problematic category. . . . Nongbri's book is a great place to start to question the inevitability of modern categories."—William T. Cavanaugh, First Things
"This volume contributes to current discussions throughout the field of religious studies regarding to the origins and use of the term 'religion.'"—Religious Studies Review
"So, although Before Religion understandably comes well after many of the works that helped to establish this field of study, it is likely the best way into the literature on "religion" for the newcomer (and thus Nongbri's work has the effect of helping to constitute this focus as a legitimate specialty). While hardly being a textbook, its shorter chapters and command over a wide literature, coupled with his many practical historical examples, makes it very useful in a variety of class settings (whether undergraduate or graduate)."—Russell T. McCutcheon, Numen
"Brent Nongbri has achieved a rarity in the study of religion . . . lucid and informative."—David Kaden, Symposia
"Nongbri's argument is worth attending to."—Paul J. Griffiths, Pro Ecclesia
ISBN:
9780300216783
Publication Date:
September 29, 2015
288 pages, 5 1/2 x 8 1/4