Voyaging in Strange Seas
WARNING
You are viewing an older version of the Yalebooks website. Please visit out new website with more updated information and a better user experience: https://www.yalebooks.com
The Great Revolution in Science
David Knight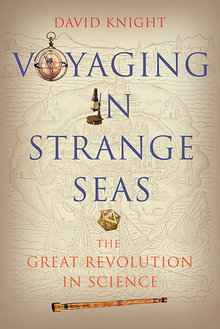 View Inside
Format:

Paper


Price:

$25.00
Also Available in:
Cloth
An ambitious, landmark history of the Scientific Revolution, from the age of Columbus to the age of Cook

In 1492 Columbus set out across the Atlantic; in 1776 American colonists declared their independence. Between these two events old authorities collapsed—Luther's Reformation divided churches, and various discoveries revealed the ignorance of the ancient Greeks and Romans. A new, empirical worldview had arrived, focusing now on observation, experiment, and mathematical reasoning.
 
This engaging book takes us along on the great voyage of discovery that ushered in the modern age. David Knight, a distinguished historian of science, locates the Scientific Revolution in the great era of global oceanic voyages, which became both a spur to and a metaphor for scientific discovery. He introduces the well-known heroes of the story (Galileo, Newton, Linnaeus) as well as lesser-recognized officers of scientific societies, printers and booksellers who turned scientific discovery into public knowledge, and editors who invented the scientific journal. Knight looks at a striking array of topics, from better maps to more accurate clocks, from a boom in printing to medical advancements. He portrays science and religion as engaged with each other rather than in constant conflict; in fact, science was often perceived as a way to uncover and celebrate God's mysteries and laws. Populated with interesting characters, enriched with fascinating anecdotes, and built upon an acute understanding of the era, this book tells a story as thrilling as any in human history.
David Knight is Emeritus Professor of History & Philosophy of Science, Durham University, and former editor of the British Journal for the History of Science. He lives in Durham, UK.
'Knight in his usual elegant and engaging manner has written the ideal book for students (and others) who want to have an overview of what he calls the "long Scientific Revolution".' - Frank James, Professor of the History Science and Head of Collections, The Royal Institution
'Sailing across the three centuries that separate the voyages of Christopher Columbus and James Cook, David Knight describes the scientific pioneers who – like Isaac Newton – ventured into unfamiliar intellectual oceans. Knight possesses the rare gift of writing prose as if he were engaging in a relaxed conversation, and this new book resonates with his customary mellifluous eloquence as he illuminates the present state of science by retelling a traditional story about its past.' -  Patricia Fara, author of Science: A Four Thousand Year History
"The story of the West's spectacular development, told by a knowledgeable, patient teacher."—Kirkus Reviews
"Voyaging in Strange Seas is an excellent source of information about the history of science. Its particular value lies in the extensive coverage of how science has influenced the social and political lives of people and countries."—Donald F. Calbreath, New York Journal of Books
"This is a carefully-crafted and appealing history of science that combines familiar elements in fresh ways… I heartily recommend this book not only to new readers of history, but also to jaded specialists who occasionally may need to be reminded  of the seamless continuities between disciplines."—Sean F. Johnston, AMBIX
ISBN:
9780300212754
Publication Date:
June 9, 2015
344 pages, 5 11/16 x 8 7/8
55 b/w illus.