The Gardens of the British Working Class
WARNING
You are viewing an older version of the Yalebooks website. Please visit out new website with more updated information and a better user experience: https://www.yalebooks.com
Margaret Willes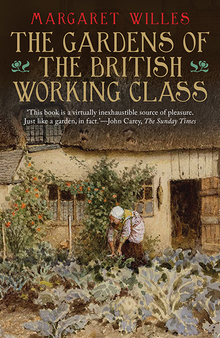 View Inside
Format:

Paper


Price:

$30.00
Also Available in:
Cloth
This magnificently illustrated people's history celebrates the extraordinary feats of cultivation by the working class in Britain, even if the land they toiled, planted, and loved was not their own. Spanning more than four centuries, from the earliest records of the laboring classes in the country to today, Margaret Willes's research unearths lush gardens nurtured outside rough workers' cottages and horticultural miracles performed in blackened yards, and reveals the ingenious, sometimes devious, methods employed by determined, obsessive, and eccentric workers to make their drab surroundings bloom. She also explores the stories of the great philanthropic industrialists who provided gardens for their workforces, the fashionable rich stealing the gardening ideas of the poor, alehouse syndicates and fierce rivalries between vegetable growers, flower-fanciers cultivating exotic blooms on their city windowsills, and the rich lore handed down from gardener to gardener through generations. This is a sumptuous record of the myriad ways in which the popular cultivation of plants, vegetables, and flowers has played—and continues to play—an integral role in everyday British life.
Margaret Willes is an enthusiastic gardener and the former publisher at the National Trust.
'This is a wonderful book, and an unusual addition to the gardening shelf. It reveals the democracy of gardening and its being both a craft and an art – a mixture of hard labour and passion. Margaret Willes's book shows how people with no money and little time to themselves produced riches on small plots – little paradises, even. How begging, borrowing (and stealing), they would create wealths of flowers and food, and find joy in doing so. How gardening would become their chosen taskmaster – and their deliverer. Willes's history is a constant statement of how green fingers have transformed lives. The book is a delight.' - Ronald Blythe, author of Akenfield
'An encyclopaedic and enjoyable read, so well written and so informative that it should appeal to anyone interested in history and horticulture.' - Bob Flowerdew, regular panel member of BBC Radio 4's Gardeners' Question Time
'Garden historians characteristically focus on the gardens of grand houses and their makers. By contrast, this is an intriguing study of an often overlooked area of both horticultural and social history. Through dauntingly energetic research, Margaret Willes has produced a colourful and remarkably detailed account of how a passion for flower and vegetable gardening has enriched the lives of millions.' - Michael Leapman, author of One Man and His Plot
'Margaret Willes's overview of working-class gardens adds to this growing body of literature, and provides a great introduction to an often overlooked history. . .Thanks to books such as this, historians can no longer ignore the stories of these other gardens, created outside of the estate boundary.'—Clare Hickman, BBC History Magazine
"In this sprightly, thoroughly researched book, Margaret Willes gives [working class gardeners] an identity, celebrating a diversity of dedicated, knowledgeable gardeners who worked the land, but seldom owned it."—Caroline Beck, Gardens Illustrated
'Willes's book is a careful scholarly consideration of the evidence about Britain's humblest plots, from medieval times onwards. . .Willes has worked tirelessly to amass evidence, and the illustrations and images included in the text are particularly evocative, and often also very poignant. [They] provide the book's rich texture and make for delightful and often surprising reading.'—Emma Townshend, Independent on Sunday
"Willes's range is staggering. . . . Her book is a virtually inexhaustible source of pleasure. Just like a garden, in fact."—John Carey, The Sunday Times
'She has succeeded in letting the individual voices of the underdogs of the gardening fraternity shout or whisper tellingly through its pages.'—Katherine Lambert, New Statesman
'A bravura historical survey full of rich detail, facts and anecdotes.'—The Sunday Times
'What exactly is a working-class garden in image and reality?. . .These questions, and much else, are explored in Margaret Willes's new book. . . Her best material comes from the 19th century onwards, especially in the century from 1860 to 1960.'—Robin Lane Fox, The Financial Times
'Victorian industrialists and do-gooders. . .shine out like beacons of energy and determination from Margaret Willes's marvellously illuminating book. . .Fascinating as a work of history, Willes's book is – above all – a record of the passion that has led England to take pride in having bred a nation of gardeners.'—Miranda Seymour, Literary Review
'Margaret Willes's excellent book demonstrates how enclosure was a defining point in the British attitude to land, community, self-reliance and ownership. . .Willes writes fascinatingly of an upsurge of working-class gardening clubs that promoted gardening not only as a means of supplementing a meagre diet but as a source of delight in both competition and the beauty of flowers.'
—Lucy Lethbridge, The Financial Times
'This is a welcome work of serious scholarship, which brings to the fore much that garden historians usually prefer to ignore.'—Ursula Buchan, The Spectator
'From the 17th century to today, a magnificent study.'—The Sunday Times
'Margaret Willes, the hollyhock of garden historians. . .finds a space of her own to raise the theory that it is ordinary gardeners who have made the biggest contribution to the greening and flowering of Britain. . .She has demonstrated that the next best thing to gardening is total immersion in a really good book about how our forebears did it. And why.'—Elizabeth Grice, The Oldie
'No review could do justice to the scope of this book: from backyard grottoes built of clinkers, shells and smashed ornaments to urban flower-shows and garden cities; from the establishment of Victoria Park in London's East End in 1845, intended to inspire the locals and even provide free bedding plants at the end of the season, to gardening magazines, manuals and radio and television programmes. . .This is a wonderful book: comprehensive, enthralling, generously and instructively illustrated, and filled with often extraordinary anecdotes.'—Peter Parker, Hortus
'[A] superb new history of gardening.'—Ian Jack, The Guardian
'Her excellent, scholarly celebration of the humblest of horticulturalists, from medieval times onwards, is a glorious, lavishly illustrated tribute to the redemptive power of gardening – and our faith in the future as we sow tiny seeds, perhaps in our city window box, in the hope that they'll blossom come spring.'—Jackie McGlone, The Herald
'Margaret Willes sets out to give voice to working-class gardeners of the past in this magnificent piece of research, wrapped up by Yale as handsomely as a cottage loaf – and to be devoured slice of crusty slice: allotments, flower shows, and folklore. . . More convincingly and more eloquently than any previous garden historian, Willes shows that gardening is 'the popular art of Britain.''—Christopher Woodward, World of Interiors Magazine
'It is a fascinating, diverse story, of hard work, ingenuity, and all too often, unfairness.'—Ruth Pavey, Ham & High
'[Willes]...is concerned with the people, their needs and the realities of life in Britain over the past five centuries. Garden history has benefitted from the breadth of scholarship that has fed into the field. This book exemplifies that perfectly.'—Paula Henderson, Garden History.
'Margaret Willes intention in this beautifully illustrated book on working class gardens is to show that working class people in Britain have been just as devoted and resourceful in creating gardens as their middle and upper class compatriots.'—Cathy Davis, The Spokesman.

'This is sumptuous record of the myriad ways in which the popular cultivation of plants, vegetables and flowers has played, and continues to play an integral role in British life.'—Welsh Border Life.
'Willes's range in this history is staggering… This book is a virtually inexhaustible source of pleasure. Just like a garden.'—John Carey, the Sunday Times.
"Not until reading Willes's The Gardens of the British Working Class have I encountered a book that puts so much together in such a nuanced and holistic way."—Jane Nadel-Klein, H-Net Reviews
'…in this wonderfully rich study, Margaret Willes reveals the forgotten history of Britain's working-class horticulturalists'—PD Smith, the Guardian.
'Accessibly written, beautifully illustrated, and packed with fascinating evidence, this book will be sure to delight gardeners and social historians alike.'—Emma Griffin, History Today. 
ISBN:
9780300212358
Publication Date:
July 28, 2015
424 pages, 5 1/2 x 8 1/4
16 pp. color + 87 b/w illus.