Realism in the Age of Impressionism
WARNING
You are viewing an older version of the Yalebooks website. Please visit out new website with more updated information and a better user experience: https://www.yalebooks.com
Painting and the Politics of Time
Marnin Young

Read this book online via the A&AePortal, our art and architectural history eBook platform. To learn more about how to access this book, please contact us.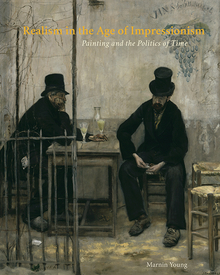 View Inside
Format:

Cloth


Price:

$65.00
Also Available in:
Art ePortal
The late 1870s and early 1880s were watershed years in the history of French painting. As outgoing economic and social structures were being replaced by a capitalist, measured time, Impressionist artists sought to create works that could be perceived in an instant, capturing the sensations of rapidly transforming modern life. Yet a generation of artists pushed back against these changes, spearheading a short-lived revival of the Realist practices that had dominated at mid-century and advocating slowness in practice, subject matter, and beholding. In this illuminating book, Marnin Young looks closely at five works by Jules Bastien-Lepage, Gustave Caillebotte, Alfred-Philippe Roll, Jean-François Raffaëlli, and James Ensor, artists who shared a concern with painting and temporality that is all but forgotten today, having been eclipsed by the ideals of Impressionism. Young's highly original study situates later Realism for the first time within the larger social, political, and economic framework and argues for its centrality in understanding the development of modern art.
Marnin Young is associate professor of art history at Stern College for Women, Yeshiva University.
"Through its impressive command of the corpus of late nineteenth-century art criticism and its convincing articulation of the importance of temporality as an analytical and historical category, Realism in the Age of Impressionism is . . . an important contribution to nineteenth-century French art history."—Samuel Raybone, Art History
"Young's total saturation in, and mastery of, the extremely rich body of contemporary art criticism enables him to recreate, to a remarkable degree, the recep­tion of his chosen paintings by the most informed and sophisticated viewers of the time. The richness of 19th-century French art criticism is a gift to the historian, but only a handful of scholars have made the most of it; T. J. Clark, Martha Ward, Marc Gotlieb, and Stephen Bann come at once to mind, and Young in this book joins their rather exclusive club."—Michael Fried, Johns Hopkins University
"What emerges is a very unusual bringing together of what is usually dealt with separately, by those dedicated to different methodological frameworks: a Marxist-inspired social history of art as exemplified in the work of T.J. Clark, versus a Friedian phenomenology of "absorption and theatricality," and their different ways of combining an address to both form and content, facture and iconography. Thus Marnin Young's text manages to nuance and complicate very usefully all the existing narratives of this period of 'avant-garde' art as well as the standard divisions in art historical methodology associated with it."—Carol Armstrong, Yale University
"Young brings to bear a remarkable knowledge of the contemporary critical literature. . . . [The book's chapters] introduce a young scholar of rare penetration."—Christopher Riopelle, Art Newspaper
"Amid the endless stream of images that come our way as part of the twenty-?rst-century visual economy, Young's book provides a lesson in the value of slow looking." —Andrea Korda, RACAR: revue d'art canadienne
 
"A fantastic book."—Mary Hunter, CAA Reviews
"[Young's] readers are always thought provoking; like the book as a whole, they challenge readers to look at art as complex historical evidence and in so doing to reconfigure our understandings of historical duration and the politics of time."—Daniel Sherman, Journal of Modern History
Won an honorable mention for the 2016 Robert Motherwell Book Award given by the Dedalus Foundation.
ISBN:
9780300208320
Publication Date:
August 4, 2015
272 pages, 8 x 10
60 color + 75 b/w illus.