The Fortunes of Francis Barber
WARNING
You are viewing an older version of the Yalebooks website. Please visit out new website with more updated information and a better user experience: https://www.yalebooks.com
The True Story of the Jamaican Slave Who Became Samuel Johnson's Heir
Michael Bundock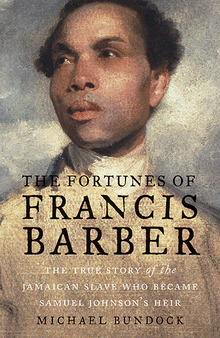 View Inside
Format:

Cloth


Price:

$64.00
Also Available in:
Paper
Out of Print
The story of the extraordinary relationship between Francis Barber, a former slave, and Samuel Johnson, England's most distinguished man of letters

"Bundock's lively biography offers a fresh perspective on Johnson and locates Barber both in Johnson's household and in the context of an empire beginning to debate the political and moral legitimacy of slavery."—Publishers Weekly

This compelling book chronicles a young boy's journey from the horrors of Jamaican slavery to the heart of London's literary world, and reveals the unlikely friendship that changed his life. Francis Barber, born in Jamaica, was brought to London by his owner in 1750 and became a servant in the household of the renowned Dr. Samuel Johnson. Although Barber left London for a time and served in the British navy during the Seven Years' War, he later returned to Johnson's employ. A fascinating reversal took place in the relationship between the two men as Johnson's health declined and the older man came to rely more and more upon his now educated and devoted companion. When Johnson died he left the bulk of his estate to Barber, a generous (and at the time scandalous) legacy, and a testament to the depth of their friendship.
 
There were thousands of black Britons in the eighteenth century, but few accounts of their lives exist. In uncovering Francis Barber's story, this book not only provides insights into his life and Samuel Johnson's but also opens a window onto London when slaves had yet to win their freedom.
Michael Bundock is a barrister, a director of Dr. Johnson's House Trust and an Honorary Research Associate in the English Department at University College London.
"At last, the biography that Francis Barber deserves. A meticulous yet imaginative book which teases out the full humanity of Dr. Johnson's servant—and of the affection and hostility he generated among contemporaries."—James Walvin, author of The Zong: A Massacre, the Law and the End of Slavery
"Michael Bundock has written the first biography in over one hundred years of Francis Barber, Samuel Johnson's black servant and heir. Acknowledging the groundwork laid over a century ago, Bundock goes well beyond earlier commentators in exploring the evolving relationship between Johnson and Barber."—Vincent Carretta, University of Maryland
"Like James Boswell before him, Michael Bundock is a lawyer, and in his biography of Samuel Johnson's servant that background serves him well. Reading the evidence, some newly discovered, he brings Francis Barber to life, deepens our understanding of Johnson, enriches our sense of quotidian eighteenth-century London, and provides an unusual contribution to black history in England."—Robert Folkenflik, University of California, Irvine
"The Fortunes of Francis Barber is the most complete and accurate account of the life of Francis Barber that has ever been produced or is ever likely to be produced. This book far outstrips all earlier accounts."—Robert DeMaria, Jr., Vassar College
"This is an indispensable volume, by far the most readable and comprehensive and authoritative account of Francis Barber's life that's ever been written – or that ever could be written, at least with the source materials we currently have."—Open Letters Monthly
"Bundock's lively biography offers a fresh perspective on Johnson and locates Barber both in Johnson's household and in the context of an empire beginning to debate the political and moral legitimacy of slavery."—Publishers Weekly
'[Bundock] is a lawyer by profession, and one of the great pleasures of reading his completely captivating book is to watch him gathering all the evidence and teasing out the truth… one of the very few books about Johnson worthy to stand beside that classic.'—John Carey, the Sunday Times.

'[Bundock] imaginatively recreates the textures of life in 18th-century England and shows an admirable determination to question received wisdom'—Henry Hitchings, the Guardian.

'Michael Bundock's accomplished biography tells the story of Dr. Samuel Johnson's black servant and friend, Francis Barber, giving a much needed biography to a man who has hitherto been relegated to footnote status… Bundock's scrupulous research finally puts the record straight.'—Paula Bryne, author of Belle: the True Story of Dido Belle, the Times.
'Bundock's tale of [the Georgian period], written with a Johnsonian clarity and verve, absorbs from start to finish.'—Ian Thomson, New Statesman.
'Bundock weaves into the absorbing tale of Barber's life a wealth of material relating to black people in England, especially in London, throughout the 18th century… He writes with clarity, sympathy and tact'—Freya Johnston, Literary Review.
"In The Fortunes of Francis Barber, there are indeed plenty of rivalries, along with burned diary entries, tossed-off insults, and spiky descriptions that would likely get a stamp of approval from Johnson's satiric contemporaries. Yet what distinguishes Michael Bundock's book is not its hijinks but its illuminating scholarship . . . Pick up The Fortunes of Francis Barber for its promise of lexicographical and 18th-century antics; read it for the engrossing history it reveals."—Santa Fe New Mexican
'Barber's story receives expert, sensitive treatment in Bundock's biography.'—Tony Barber, Financial Times.
'This magnificent biography of Dr. Johnson's servant Francis Barber is almost fit to stand beside James Boswell's Life.'—The Sunday Times.
'The Fortunes of Francis Barber is concise, clear-headed, sympathetic and scholarly…'—Charles Nicholl, London Review of Books.
'[A] fine biography.'—Kathryn Sutherland, TLS. 
'…the most thorough account yet of the child slave who ended up living with Johnson as a father figure.'—Andre Paine, Clerkenwell Post.
"Michael Bundock has produced a splendidly researched book that valiantly attempts to wrest its subject from the shadows."—Juliette Foster, Surrey Life
"Another outsider who has attracted a supremely skilled biography this year is Francis Barber, the Jamaican slave who became valet to Samuel Johnson. A model of how to use one apparently insignificant life to break open a historical moment that could otherwise be approached only through historical documents… allows Bundock to explore what life felt like for a black man in Georgian England—Kathryn Hughes, Guardian
ISBN:
9780300207101
Publication Date:
March 31, 2015
296 pages, 6 1/8 x 9 1/4
30 b/w illus.