Liberty's Dawn
WARNING
You are viewing an older version of the Yalebooks website. Please visit out new website with more updated information and a better user experience: https://www.yalebooks.com
A People's History of the Industrial Revolution
Emma Griffin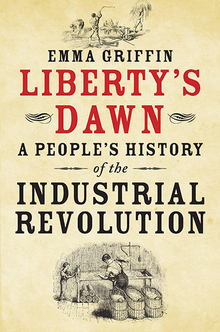 View Inside
Format:

Paper


Price:

$35.00
Also Available in:
Cloth
This remarkable book looks at hundreds of autobiographies penned between 1760 and 1900 to offer an intimate firsthand account of how the Industrial Revolution was experienced by the working class. The Industrial Revolution brought not simply misery and poverty. On the contrary, Griffin shows how it raised incomes, improved literacy, and offered exciting opportunities for political action. For many, this was a period of new, and much valued, sexual and cultural freedom.
This rich personal account focuses on the social impact of the Industrial Revolution, rather than its economic and political histories. In the tradition of best-selling books by Liza Picard, Judith Flanders, and Jerry White, Griffin gets under the skin of the period and creates a cast of colorful characters, including factory workers, miners, shoemakers, carpenters, servants, and farm laborers.
Emma Griffin is professor of history at the University of East Anglia. She lives in Norwich, UK.
"Liberty's Dawn is a triumph, achieved in fewer than 250 gracefully written pages. They persuasively purvey Griffin's historical conviction. She is intimate with her audience, wooing it and teasing it along the way."—Anthony Fletcher, Times Literary Supplement
"Griffin's crisp and accessible prose rests on a foundation of scrupulous scholarship."—Amanda Vickery, The Guardian
'A totally compelling account of the Industrial Revolution. Through a remarkable range of life stories, Emma Griffin opens up this extraordinary epoch of change, providing a brilliant chronicle of its social history and upending traditional interpretations in the process. With her light touch and rigorous scholarship, Griffin provides an important and rewarding overview of this defining moment in British history.' - Tristram Hunt, author of Building Jerusalem: The Rise and Fall of the Victorian City

"This is a brave book that challenges accepted wisdom by offering a decidedly optimistic view of the impact of the Industrial Revolution on the opportunities, freedoms and choices available to the working class."—Pat Hudson, Times Higher Education Supplement
'While the author's purpose is a serious study, this won't prevent anyone from lapping up the inspiring stories in this meaty and satisfying book.'—Lorraine Courtney, Irish Times
'Emma Griffin's brilliant use of the voices of the poor that survive in memoirs allows us to grasp the ambiguiities and complexities of their encounter with the momentous changes of the Industrial Revolution as never before. It was not simply a time of harsdhip and disruption but of opportunity and release from social constraints. Griffin's stylish and accessible account marks a major shift in our understanding of this period that moves beyond economic abstractions: we hear the voices of those who lived through the creation of the world's first industrial society.' - Martin Daunton, author of Wealth and Welfare: An Economic and Social History of Britain, 1851-1951
'Emma Griffin gives a new and powerful voice to the men and women whose blood and sweat greased the wheels of the Industrial Revolution.' - Tim Hitchcock, author of Down and Out in Eighteenth-Century London

"Through the 'messy tales' of more than 350 working-class lives, Emma Griffin arrives at an upbeat interpretation of the Industrial Revolution most of us would hardly recognise. It is quite enthralling."—Elizabeth Grice, Oldie Magazine
"A provocative study."—The New Yorker
'This is a novel twist on the story behind the Industrial Revolution. Griffin does a fine job in personalising the social history of the period by trawling through hundreds of autobiographies from 1760-1900 to offer first-hand experiences of how this era impacted upon the working classes, including a rise in income and improved literacy.'—Steve Harnell, Who Do You Think You Are Magazine
'Griffin's excellent history of writing by those born in poverty. . .shine[s] a light on what working men endured. . .and what they felt about it, in their own words.'—Lesley McDowell, Sunday Herald
"In this marvelous book, Liberty's Dawn, Emma Griffin introduces us to or reacquaints us with 350 of the William Aitkens of the late eighteenth and nineteenth centuries in Britain—lower-class men and a handful of women who wrote autobiographies, some of them printed, many of them manuscript accounts discovered in repositories across the country."—Brian Lewis, McGill University
"An admirably intimate and expansive revisionist history."—Publishers Weekly
ISBN:
9780300205251
Publication Date:
August 26, 2014
320 pages, 6 x 9