Martin Frobisher
WARNING
You are viewing an older version of the Yalebooks website. Please visit out new website with more updated information and a better user experience: https://www.yalebooks.com
James McDermott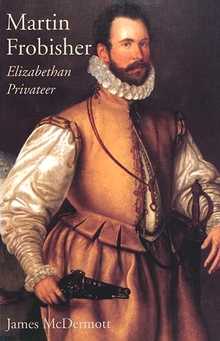 View Inside
Format:

Paper


Price:

$50.00
Also Available in:
Cloth
Adventurous and willful, the swashbuckling Martin Frobisher was both a brave sea-commander who served Elizabeth I with distinction and a privateer who single-mindedly pursued his own interests. This highly entertaining biography provides the first complete picture of the life and exploits of Frobisher—from his voyages in search of the fabled Northwest Passage to his courageous resistance to the Spanish Armada and his exploits as privateer and sometime pirate. The book explores Frobisher's vigorous personality and its manifestation in the turbulence of his career and his impact on others. It also illuminates the robust world of maritime enterprise in England in the sixteenth century, when the shifting objectives of the Elizabethan age brought together felons, merchants, and great officers of state.

James McDermott, a leading authority on Martin Frobisher and the Northwest Passage, offers a riveting account of the explorer, based on all extant manuscript and documentary sources. McDermott sets aside the distortions of Frobisher's popular reputation as a hero and offers instead a richly detailed portrait of a fascinating but flawed man whose ceaseless search for wealth and fame defined his extraordinary life.
James McDermott is an independent scholar and former special adviser to the Canadian Museum of Civilization's Meta Incognita Project.
"I have read nothing that provides a better sense of the demi-monde in which sea-dogs like Frobisher lived. This is an immensely entertaining biography."—William S. Maltby, University of Missouri

"The first major biography of the early English explorer since William McFee's widely purchased 1928 Life of Sir Martin Frobisher."—Kirkus Reviews


"[This book is] as thorough a life of the elusive adventurer as the relatively few available facts make possible. . . . McDermott, who has been researching his hero for 30 years, successfully evokes the life of an admittedly unlikable character, as he survived the downside of ambition and climbed upward no matter what the cost to others."—Publishers Weekly


"Frobisher's . . . accomplishments as a naval commander, explorer, and privateer who often operated on both sides of the law are impressive, and they provide the makings of an exciting biography. . . . This well-written and balanced account provides a portrait of a chaotic, adventurous age and an interesting but amoral man who seemed all too at home in that age."—Booklist


"Mr. McDermott leads the reader gently into the world of the Elizabethan seafarer. . . . Through Frobisher, Mr. McDermott welds an unforgettable picture of the hard and real life of those times. . . . Frobisher was forgotten after his death. The fortune that he had worked so hard to amass, as well as a certain fame and a knighthood, were soon erased by feckless and quarrelsome relatives. But he is alive again in this fine book."—Duncan Spencer, Washington Times


"Martin Frobisher, Elizabethan Privateer proves hypnotically written once the reader gets into it. It is full of unexpected eloquence."—The New Brunswick Reader


"[A] meaty full-dress biography. . . . McDermott's book conveys [Frobisher's life] with far greater subtlety and élan than I can even hint at. . . . Martin Frobisher: Elizabethan Privateer proves hypnotically written once the reader gets into it. It is full of unexpected eloquence."—George Fetherling, Vancouver Sun


"John McDermott's biography rescues Frobisher from relative obscurity and shows how his social background, the limits of his talents, and luck all contributed to the path that his career took. . . . The result is a study of not just Frobisher's life but also of his times. . . . An impressive achievement. . . . McDermott has skillfully used the surviving documentary sources for Frobisher to provide his readers with what will be the definitive biography of Martin Frobisher for many years to come."—Ronald Fritze, H-Net Reviews


"A well presented book, this is a lively and entertaining work that should be a must for anyone interested in the naval world of the later sixteenth century."—John S. Nolan, The Journal of Military History


"[An] insightful and fascinating account of the workings of Frobisher's environment, the English maritime establishment in the late 16th century. Excellent notes, a bibliography, photos, and an index contribute to this work, accessible to all levels."—Choice


"This is a comprehensive, judicious work for those who wish to know capital-'E' Everything about Martin Frosbisher. . . . The authority here is palpable. As a Frobisher reference, this work may well be definitive."—Ken McGoogan, The Beaver


"Martin Frobisher is a good read and more. It is the story of a man whose courage and leadership abilities enabled him to rise from poverty to a leading role in England's navy in its greatest fight against odds."—William S. Lind, Sea History


"An intriguing and enjoyable book. . . . While being an engaging read . . . McDermott's book also provides a fascinating study of the birth of the English shipping and exploration industry, in all its intrigue, complexity, and uncertainty. The book itself is hefty and handsome, with some very nice color plates."—Virginia Quarterly Review


"Frobisher's life reflected many of the strengths and weaknesses of English maritime enterprise, and the relationship between the individual and his times is nicely captured in this absorbing and well-researched book; it is a valuable contribution to maritime history which will also be of interest to students of international relations during the sixteenth century."—John C. Appleby, International History Review


"In developing a biography from the limited information available about this ambiguous figure, James McDermott has crafted an engaging portrayal that sheds light on both the significant flaws of his subject and on the complicated world in which he plied his trade. . . . A fulsome biography enlivened by a rich account of sixteenth-century mercantile, political, and naval military cultures."—Kevin D. Lindberg, Sixteenth Century Journal


"James McDermott traces Frobisher's life from his boyhood in Yorkshire to expeditions in Africa, North America, and the Caribbean. . . . McDermott bases his story on available archives, printed primary sources, and many secondary sources. I recommend this book to those interested in naval history or the Elizabethan era."—Alexander Bielakowski, Military Review


Winner of the 2001 Keith Matthews Prize in the book category, sponsored by the Canadian Nautical Research Society
ISBN:
9780300204766
Publication Date:
August 6, 2013
528 pages, 6 1/8 x 9 1/4
12 b/w illus.