Physics and Dance
WARNING
You are viewing an older version of the Yalebooks website. Please visit out new website with more updated information and a better user experience: https://www.yalebooks.com
Emily Coates and Sarah Demers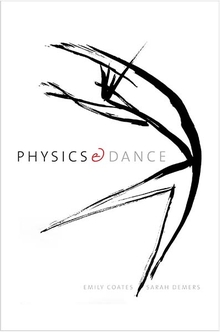 View Inside
Format:

Hardcover


Price:

$30.00
Also Available in:
Paper
A fascinating exploration of our reality through the eyes of a physicist and a dancer—and an engaging introduction to both disciplines

From stepping out of our beds each morning to admiring the stars at night, we live in a world of motion, energy, space, and time. How do we understand the phenomena that shape our experience? How do we make sense of our physical realities? Two guides—a former member of New York City Ballet, Emily Coates, and a CERN particle physicist, Sarah Demers—show us how their respective disciplines can help us to understand both the quotidian and the deepest questions about the universe. Requiring no previous knowledge of dance or physics, this introduction covers the fundamentals while revealing how a dialogue between art and science can enrich our appreciation of both. Readers will come away with a broad cultural knowledge of Newtonian to quantum mechanics and classical to contemporary dance. Including problem sets and choreographic exercises to solidify understanding, this book will be of interest to anyone curious about physics or dance.
Emily Coates is associate professor in the theater studies program at Yale University, where she created the dance studies curriculum. Sarah Demers is Horace D. Taft Associate Professor of Physics at Yale University. Their work has been featured in the World Science Festival and covered in the New York Times and the New Yorker.
"Coates and Demers illuminate how we might learn from each other and, by doing so, create a brave, self-renewing, and sustainable future."—Bill T. Jones
"After reading this book, you will never again think of dance without the physics that enables it, and you will never again think of physics without the art that can express it."—Neil deGrasse Tyson
"Physics and Dance will be of interest to dancers, scientists, and a general public who wish to understand an ongoing relationship between the two."—Twyla Tharp
"Physics and Dance is an exhilarating invitation to think in new ways about movement, our bodies, and the physical world. Coates and Demers send dancers in to space, physicists into movement, and their readers on a journey of embodied intellectual discovery."—Richard O. Prum, author of The Evolution of Beauty: How Darwin's Forgotten Theory of Mate Choice Shapes the Animal World - and Us
"This fascinating book blends physics depth and dance details with a seemingly impossible grace."—Daniel Whiteson, author of We Have No Idea: A Guide to the Unknown Universe
"Each [uses] her discipline to shed light on the other's. . . . While science tends to be viewed as more serious than dance, their approach revolves around collapsing hierarchies, giving equal weight to both."—Siobhan Burke, New York Times review of Emily Coates's 2017 performance Incarnations, based in part on their collaboration
"In their intriguing book Physics and Dance, [the authors] look at how both disciplines approach phenomena like friction, momentum, space, time, and gravity. . . . Mathematically inclined dance lovers will welcome a chance to see the plié and tour jeté through new eyes. A chapter of physics problems could provide inspiration to professors looking for new homework challenges."—Physics Today
"Dancer and choreographer Coates and physicist Demers have created a brilliant exercise that is both challenging and rewarding. As a dancer I had never thought of myself as a small mass in relation to a larger one, namely, planet Earth, at least not in those terms. Part of the fun for the reader lies in figuring out, from page to page, which voice is speaking; both are erudite, meticulous, and convincing."—Yvonne Rainer
"For too long, dance has existed as an isolated pursuit. . . . The content of this book will definitely provide readers with a peek at possible future directions for the art of dance, and its move away from its customary orientation."—Sandra Minton, Journal of Dance Education
ISBN:
9780300195835
Publication Date:
January 22, 2019
192 pages, 6 1/8 x 9 1/4
62 b/w illus.