Competing Visions of Empire
WARNING
You are viewing an older version of the Yalebooks website. Please visit out new website with more updated information and a better user experience: https://www.yalebooks.com
Labor, Slavery, and the Origins of the British Atlantic Empire
Abigail L. Swingen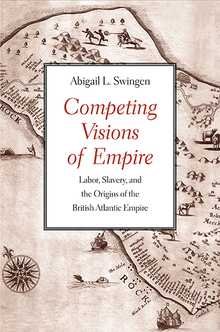 View Inside
Format:

Cloth


Price:

$85.00
Abigail L. Swingen's insightful study provides a new framework for understanding the origins of the British empire while exploring how England's original imperial designs influenced contemporary English politics and debates about labor, economy, and overseas trade. Focusing on the ideological connections between the growth of unfree labor in the English colonies—particularly the use of enslaved Africans—and the development of British imperialism during the early modern period, the author examines the overlapping and often competing agendas of planters, merchants, privateers, colonial officials, and imperial authorities in the seventeenth and eighteenth centuries.
Abigail Swingen is assistant professor of history at Texas Tech University. She lives in Lubbock, Texas.
"By recovering the political debates about slavery, argued out between metropolis and colony and central to discussion of empire, Swingen makes a major contribution to the political history of slavery and the British empire."—Michael Braddick, University of Sheffield
"This detailed and provocative book offers a persuasive model for understanding imperial expansion, firmly collapsing enduring distinctions between 'domestic' and 'imperial' ideology and revealing that the shape and contours of slavery and the colonial world it engendered were the product of controversy not consensus, and hardly inevitable."—Philip Stern, Duke University
"This is an immensely scholarly, lucid, and engaging exploration of Empire in the late seventeenth and early eighteenth centuries. Abigail Swingen rigorously examines the imperial project and deconstructs monolithic views on mercantilism, social perspectives of the Empire, and political insularity and introspection to demonstrate the importance of political economy. This book should be essential reading for any student of early modern British history." —Allan I. Macinnes, University of Strathclyde

"Swingen's careful attention to colonial conditions and contests between slave-holders and the state produces a connected account that highlights how actors on both sides of the Atlantic sought to shape and profit from the brutal and exploitive labor system which underpinned the construction of Empire and, ultimately, the making of modern Britain." —Nuala Zahedieh
'Competing Visions of Empire is an important contribution to our understanding of of the interactions of domestic politics, international relations and colonial and imperial progress in the Atlantic world.'—Donald M. MacRaild, THES.

"A fascinating exploration of the connections between economics, domestic politics, international relations, slavery and empire."—The Mariner's Mirror
"[A]n extremely important book. It constitutes a significant contribution to understanding how Britain became an imperial power."—Susan D. Amussen, Journal of British Studies.
"Swingen situates her work firmly within British historians' exploration of politics at the centre of the empire."—Carla Gardina Pestana, Itinerario

"[L]ucidly written . . . an intelligently conceived study of the politics of slavery and empire in a volatile period in English history."—Natalie Zacek, American Historical Review

"Deeply researched and lucidly argued. . . . This book represents a very instructive political-economic version of the argument that empire and metropole need to be considered in the same field."—Miles Ogborn, Journal of Historical Geography

"Competing Visions of Empire provides a compelling argument, is deeply researched, and is written in an accessible and engaging manner. It should be read by all those interested in early modern English politics."—Matthew Wyman-McCarthy, H-Net Reviews
ISBN:
9780300187540
Publication Date:
February 17, 2015
288 pages, 6-1/8 x 9-1/4
1 b/w illus.