The Anatomy of Influence
WARNING
You are viewing an older version of the Yalebooks website. Please visit out new website with more updated information and a better user experience: https://www.yalebooks.com
Literature as a Way of Life
Harold Bloom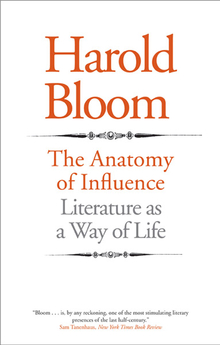 View Inside
Format:

Paper


Price:

$22.00
Also Available in:
Cloth
e-book
Audio recording of Harold Bloom in conversation with Paul Holdengraber for the PEN World Voices Festival, recorded by LIVE from the New York Public Library.
Our most revered critic returns to his signature theme

"Literary criticism, as I attempt to practice it," writes Harold Bloom in The Anatomy of Influence, "is in the first place literary, that is to say, personal and passionate."
For more than half a century, Bloom has shared his profound knowledge of the written word with students and readers. In this, his most comprehensive and accessible study of influence, Bloom leads us through the labyrinthine paths which link the writers and critics who have informed and inspired him for so many years. The result is "a critical self-portrait," a sustained meditation on a life lived with and through the great works of the Western canon: Why has influence been my lifelong obsessive concern? Why have certain writers found me and not others? What is the end of a literary life?
Featuring extended analyses of Bloom's most cherished poets—Shakespeare, Whitman, and Crane—as well as inspired appreciations of Emerson, Tennyson, Browning, Yeats, Ashbery, and others, The Anatomy of Influence adapts Bloom's classic work The Anxiety of Influence to show us what great literature is, how it comes to be, and why it matters. Each chapter maps startling new literary connections that suddenly seem inevitable once Bloom has shown us how to listen and to read. A fierce and intimate appreciation of the art of literature on a scale that the author will not again attempt, TheAnatomy of Influence follows the sublime works it studies, inspiring the reader with a sense of something ever more about to be.
Harold Bloom (1930–2019) was Sterling Professor of the Humanities at Yale University. 
"Bloom . . . has many arresting things to say and says them, often, with exquisite precision. He is, by any reckoning, one of the most stimulating literary presences of the last half-century—and one of the most protean, a singular breed of scholar-teacher-critic-prose poet-pamphleteer."—Sam Tanenhaus, New York Times Book Review
"Bloom reveals his own magisterial, sometimes mischievous self, in his meditations on the masters with whom he connects."—Iain Finlayson, The Times
"Ah, then there's Harold Bloom, America's giant of a literary critic.. . . In The Anatomy of Influence: Literature as a Way of Life, Bloom pulls off a masterly connecting of the dots through the literary canon and his own life with his usual breathtaking eloquence."  —Publishers Weekly
"An autumnal summing-up, winding through 'the labyrinth of literary influence' to conclude, '[t]hat labyrinth is life itself.' "—Kirkus Reviews
"As defender of the Western canon, the controversial Bloom has no equal. . . . Bloom's elegant and accessible writing will be welcomed by serious readers."—Nancy R. Ives, Library Journal
Praise for Harold Bloom:
"Harold Bloom is one of the greatest literary critics of his time . . . a man who like Tennyson's Ulysses is a part of all that he has read."—Washington Post
"….. [A] treasure-trove of a book……This volume is a testimony to Bloom's assertion that he is still 'hopelessly passionate about the poets I loved best'. "—John Montague, Irish Times
"Bloom thinks in the sweep of millennia, of intellectual patterns that unfold over centuries, of a vast and intricate labyrinth of interconnections between artists from Plato to Pater."—Michael Lindgren, Washington Post
Praise for Harold Bloom:
 "Arguably the most influential critic of the last quarter century. He elevates critical writing to the level of literature itself."—New York Times Book Review
Praise for Harold Bloom:
"Harold Bloom reminds us what matters. He is our most valuable critic."—Boston Globe
Praise for Harold Bloom:
"Bloom is fighting the good fight for literature."—The Observer (U.K.)
Praise for Harold Bloom:
"[Bloom] is the reader as human medium, an instrument through whom inspiration strikes: in turn he renders visible the lineament of other writers' imaginations while articulating the generally inchoate and undeveloped responses of the average reader. . . . Magnificent. . . . He is never less than memorable."—Peter Ackroyd,
The Times
(London)
"Criticism, [Bloom] believes, should be 'personal and passionate' and, in fact, personal passion has always been his greatest strength… Like all Bloom's finest work [The Anatomy of Influence] is a genial amalgam in which insight is inseparable from extravagance."—Eric Ormsby, Literary Review
"He is, by any reckoning, one of the most stimulating literary presences of the last half-century"—Sam Tanenhaus, International Herald Tribune
"The Anatomy of Influence crackles with a rhetorical energy more suited to the public lecture theatre than the graduate seminar." —Jonathan Derbyshire, New Statesman
"Reading Bloom read the great writers of the canon is an immense pleasure; reading Bloom read Bloom is a revelation.  Like his ideal poets, Bloom brings us fire and light, apt tools for reading in the dark."—James Angelos, Ugarte
Bloom "has been one of America's most fascinating literary critics for nearly half a century. In his newest book, The Anatomy of Influence: Literature as a Way of Life, Bloom revisits the ideas that made him a star—and explains, in a straightforward way, why he's spent his career trying 'to build a hedge around the secular Western canon.' "—Josh Rothman, Brainiac Blog, Boston Globe
"…..wise, funny, maddening…… [Bloom is the] most irrepressible and irreplaceable of critics."—Robert Douglas-Fairhurst, The Daily Telegraph
"……the confessional and elegiac tonalities contained within Bloom's narrative stay long within the memory."—Dr Graham Allen, Sunday Business Post (Ireland)
"If Bloom is right—and I believe he is—that 'literary criticism . . . ought to consist in acts of appreciation,' he has fulfilled that mandate once again in The Anatomy of Influence."—Robert Pogue Harrison, New York Review of Books
"Bloom pulls off a masterly connecting of the dots through the literary canon and his own life with his usual breathtaking eloquence."—Publishers Weekly
"This finale to his illustrious career in literary criticism will not disappoint fans of Bloom . . . Essential."—L. McMillan, Choice
"…as provocative, as gloriously preposterous and as captivating as ever."—John Banville, The Guardian (Christmas Books 2011)
"The breadth of thinking and the range of reference in The Anatomy of Influence are astonishing."—John Banville, The Guardian
"If the pronouncements of Bloom are sometimes cryptic, and wayward, his insights can be brilliant, as when he suggests that Shakespeare might be exploring his relationship to his mighty precursor Marlowe in the relationship between the half-brothers Edmund and Edgar in King Lear; or when he remarks that Milton could not have presented an unfallen Satan in Paradise Lost because he would have been too much like Hamlet; or when he explores the wide and varied influence of Walt Whitman, whom he considers the greatest of American poets."—Bernard Manzo, The Tablet
"This book will be of great interest to those working on the history of literature, theories of poetics, and for those literary theorists who want to understand the relationship between literature and psychoanalysis."—Shiva Kumar Srinivasan—Journal of Literary Theory
ISBN:
9780300181449
Publication Date:
April 17, 2012
368 pages, 6 1/8 x 9 1/4