Robert Schumann
WARNING
You are viewing an older version of the Yalebooks website. Please visit out new website with more updated information and a better user experience: https://www.yalebooks.com
Life and Death of a Musician
John Worthen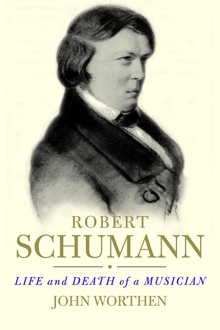 View Inside
Format:

Paper


Price:

$25.00
Also Available in:
Cloth
Shattering longstanding myths, this new biography reveals the robust and positive life of one of the nineteenth century's greatest composers

This candid, intimate, and compellingly written new biography offers a fresh account of Robert Schumann's life. It confronts the traditional perception of the doom-laden Romantic, forced by depression into a life of helpless, poignant sadness. John Worthen's scrupulous attention to the original sources reveals Schumann to have been an astute, witty, articulate, and immensely determined individual, who—with little support from his family and friends in provincial Saxony—painstakingly taught himself his craft as a musician, overcame problem after problem in his professional life, and married the woman he loved after a tremendous battle with her father. Schumann was neither manic depressive nor schizophrenic, although he struggled with mental illness. He worked prodigiously hard to develop his range of musical styles and to earn his living, only to be struck down, at the age of forty-four, by a vile and incurable disease.
Worthen's biography effectively de-mystifies a figure frequently regarded as a Romantic enigma. It frees Schumann from 150 years of mythmaking and unjustified psychological speculation. It reveals him, for the first time, as a brilliant, passionate, resolute musician and a thoroughly creative human being, the composer of arguably the best music of his generation.
John Worthen was Professor of D. H. Lawrence Studies at the University of Nottingham. His books include The Gang: Coleridge, the Hutchinsons and the Wordsworths in 1802 and D. H. Lawrence: The Life of an Outsider. He lives in Nottingham, England, and in Germany.
"This interesting, well-researched examination of the life and death of one of the most important composers of the 19th-century Romantic movement is appropriate for students and researchers in higher education with some knowledge of Schumann's life and music."—Library Journal
"Drawing on letters, diaries, and previous biographies, Worthen relates Schumann's life in sometimes excruciating detail, dispelling myths of possible bipolar disorder and schizophrenia. One of the best biographies of a composer who had a lust for life of music, family, and friends."—Booklist
"...beautifully written and meticulously researched and foodtnoted." -Simon Heffer, Literary Review
"For well over a century the reputation of the Romantic composer Robert Schumann has been obscured by the perception of him as a man beset by mental illness, a hapless figure buffeted by perpetual misfortune.  John Worthen's achievement is to rehabilitate Schumann through detailed attention to contemporary sources which substantially conflict with received wisdom...what emerges here is a man of conspicuous determination, passion and creativity." - The Good Book Guide
"...engaging, well written and clearly aimed at the general reader...for those wanting to read an affectionate life of one of the greatest and most loveable figures of the early 19th century, this book can be recommended." -- Steven Isserlis, The Guardian
"…alongside the tragedies, this riveting account of Schumann's life also manages to encapsulate both the joy and elation of one of music's greatest, still neglected geniuses, and to express a passionate enthusiasm for his works. For this, Schumannites ought to be deeply grateful."---Hugh Canning, The Sunday Times
"We have always lacked good biographies of Schumann, and this one will become a standard reference work. The late John Daverio's fine 1997 biography is more deeply attuned to the music, but Worthen's is by far the most comprehensive account I have read of the facts of Schumann's life. His central thesis is important, and he writes clearly and freshly, bringing a wise head to an intricate tangle of evidence."---Susan Tomes, The Independent
"The tragedy of Schumann's final years has fitted so perfectly with a certain Romantic stereotype – the demented and troubled genius – that it has exercised a captivating influence over his biographers ever since… It is this hindsight-laden interpretation of Schumann's career that John Worthen's fine and scholarly new biography sets out to undo."--- John Adamson, The Sunday Telegraph
"this is a biography with attitude." - Misha Donat, BBC Music Magazine
"Life and Death of a Musician avoids the pitfalls which often beset large, detailed musical biographies, largely because it's so beautifully written." - Arminta Wallace, Irish Times
"A well-documented, genial, easy-to-read biography for the general reader. . . . We learn a great deal about the young and dissolute dilettante, music journalist, hypochondriac, mediocre conductor, literate and prolific composer, and of course the ardent suitor who finally makes Clara Wieck his wife over her father's objections. . . . A very affectionate portrayal of both the man and the composer."—Symphony
"An exemplary effort: beautifully written, very meticulously researched, with scrupulous reliance on original sources, balancing fine command of detail with a broader sense of Schumann's milieu. . . . This is an excellent and provocative biography that is sure to spark fierce debate among musicians and psychologists."—Aaron Kozbelt, PsycCRITIQUES
"Worthen's biography takes its proper place as a book to reckon with on any shelf of studies of this brilliant, enigmatic, and tragic figure."—Stanley Hauer, Southern Humanities Review
"[A] detailed, insightful and above all affectionate account of Schumann's life that reveals a man whose music defines the Romantic era."—Julian Haylock, Classic FM Magazine
A 2007 Top Seller in Music as compiled by YBP Library Services
Selected as a 2008 AAUP University Press Book for Public and Secondary School Libraries.
ISBN:
9780300163988
Publication Date:
May 18, 2010
496 pages, 6 1/8 x 9 1/4
30 b/w illus.