Pakistan
WARNING
You are viewing an older version of the Yalebooks website. Please visit out new website with more updated information and a better user experience: https://www.yalebooks.com
Eye of the Storm
Third Edition
Owen Bennett Jones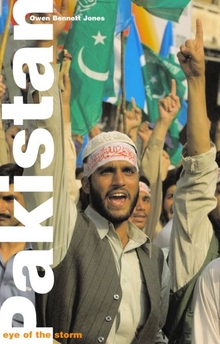 View Inside
Format:

Paper


Price:

$20.00
Also Available in:
Paper
Cloth
A fascinating look at Pakistan's past, an inside account of its recent history, and a knowledgeable assessment of its future options

This thoroughly revised and updated edition of Bennett Jones' market-leading account of this critical modern state includes fresh material on the Taliban insurgency, the Musharraf years, the return and subsequent assassination of Benazir Bhutto, and the unlikely election as president of Asif Ali Zardari.
Praise for the first edition
"The world has a stake in what happens in Pakistan. How great a stake, this book makes compellingly clear."—Robert M. Hathaway, Wilson Quarterly
 
"[A] lucid and sobering examination. . . . Owen Bennett Jones has delivered a well-crafted, clear, balanced and often quite lively account that should be immensely useful."—Thomas W. Lippman, Washington Post Book World
Owen Bennett Jones was BBC correspondent in Pakistan and is now correspondent in Asia for the BBC World Service. He has written for the Guardian, the Financial Times, the Independent, the London Review of Books, and Prospect magazine.
Owen Bennett Jones was a BBC correspondent in Pakistan between 1998 and 2001 and witnessed firsthand many of the events that brought General Musharraf to power. He has written for the Guardian, Financial Times, and Independent newspapers, the London Review of Books and Prospect magazine.

"Pakistan is at the center of global concerns about terrorism, Islamic fundamentalism, and nuclear proliferation. In this revealing and riveting account, Owen Bennett Jones explains why Pakistan's stability is vital. A seminal work for a long time to come."—Ahmed Rashid




"[Pakistan] contains judiciously selected cartoons, superbly reproduced photographs of Pakistani leaders, and evocative images of soldiers and street demonstrations. . . . [This] book is worthwhile for its sound analysis of the Pakistan Army. Highly recommended. All levels/collections."—Choice

"Analytically probing . . . and gives a clear picture of how Pakistan has arrived at such a parlous state."—Sumit Ganguly, Foreign Affairs
"Owen Bennett Jones masterfully explores the historical, institutional, ideological and class forces that have created the fine mess that is today's Pakistan."—Emran Qureshi, Globe and Mail (Toronto)

"Clear and entertaining. . . . An excellent guide to the complexities of this critical corner of the world. . . . Well worth reading."—Jonathan M. House, History: Reviews of New Books

"Owen Bennett Jones is well placed to tell the Pakistan story. . . . For anyone interested in the history of Pakistan and in putting into context events in the region today, this book is very helpful."—Miriam Donohoe, Irish Times

"A well-written, insightful, and critical journalistic history. . . . Highly recommended."—Library Journal


"I found it difficult to put down. . . . Bennett Jones has that rare objectivity and realism that are the fruits of many years' reporting and presenting on Pakistan for the various current affairs programmes of the World Service. . . . For the general reader who expects Pakistan to give the world some hair-raising moments over the next few years, the cost of this book is justified by its introductory and concluding chapters alone."—Hazhir Teimourian, Literary Review

"Bennett Jones's intelligent book is an excellent source of information."—Anatol Lieven, London Review of Books

"[An] excellent book. . . . Jones lays out these key issues [the government, ethnic and linguistic divides, the military, the atomic bomb, religious extremism] and shows why they are important for the region and the world. . . . [A book that will] help the reader understand Pakistan."—Lester W. Grau, Military Review

"Owen Bennett Jones' Pakistan is the essential primer on this nation's short, turbulent history."—Anne Wagner, National Journal

"A BBC correspondent formerly stationed in Pakistan portrays the nation as a kind of nuclear-equipped Yugoslavia, in which individual freedom may be less a matter of the quick return of democracy than of a nuanced American commitment to the country."—New York Times Book Review (New & Noteworthy Paperbacks)

"Comprehensive. . . . The product of impressive expertise."—Robert D. Kaplan, New York Times Book Review


"The world has a stake in what happens in Pakistan. How great a stake, this book makes compellingly clear."—Robert M. Hathaway, Wilson Quarterly

"Owen Bennett Jones masterfully explores the historical, institutional, ideological and class forces that have created the fine mess that is today's Pakistan."—Emran Qureshi, Toronto Globe and Mail

"It is a clear and concise analysis of Pakistan's political sociology Perhaps his style of journalistic writing and insight makes the book appealing. . . . The book is a good primer to understand the issues that bedevil much of the Muslim world."—Sajjad Yusuf, Virginia Quarterly Review

"[A] lucid and sobering examination. . . . Owen Bennett Jones has delivered a well-crafted, clear, balanced and often quite lively account that should be immensely useful to Americans who want to understand this difficult ally."—Thomas W. Lippman, Washington Post Book World

ISBN:
9780300154757
Publication Date:
November 10, 2009
408 pages, 5 x 7 3/4
32 b/w illus. + 4 maps

---
Sales Restrictions: World excluding India, Nepal, Bhutan, Bangladesh, Sri Lanka and the Maldives