The Photographs of Homer Page
WARNING
You are viewing an older version of the Yalebooks website. Please visit out new website with more updated information and a better user experience: https://www.yalebooks.com
The Guggenheim Year: New York, 1949-50
Keith F. Davis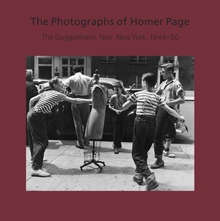 View Inside
Format:

HC - Paper over Board


Price:

$50.00
This stunning volume represents a major photo-historical discovery: it is the first book on Homer Page (1918–1985), a brilliant but overlooked photographer active in the late 1940s and 50s. It focuses on his previously unpublished photographs of New York taken while a Guggenheim Fellow from 1949 to 1950. First recognized by Ansel Adams in 1944, California-born Page exhibited in a major show of young artists at the Museum of Modern Art, New York, in 1946. Four years later, he was invited to participate in MoMA's seminal photography symposium, alongside 10 other prominent photographers, including Walker Evans, Irving Penn, and Aaron Siskind.  
In photographs that echo those of Walker Evans, Dorothea Lange, and Robert Frank, Page uniquely synthesized documentary and artistic concerns. His work as a Guggenheim Fellow––which depicts pedestrians in motion, friends and family members conversing, commuters, children playing, political rallies and protests, and isolated figures resting and watching––offers a fascinating look at New York during the late 1940s and represents the culmination of Page's most important work.
The Photographs of Homer Page features a plate section of these compelling and often poignant images together with texts by the artist, a bibliography, and an essay by noted scholar Keith F. Davis examining Page's life and career––
including his connections with Lange, Nancy and Beaumont Newhall, and Edouard Steichen.


Distributed for The Nelson-Atkins Museum of Art

Exhibition Schedule:
The Nelson-Atkins Museum of Art (February 14–June 7, 2009)
Keith F. Davis is curator of photography at the Nelson-Atkins Museum of Art. He is the author of An American Century of Photography: From Dry-Plate to Digital, The Hallmark Photographic Collection (1999) along with The Art of Frederick Sommer: Photography, Drawing, Collage (2005) and The Origins of American Photography: From Daguerreotype to Dry-Plate, 1839–1885: The Hallmark Photographic Collection at The Nelson-Atkins Museum of Art (2007), both published by Yale.
EXHIBITION SCHEDULE
The Nelson-Atkins Museum of Art (February 14–June 7, 2009)
"Photography curator Davis reintroduces a talent rated highly enough to be one of 10 participants in the landmark 1950 Museum of Modern Art symposium 'What is Modern Photography?' The others are houshold words among photography mavens, but not Homer Page (1918-85). This album makes the injustice of that blazingly obvious."—ALA Booklist
"One of the best-printed books of the year restores to public view one of mid-century America's unjustly forgotten photographers."—Richard B. Woodward,
The Wall Street Journal
(
Holiday Book Guide: Photography
)
'This is great photography. Each (black and white) picture reveals something about real people that incites a curiosity in the viewer that is never to be satisfied. They are like conversation pieces in Victorian painting. What is that woman in the headscarf thinking about, staring into nowhere in a crowded subway train?'
'[These] images evoke a strong sense of the times and the place and form an important document which will set many wondering how on earth [Homer Page] managed to remain largely overlooked. But now, almost 25 years after his death, justice has been done.'
Chosen for the Holiday Book Guide: Photography, Richard B. Woodward, The Wall Street Journal 
ISBN:
9780300154436
Publication Date:
April 21, 2009
Publishing Partner:
Distributed for The Nelson-Atkins Museum of Art
144 pages, 11 x 11
98 tritone illus.