Lyric Poetry and Modern Politics
WARNING
You are viewing an older version of the Yalebooks website. Please visit out new website with more updated information and a better user experience: https://www.yalebooks.com
Russia, Poland, and the West
Clare Cavanagh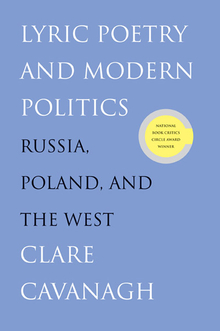 View Inside
Format:

Paper


Price:

$39.00
Winner of the 2011 National Book Critics Circle Award for Criticism
 
Lyric Poetry and Modern Politics explores the intersection of poetry, national life, and national identity in Poland and Russia, from 1917 to the present. As a corrective to recent trends in criticism, acclaimed translator and critic Clare Cavanagh demonstrates how the practice of the personal lyric in totalitarian states such as Russia and Poland did not represent an escapist tendency; rather it reverberated as a bold political statement and at times a dangerous act.
 
Cavanagh also provides a comparative study of modern poetry from the perspective of the eastern and western sides of the Iron Curtain. Among the poets discussed are Blok, Mayakovsky, Akhmatova, Yeats, Whitman, Frost, Szymborska, Zagajewski, and Milosz; close readings of individual poems are included, some translated for the first time. Cavanagh examines these poets and their work as a challenge to Western postmodernist theories, thus offering new perspectives on twentieth-century lyric poetry.
Clare Cavanagh is associate professor and Herman and Beulah Pearce Miller Research Professor in Literature in the Department of Slavic Languages and Literatures at Northwestern University.
"[This book] opens up a new path, and has no competitors.  It is the new perspective and new context that Cavanagh brings to the critical discussion of the relationship between personal lyric and political and social commitment that constitute the book's novelty and value."—Bogdana Carpenter, University of Michigan
"Poets of the East and West are not so very different after all.  Crossing the borders between them, Cavanagh brilliantly catches conversations on poetics and politics that are still going on. This wonderful book expands the reader's world."— Lawrence Lipking, author of The Life of the Poet
"There's something absolutely refreshing in Clare Cavanagh's approach to poetry: she makes us forget the heavy coats of erudition and the deforming zeal of current ideologies. Clare Cavanagh is a wonderful literary detective who loves poetry and understands its complex interactions with history." — Adam Zagajewski, University of Chicago
"Clare Cavanagh makes the deep case for the lyric in this scrupulously researched, convincingly argued, and wide-ranging comparative study of modern poetry and politics.  She writes from the West but continually turns to modern Russian and Polish poets as the touchstones for her complex polemic and moving defense of poetry."—Edward Hirsch
"This book can only burnish Clare Cavannagh's credentials as academic and poet translator...Cavanagh has done justice to her subject area, leaving one with the feeling that there is little left to be said."—Belinda Cooke, The Russian Review
"Armed with a mastery of both Russian and Polish scholarship and a bracing style of argument, Cavanagh's important and enthralling book illuminates the creative biographies and works of writers who from about 1917 to the dissolution of the Soviet bloc experienced, documented, tested, challenged and sometimes survived the confrontation with the State—or perished when speaking up for themselves and others." — Andrew Kahn, Times Literary Supplement
"Erudite but always clear, aware of detail but never overwhelmed by it, this big book tells a dramatic story about a hundred years of poems in three languages."—Stephen Burt, Critical Mass
". . . an acute and capacious study of politics and poetic identity, centered on Russia and Poland in the twentieth century."—Leeore Schnairsohn, Slavic and East European Journal
"Cavanagh's study is a brilliant achievement that expands our knowledge of the subject and our field of vision in general."—Tomas Venclova, Slavic Review
Winner of the 2011 National Book Critics Circle Award for Criticism
Co-Winner of the 2010 Orbis Book Prize for Polish Studies, given by the Association for Slavic, East European, and Eurasian Studies
Chosen as an Outstanding Academic Title for 2011 in the Slavic category by Choice Magazine
Chosen as a Choice Academic Title for 2010 in the German category
Winner of the 2010 Lewis Galantiere Award sponsored by the American Translators Association
ISBN:
9780300152968
Publication Date:
January 5, 2010
344 pages, 6 1/8 x 9 1/4