Conservation Biology of Hawaiian Forest Birds
WARNING
You are viewing an older version of the Yalebooks website. Please visit out new website with more updated information and a better user experience: https://www.yalebooks.com
Implications for Island Avifauna
Edited by Thane K. Pratt, Carter T. Atkinson, Paul C. Banko, James D. Jacobi, and Bethany L. Woodworth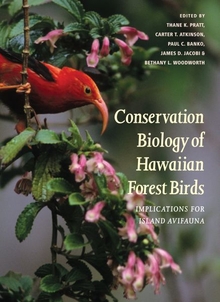 View Inside
Format:

Cloth


Price:

$100.00
Hawaii's forest bird community is the most insular and most endangered in the world and serves as a case study for threatened species globally. Ten have disappeared in the past thirty years, nine are critically endangered, and even common species are currently in decline. Thane K. Pratt, his coeditors, and collaborators, all leaders in their field, describe the research and conservation efforts over the past thirty years to save Hawaii's forest birds. They also offer the most comprehensive look at the reasons for these extinctions and attempts to overcome them in the future.
Among the topics covered in this book are trends in bird populations, environmental and genetic factors limiting population size, avian diseases, predators, and competing alien bird species. Color plates by award-winning local photographer Jack Jeffrey illustrate all living species discussed or described.
Thane K. Pratt is a wildlife biologist, Carter T. Atkinson is a microbiologist, Paul C. Banko is a research wildlife biologist, and James D. Jacobi is a biologist, all at the U.S. Geological Survey, Pacific Island Ecosystem Research Center. Bethany Woodworth is an instructor of Environmental Studies at University of New England.
"This book is at once an encyclopedia chronicling a global-scale tragedy, and a masterpiece call-to-arms for saving and restoring what remains of the unique and beautiful Hawaiian avifauna. Thane Pratt and coeditors are outstanding biologists and conservation heroes. For this compendium they assembled the entire who's who of experts on Hawaiian birds and conservation, and they detail the complicated historical, cultural, biological, political, and even ethical aspects of the plight of Hawaiian forest birds. From habitat destruction and agricultural monocultures to alien mammals and a pair of wicked, introduced diseases, Hawaiian birds have steadily succumbed to the full litany of human environmental scourges. The authors make a compelling case that significant conservation investment in Hawaii is vastly overdue, for we still can save the precious few species that remain."—John W. Fitzpatrick, Ph.D., Director, Cornell Lab of Ornithology; member, 'Alala Recovery Team
"I have had the pleasure of learning about Hawaiian birds from Thane Pratt for over fifty years. With the publication of this book, the opportunity to take advantage of his passion for and mastery of the subject is open to everyone."—Peter Vitousek, Stanford University
"Islands are rife with conservation drama and there is no better example than Hawaii. . . .this book is a first for conservation biology of islands in general, and has all the earmarks of a classic. . . . A cornerstone for any nature, conservation and science bookshelf."—Thomas E. Lovejoy, president of the Heinz Center for Science, Economics, and the Environment and biodiversity adviser for the World Bank and the United Nations Foundation
"An important book about one of the world's most imperiled avifauna, provided by those who have devoted their lives to understanding and preserving Hawaii's natural heritage. Never before has so much original research on so many aspects of extinction crisis been brought together."—John M. Marzluff, author of In the Company of Crows and Ravens
"This is one of the best bird books that I've read in recent years."—David W. Steadman, The Condor
"This truly is a book to make the reader weep at the damage wreaked by people on the archipelago's avifauna."—Ibis
"Ornithologists…have waited for the next synthesis volume on Hawaiian bird research.  Finally there is one, and it is excellent."—The Auk
Selected as a Choice Outstanding Academic Title for 2010 in the the Zoology category
ISBN:
9780300141085
Publication Date:
November 3, 2009
728 pages, 7 x 10
97 b/w + 32 color illus.