No Ordinary Angel
WARNING
You are viewing an older version of the Yalebooks website. Please visit out new website with more updated information and a better user experience: https://www.yalebooks.com
Celestial Spirits and Christian Claims about Jesus
Susan R. Garrett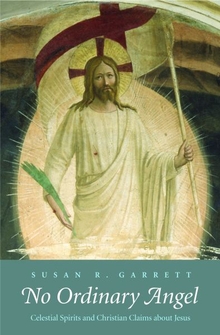 View Inside
Format:

Cloth


Price:

$30.00
A New Testament scholar compares ancient and modern stories about angels, and examines their relationship to Christology

In this provocative, intelligent, and highly original addition to the Anchor Yale Bible Reference Library, Susan R. Garrett argues that angel talk has never been merely about angels. Rather, from ancient times until the present, talk about angels has served as a vehicle for reflection on other fundamental life questions, including the nature of God's presence and intervention in the world, the existence and meaning of evil, and the fate of humans after death. In No Ordinary Angel, Garrett examines how biblical and other ancient authors addressed such questions through their portrayals of angels. She compares the ancient angel talk to popular depictions of angels today and considers how the ancient and modern portraits of angels relate to Christian claims about Jesus.
No Ordinary Angel offers important insights into the development of angelology, the origins of Christology, and popular Western spirituality ranging from fundamentalist to New Age. In doing so, it provokes stimulating theological reflection on key existential questions.
Susan R. Garrett is professor of New Testament, Louisville Presbyterian Theological Seminary. She is coordinator of the Louisville Grawemeyer Award in Religion.
"At once magisterial and accessible, Garrett's book moves with grace between ancient and modern depictions of angels—never dismissive of popular beliefs, yet showing their indebtedness to modern ideologies."—Dale B. Martin, author of Pedagogy of the Bible
"Susan Garrett has written no ordinary book about angels. A supposedly esoteric or other-worldly topic turns out to be a life and death matter when Garrett illumines it with the light of her learning."—Patrick D. Miller, Princeton Theological Seminary
"This marvelously readable and informative book is an authoritative contribution to the scholarly literature on angelology. Those who minister to folks who have been—or desperately want to be—"touched by an angel" will benefit greatly from Garrett's insights. I am immensely grateful to my own guardian angel for leading me to this book!"—Richard J. Mouw, Fuller Theological Seminary
"Susan R. Garrett combines impeccable biblical scholarship with creative, profound theological reflection.
No Ordinary Angel
is far more than a book about angels. In the course of investigating ancient and modern angelologies, Garrett delves into such central matters as the nature and work of Christ and the presence and action of God in the world. Her prose is fluid, her forays into popular culture ring true, and her theology is nothing less than brilliant. This is an important book for scholars and lay persons alike. Exquisite theology born of rigorous bible-study—it doesn't get any better than this!"—Serene Jones, President, Union Theological Seminary
"A wonderful new book about the enduring popularity of angels in American culture—and how these angel images in movies, TV shows and novels relate to the faith of the majority of Americans, which is Christianity. . . . Susan is exploring the blossoming of popular angel images in American media—and trying to connect the cultural dots for most Americans who look to Christianity as their faith."—David Crumm, Read the Spirit
"The most impressive thing about Susan Garrett's wide-ranging and lucid six-chapter discussion of angels is that it takes a subject that scholars generally consider to be on the fluffy end of popular piety and integrates it into ecclesial and academic reflection. . . . The book is exceptionally well structured, with conclusions to each chapter that perfectly summarize the foregoing material, and very engagingly written, with hosts of examples from ancient literature and contemporary culture."—Sam Wells, Christian Century
"Garrett compares both modern and biblical accounts of angels to Christology, emphasizing how the New Testament uses angelmorphic language to describe Christ but at the same time asserts Christ's superiority to angels. . . . She describes angelic encounters as culturally conditioned experiences of divine immanence. . . . Recommended."—J. Gresham, Choice
"I did not expect a book about angels to include incisive critique of contemporary culture, careful historical investigation, and a powerful affirmation of Christian faith, but this book brings all those together in a way that makes good scholarship accessible to a fairly broad audience. . . . [Garrett] provides a careful and convincing analysis of the theological issues that account of angelic encounters raise and address."—Jerry L. Sumney, Interpretation: A Journal of Bible and Theology
Gold medal winner of the 2009 Independent Publisher Book Award in the category of Religion.
ISBN:
9780300140958
Publication Date:
November 25, 2008
352 pages, 6 1/8 x 9 1/4