Art and China's Revolution
WARNING
You are viewing an older version of the Yalebooks website. Please visit out new website with more updated information and a better user experience: https://www.yalebooks.com
Edited by Melissa Chiu and Zheng Shengtian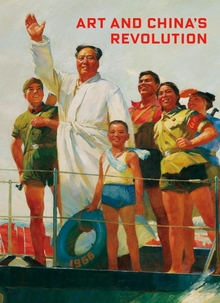 View Inside
Format:

HC - Paper over Board


Price:

$85.00
A groundbreaking look at art made in China during the Cultural Revolution

Although numerous books on the Cultural Revolution have been published, they do not analyze the profound shift in aesthetic values that occurred in China after the Communists took power. This fascinating book is the first to focus on artwork produced from the 1950s to the 1970s, when Mao Zedong was in leadership, and argues that important contributions were made during this period that require fuller consideration in Chinese art history, especially with relevance to the contemporary world. 

Previously, historians have tended to dismiss the art of the Cultural Revolution as pure propaganda. The authors of this volume (historians, art historians, and artists) argue that while much art produced during this time was infused with politics, and individual creativity and displays of free thought were sometimes stifled and even punished, it is short sighted to overlook the aesthetic sophistication, diversity, and accessibility of much of the imagery. 

Bringing together more than 200 extraordinary artworks, including oil paintings, ink scroll paintings, artist sketchbooks, posters, and objects from daily life, as well as primary documentation that has not been published outside of China or seen since the mid-20th century, this invaluable volume sheds new light on one of the most controversial and critical periods in history.


Published in association with the Asia Society Museum

Exhibition Schedule:
Asia Society Museum (September 5, 2008 – January 4, 2009)
Melissa Chiu is director of the Asia Society Museum. Zheng Shengtian is an independent curator and has organized many international exhibitions. He has served as editor for various art publications, including Yishu-Journal of Contemporary Chinese Art.
EXHIBITION SCHEDULE
Asia Society Museum (September 5, 2008 – January 4, 2009)
"This tome's 200 images—most of which are propaganda productions, although there are examples of traditional Chinese illustrations and art-for-art's-sake creations—constitute an important record of China's art history, presented in an informative, colorful, and well-produced format."—Booklist
"This lushly illustrated and highly informative catalogue argues that the art of the Cultural Revolution represents an important cultural movement in China necessary to comprehend both the revolution's context and contemporary Chinese art. Essays and interviews illustrate the collection's focused yet diversified scope. . . . This is a valuable and varied collection for those interested in the fascinating interplay between art and politics during the Cultural Revolution and the period's significance for contemporary China."—Publishers Weekly
"A richly illustrated book, in which Chiu and Zheng maintain that to understand contemporary Chinese art, we must look back to this formative period."—Art in America
"The Asia Society show, with its fine catalog, gives a vivid sense of its complexities, past and present, in a nutshell form." —Holland Cotter, The New York Times
"Multiple authors of 15 stand-alone essays offer a rich array of opinion and remembrance. . . . Highly recommended." —D. K. Dohanian
"Thoughtful but not too dense." —Library Journal
ISBN:
9780300140644
Publication Date:
November 25, 2008
Publishing Partner:
Published in association with the Asia Society Museum
280 pages, 9 x 12 1/2
50 b/w + 150 color illus.