Shakespeare the Thinker
WARNING
You are viewing an older version of the Yalebooks website. Please visit out new website with more updated information and a better user experience: https://www.yalebooks.com
A. D. Nuttall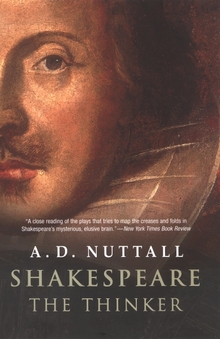 View Inside
Format:

Paper


Price:

$19.00
Also Available in:
Cloth
"A close reading of the plays that tries to map the creases and folds in Shakespeare's mysterious, elusive brain."— New York Times Book Review

A. D. Nuttall's study of Shakespeare's intellectual preoccupations is a literary tour de force and comes to crown the distinguished career of a Shakespeare scholar. Certain questions engross Shakespeare from his early plays to the late romances: the nature of motive, cause, personal identity and relation, the proper status of imagination, ethics and subjectivity, language and its capacity to occlude and to communicate. Yet Shakespeare's thought, Nuttall demonstrates, is anything but static. The plays keep returning to, modifying, and complicating his creative preoccupations. Nuttall allows us to hear and appreciate the emergent cathedral choir of play speaking to play. By the later stages of Nuttall's book this choir is nearly overwhelming in its power and dimensions. The author does not limit discussion to moments of crucial intellection but gives himself ample space in which to get at the distinctive essence of each work.

Much recent historicist criticism has tended to "flatten" Shakespeare by confining him to the thought-clichés of his time, and this in its turn has led to an implicitly patronizing view of him as unthinkingly racist, sexist, and so on. Nuttall shows us that, on the contrary, Shakespeare proves again and again to be more intelligent and perceptive than his 21st-century readers. This book challenges us to reconsider the relation of great literature to its social and historical matrix. It is also, perhaps, the best guide to Shakespeare's plays available in English.
A. D. Nuttall was professor of English at Oxford University and the author of numerous books, including A Common Sky: Philosophy and the Literary Imagination and Why Does Tragedy Give Pleasure? His books Two Concepts of Allegory and A New Mimesis: Shakespeare and the Representation of Reality are published by Yale University Press.
Click here for an extended question & answer discussion with the author.
"Superlatives should not be squandered, but I would unhesitatingly choose this book as the best single-volume account of Shakespeare for students and general readers on either side of the Atlantic."—Graham Bradshaw, author of Shakespeare's Scepticism
"Tony Nuttall is my hero! . . . Nuttall's gifts all come together here: wisdom, sheer intelligence, immense learning, and a lifelong descent into the Shakespearean abyss."—Harold Bloom
"The book's greatness is not so much a question of the Big Idea, rather of the cumulative experience offered by the series of illuminating close readings, many of which are compelling, original and thought-provoking" —Paul Prescott, Warwick University 
"[This book] focuses on the totality of William Shakespeare's genius rather than on his individual plays. . . . While there are many books discussing Shakespeare's philosophy, this text will be in demand because of Nuttall's reputation as a scholar and author."—Library Journal
"Nuttall is almost as fleet of foot as Shakespeare; in close readings and digressions, his mind is nimble, wide-ranging, and charming. We listen, for example, when he says Shakespeare is 'ashamed' how verbal ingenuity may allow us to 'lose full engagement' with reality; in showing how this concern shapes his plots, Nuttall does seem to 'understand' Shakespeare."—Tom D'Evelyn, Providence Journal
"Shakespeare the Thinker [is] a close reading of the plays that tries to map the creases and folds in Shakespeare's mysterious, elusive brain. . . .  [It] is . . . intermittently brilliant, with pithy barroom observations sharing space with arguments so fine-spun they threaten to disappear on the page. Mr. Nuttall casually drops references to 'Goodfellows,' 'The Godfather,' and the novels of Ian McEwan as he explicates and explores, stretching interpretation in every direction."—William Grimes, New York Times
"The delight of Nuttall's book springs not just from the incisiveness of his ideas but from the deftness with which he unfolds scenes and speeches.  It is like walking through the countryside with someone who recognises every bird's song and each wild flower."---John Carey, The Sunday Times
"A.D. Nuttall is an attentive, intelligent, common-sense reader of the plays.  He has a good ear and a subtle mind, and delights in words and the placement of words."---A.S. Byatt, The Guardian
"Nuttall is at his brilliant best when Shakespeare drops the philosophising and forces him to relish the thoughtless wisdom of a haunting image, an eloquent gesture, or a line that stops the heart."---Kiernan Ryan, The Independent
"[Nuttall] aims to restore to us the depth and brightness of Shakespeare's thought, to undim him, like a good picture cleaner. And he has succeeded magnificently."---Ferdinand Mount, The Spectactor
"Some perhaps grow weary of the pieties collectively indulged about Shakespeare, until they re-read him and are electrified all over again by the language he uses, the insights it conveys, the universality of understanding and sympathy that informs the insights, and the vaulting power of imagination that drives all. But what this wonderfully illuminating study by A.D. Nuttall does is to take the fact of genius as given, and respond to something else: Shakespeare's intelligence."---A.C. Grayling, Literary Review
"Shakespeare was above all interested in the process of making sense of life...A.D. Nuttall's Shakespeare the Thinker is a marvellously wise and humane account of that mind at work. Always highly intelligent and effortlessly readable, it is a book that draws a firm line under the age of 'theory' in Shakespeare studies."---Jonathan Bate, The Sunday Telegraph
"Shakespeare the Thinker is an exhaustive, marvellous exploration of the many interconnected themes that run through the plays."---Fernando Cervantes, The Tablet
"This is an impressive swansong from a distinguished scholar."---The Good Book Guide
"...wonderfully incisive and unstuffy look at the Bard's ideas."---The Sunday Times
"Lucid and perceptive, Nuttall writes gracefully. He fortifies his interpretations with an impressive weight of learning in classics, theology, philosophy, history and art...Shakespeare the Thinker -- with Stephen Greenblatt's Will in the World and James Shapiro's A Year in the Life of William Shakespeare: 1599 -- is the best book on the subject in recent years."---Jeffrey Meyers, The Times Higher Education Supplement
"There are few who live and breathe Shakespeare the way Mr. Nuttall does here. A gifted writer, he can produce a myriad of effects and moods.  If you want to meet a master in perfect control of his medium, then look no further: this is beautiful English and an unhurried display of the glorious potential of language."— The Economist
"This stimulating and fascinating book will excite anyone with an interest in our greatest dramatist and poet." --- Robert Giddings, Tribune
"Comprehensive, insightful, lucid, and utterly fascinating. . . . More than a critical tour de force, this title is an indispensable guide to reading and comprehending Shakespeare's artistry, one that will benefit beginners as much as tenured professors. . . . Essential."—Choice
'Ranging widely in its frame of reference, which encompasses popular culture -- films and television programmes -- as well as a broad spectrum of European literature and thought, it offers a highly personal and deeply imaginative reading of Shakespeare's plays and its investigation of intellect that produced them.'  - Stanley Wells, The Shakespeare Bookshop Newsletter
"This is a brilliant, deeply learned, deeply human reading of the major plays of Shakespeare. . . . [A] rich and compelling book."—Peter Walpole, Virginia Quarterly Review
"...Shakespeare was an intellectual writer and A.D. Nuttall makes us repeatedly aware of this as he reads his way through the Complete Works.  This critic was himself a "thinker" and an omnivorous reader of books, new and old.  His last book is full of ideas relevant to the plays and keen questions about meanings: it should be in every Shakespere reference library and on the shelves of anyone who attempts to penetrate to the origins and consequences of Shakespeare's thinking."  - John Russell Brown, Around the Globe
"The book is the culmination of Nuttall's lifetime thinking about Shakespeare, and the work by which his remarkable originality as a critic will no doubt be most widely recognised. . . . Nuttall's readings force one to look at the plays again with fresh curiosity, and convey, like the plays themselves, the sense of a person of high intelligence perpetually thinking. This is an exceptional book, to rank alongside the finest Shakespearian criticism of recent years. Read it if you can."—Ian Donaldson, Australian Book Review
"Just when you think nothing more can be said about Shakespeare that is new and insightful; A.D. Nuttall comes along and proves you wrong. His introduction alone is stellar in its explanation of how Shakespeare's youth sowed a seed in him that grew to make him one of the greatest playwrights of all time. Nuttall cracks Shakespeare out of his sixteenth century shell and makes him relevant to today's readers by showing how Shakespeare created his characters, breathed life into them and gave them souls replete with emotion. Nuttall's knowledge of Shakespeare is exhaustive and thought provoking allowing you to come away from this volume with a greater understanding of Shakespeare's works. I recommend this book for all public libraries."—Tina Maria Beaird, University Press Books (Outstanding title for 2008)
"Nuttall is an engaging scholar who brings to bear his wide-ranging knowledge of history, theory and classical literature. . . . His readings are nothing short of brilliant. . . . Nuttall makes a convincing case for the 'single remarkable mind' that Shakespeare was. As he says, 'Shakespeare wrote Shakespeare.' Readers will find it difficult, at the end of this lively and provocative study, to disagree."—Sarah Kennedy, Shenandoah
"A pleasure to read."—Grace Tiffany, Christianity and Literature
"This is a book that should be in your library."—Kirk Rasmussen, Rocky Mountain Review
"Highly satisfying. . . . An effortlessly authoritatively, effortlessly wise book that should be on everyone's short-list of Shakespeare introductions."—Peter J. Leithart, Books and Culture
"An important and compelling contribution to Shakespeare studies. . . . Readers get a beautifully organized discussion of plays in roughly chronological order. An extra bonus of Nuttall's book is his wonderfully apt and fully relevant digressions on important topics, truly helpful for students trying to understand Shakespeare's intellectual and historical background. . . . Shakespeare the Thinker reveals Nuttall the thinker—and reader, teacher, and explicator—at his very best."—Peter G. Platt, Studies in English Literature: Tudor and Stuart Drama
"Many crisp insights."—Anthony DiMatteo, College Literature
'The much-loved [Nuttall]…offers a deeply wise defence of the playwright's creative intelligence against academic conspiracy theories.'
"Everywhere in this admirable book commonsense is in charge and often produces permanent insights."—Peter Holbrook, Modern Philology
Selected as an Outstanding Academic Title for 2007 by Choice Magazine
Selected as an Outstanding Academic Title, 2008 AAUP University Press Book for Public and Secondary School Libraries.
ISBN:
9780300136296
Publication Date:
April 1, 2008
448 pages, 6 1/8 x 9 1/4
1