Dazzled and Deceived
WARNING
You are viewing an older version of the Yalebooks website. Please visit out new website with more updated information and a better user experience: https://www.yalebooks.com
Peter Forbes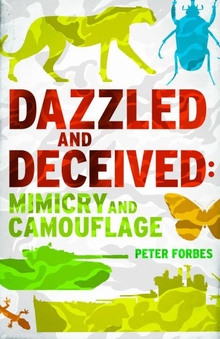 View Inside
Format:

Cloth


Price:

$40.00
Also Available in:
Paper
Out of Print
The remarkable story of how mimicry is used by some of the most extraordinary creatures in the world

Nature has perfected the art of deception. Thousands of creatures all over the world—including butterflies, moths, fish, birds, insects and snakes—have honed and practiced camouflage over hundreds of millions of years. Imitating other animals or their surroundings, nature's fakers use mimicry to protect themselves, to attract and repel, to bluff and warn, to forage, and to hide. The advantages of mimicry are obvious—but how does "blind" nature do it? And how has humanity learned to profit from nature's ploys?
Dazzled and Deceived tells the unique and fascinating story of mimicry and camouflage in science, art, warfare, and the natural world. Discovered in the 1850s by the young English naturalists Henry Walter Bates and Alfred Russel Wallace in the Amazonian rainforest, the phenomenon of mimicry was seized upon as the first independent validation of Darwin's theory of natural selection. But mimicry and camouflage also created a huge impact outside the laboratory walls. Peter Forbes's cultural history links mimicry and camouflage to art, literature, military tactics, and medical cures across the twentieth century, and charts its intricate involvement with the perennial dispute between evolution and creationism.
As Dazzled and Deceived unravels the concept of mimicry, Forbes introduces colorful stories and a dazzling cast of characters—Roosevelt, Picasso, Nabokov, Churchill, and Darwin himself, to name a few—whom its mystery influenced and enthralled. Illuminating and lively, Dazzled and Deceived sheds new light on the greatest quest: to understand the processes of life at its deepest level.
Peter Forbes is a Royal Literary Fund Fellow at Queen Mary University of London.
"Dazzled and Deceived is surely destined to become a classic. Peter Forbes has written a compelling and fascinating history of mimicry and camouflage; but, much more than that, he persuades us that mimicry is at the heart of the story of evolution. He has found an exciting and novel way of presenting this ever-intractable story, and raises important questions which the theory of evolution has hardly begun to answer."—Christopher Potter, author of You Are Here: A Portable History of the Universe
"It is a long time since I read a book that gave me so much enjoyment and told me so much both about the animal world and about human ingenuity. This is a wonderful story, engagingly told." - Michael Ruse, author of Darwin and its Discontents
"From the great battle of life in nature to the great battlefields of human conflict, mimicry is one of the oldest and most effective tricks in all warfare.  In this fascinating synthesis of science, art and history,  Peter Forbes chronicles the marvellous and ingenious devices that evolution has produced and humans have designed to deceive foes. Dazzled and Deceived is a delightful journey into our growing understanding of how life imitates art." - Sean B. Carroll, author of Remarkable Creatures and The Making of the Fittest
"[A] unique story of mimicry and camouflage in science, art, warfare and the natural world."—Bookseller
A Recommended Book in the January 2010 issue of Scientific American.
"This is a fascinating exploration of the use of visual trickery to disguise the nature of objects both in the living world and in the military…Overall a wonderful topic that really hasn't been given enough coverage, especially given its importance in understanding the mechanisms of evolution better, and an excellent book. Highly recommended."— Brian Clegg, Popular Science
"In this excellent and wide-ranging book, Forbes makes the hidden histories of science recognisable."— Leena Lindstrom, Nature
'As a military historian I have had to ditch many boyhood passions, but fortunately the study of camouflage mixes nature with military history and art, and peter Forbes does full justice to this fascinating combination in Dazzled and Deceived … [He] tells brilliantly this exciting and colourful story with good anecdotes, bizarre characters and intriguing evidence.' — Tim Neward, Financial Times
'The natural armoury of deceptions as depicted in Dazzled and Deceived is astounding, and the history of research into the phenomenon is just as surprising … Forbes presents an authoritative account of research into mimicry, and brings it bang up to date with today's molecular studies. Cultural spin-offs of camouflage abound, and everything from Picasso's cubism to quixotic military attempts to disguise battleships and soldiers are covered.' — New Scientist
'Forbes tells brilliantly this exciting and colourful story with good anecdotes, bizarre characters and intriguing evidence.' — Tim Newark, Military Illustrated
'Here is a book with a wide horizon…Dazzled and Deceived is a fascinating account that provides a window into the biology of camouflage and mimicry along with an insight into the little known interactions between biologists and the military.' — Peter Smithers, Antenna
"Dazzled and Deceived tells a fine story. It is a delight . . . I unhesitatingly recommend the book to both scientists and nonscientists."--Steven Vogel, American Scientist

'In this well written and fascinating book, Forbes, a writer and journalist…portrays camouflage and mimicry as examples of how natural selection can act in subtle and surprising ways…This book is a delight to read and should open the eyes of readers to things which have been too well camouflaged for years.' — Hamish Kidd, Chemistry World
'An excellent book, scientifically precise in most cases, yet enjoyable for the broadest readership.' — Michael Heethoff, BAAE
"…An intriguing and fluent narrative….Forbes's emphasis makes this a distinctively British story."—Marek Kohn, The Independent
"[Forbes] sees with lovely clarity that nature, like art, is a bricoleur."—Veronica Horwell, The Guardian
"Forbes has succeeded in producing a book with a novel perspective on an oft-visited topic. . . . Dazzled and Deceived will prove an engrossing narrative of evolutionary biology as exemplified through the colors of animals, a topic that captivated the founders of the field and remains at the forward edge of genetics, evolution, and development today."—Edmund D. Brodie III, BioScience
"This is a book about scientific concepts; it's a book about art……an exciting read because Forbes does what all good storytellers do – he reveals and conceals in equal measure."—Michael Rosen, The Good Book Guide
"…. [A] remarkable book."—Judith Rice, The Guardian
"…. [An] enthusiastic study."—The Sunday Telegraph
Winner of the 2011 Warwick Prize for Writing
ISBN:
9780300125399
Publication Date:
December 1, 2009
304 pages, 6 x 9
16 pp. illus.