The Moscow Yiddish Theater
WARNING
You are viewing an older version of the Yalebooks website. Please visit out new website with more updated information and a better user experience: https://www.yalebooks.com
Art on Stage in the Time of Revolution
Benjamin Harshav; Documents translated by Benjamin and Barbara Harshav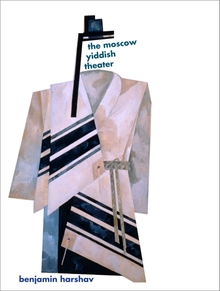 View Inside
Format:

Cloth


Price:

$50.00
A vivid portrait of the Moscow Yiddish Theater and its innovations and contributions to the art of the theater in the modern age
The Moscow Yiddish Theater (later called GOSET) was born in 1919 and almost immediately became one of the most remarkable avant-garde theaters in Europe. It flourished in the 1920s but under Bolshevik pressure soon lost much of the originality that had distinguished it. In 1948 Stalin's henchmen slaughtered GOSET's legendary actor and director Solomon Mikhoels, and the theater was liquidated. This book focuses not on how the theater was persecuted but on its ambitious beginnings as a revolutionary organization of passionate artistic exploration. The book brings to English readers for the first time selected writings that reflect the aesthetics and politics of the Yiddish revolutionary theater. The book also incorporates miraculously salvaged images of Marc Chagall's famous theater murals, as well as paintings of costumes and stage sets created by the best artists of the day. These illustrations, discovered only after the fall of the Soviet Union, have never been published before. With emphasis on the theater's early achievements and its centrality in Moscow's burgeoning theater world, the book makes a major contribution to the understanding of modern Jewish culture and the art of theater.
Benjamin Harshav is professor of comparative literature, J. & H. Blaustein Professor of Hebrew Language and Literature, and professor of Slavic languages and literatures, Yale University. He has published widely on Marc Chagall, Yiddish and Hebrew poetry, and literary theory, and in 2005 he was awarded the Emet Prize, the highest prize given in Israel for achievements in art, science, and culture. Barbara Harshav is a prolific translator from French, German, Hebrew, and Yiddish and teaches translation at Yale University. The Harshavs live in New Haven, CT.
"Professor Benjamin Harshav's exemplary book is a major contribution to learning and indeed teaching modern East European Yiddish culture through the rich prism of the Moscow Yiddish State Theater, one of its short-lived but immensely influential and lasting highlights."—Dov-Ber Kerler, Indiana University 
"Carefully curated and beautifully translated, this collection of manifestos, essays, plays, memoirs, programs, and criticism brings to life—with an immediacy that only primary sources can provide—the otherwise ephemeral performances of the brilliant Moscow Yiddish Art Theater and the contentious world in which they were created, experienced, debated, and remembered."—Barbara Kirshenblatt-Gimblett, University Professor and Professor of Performance Studies, Tisch School of the Arts, New York University

"Benjamin Harshav has produced an indispensable work for scholars and general readers. The Moscow Yiddish Theater, his restoration through essays and documents of a vital, energetic and haunted lost world, is a compelling tribute to the culture it describes."—Jonathan Wilson, author of Marc Chagall
"Benjamin and Barbara Harshav have assembled a remarkable treasure-trove about a unique Yiddish, cultural institution—a revolutionary, unorthodox theater—a compendium of historic photographs, rare brochures and program notes, two short pieced by Sholem Aleichem, distinguished, archival documents, prominent eyewitness diaries and short essays in Yiddish, Russian, Hebrew, French, German, English, Spanish, and Catalan by such luminaries as Stanislavky, Vakhtangov, Gorky, Chagall, Chaliapin, Toller, Mikhoels, Ben Gurion, Granovsky, and Yehoash. They include an extensive bibliography, a glossary of names, notes and commentaries. Written for the mayvinem and the serious scholar, it captures this innovative unorthodox stage art, and is a delightful read for everyone."—Edward Asner
"At last, in their own words! The colorful voices and vibrant players of the Moscow Yiddish Theater come to life in this invaluable contribution to the study of modern Jewish culture. Combining rare first-hand accounts with original source material and meticulous scholarship, Harshav's work lays the foundation for a new appreciation of the Yiddish theater—born of the modernist moment in its Jewish incarnation, home to Marc Chagall and Sholem Aleichem, and the lesser-known figures of Sh. Mikhoels and Abram Efros. This is a welcome and engrossing collection, much of which appears here for the first time in English translation."—Barbara Mann, author of A Place in History: Modernism, Tel Aviv and the Creation of Jewish Urban Space
"Founded by Alexander Granovsky in Petersburg in 1919, the theater would soon be heralded as one of the supreme avant-garde theaters in Europe, as Harshav's illuminating book The Moscow Yiddish Theater makes abundantly clear. . . . [It] begins with two essays by Harshav, one on the Yiddish art theater and the other on Chagall's theater murals and continues with some 20 articles, memoirs, and reviews written by various luminaries in the arts in Europe and Russia. Many color plates of Chagall's works, various costumes, and black-and-white photographs of actors and stage settings enhance the book. . . . A valuable and imaginatively presented work, with a plethora of fascinating first-hand source documents."—Curt Leviant, Jewish Standard
"Three decades ago, Nahma Sandrow chronicled briefly the tragic rise and fall of the Moscow Yiddish Theater. . . . Since then, theater historians have been waiting for an appropriate sequel. It has arrived, in Harshav's nearly perfect book. . . . The definitive work in the field. . . . Essential."—Choice
"This attractive volume includes an abundance of photographs of GOSEKT and GOSET productions, as well as color reproductions  of costumes and decorations. . . . The Moscow Yiddish Theater is an invaluable sourcebook, and is highly recommended for research collections."—Association of Jewish Libraries Newsletter
"This valuable book speaks to a broad range of current interest in and beyond Russian studies. It is also a visual treasure, filled with never-before-published GOSET costume and stage designs by Soviet artists major and minor, for which readers owe a debt of gratitude to Yale University Press."—Kenneth Moss, Russian Review
"From now on, our students do not have to rely solely on secondary sources in order to understand the work of the most important Jewish cultural institutions of the Soviet Union. Scholars also benefit from having an important reference source at their fingertips."—Anna Shternshis, Slavic Review
"… it's astonishing to read about the avant-garde work produced by the Moscow Yiddish Theatre during the 1920s … Colour plates showcase marvellously vivid and playful designs by Chagall and also Itshak Rabinovich … it's worth searching out this book …" - Plays International Magazine
"Harshav's book is a fine source for scholars of Yiddish culture of the twentieth century, Jewish theater, Russian avant-garde artistic and theater experiments, and the history of GOSET. A range of diverse materials, originally written in Russian, English, German, Yiddish and Hebrew and located in dozens of archives and libraries around the world, can be now found under one cover supported by excellent commentary and within easy reach."—Marina Aptekman, Slavic and East European Journal 
"[Harshav] painstakingly details important aspects of GOSET by dividing the collection into eight categories encompassing the theatre's programme, its reception in the West and its aesthetics vis-à-vis Soviet culture, the European avant-garde, and Jewish tradition. . . . [The] collection offers a colourful and multifaceted portrait of the theatre that espoused both tradition and innovation, and for two decades effectively fused cultural past with revolutionary aesthetics in a perilous political climate."—Julia Listengarten, Theatre Research International
Selected by Choice magazine as an Outstanding Academic Title from 2008.
ISBN:
9780300115130
Publication Date:
January 9, 2008
248 pages, 7 x 9 1/4
43 b/w + 39 color illus.