The Painted Face
WARNING
You are viewing an older version of the Yalebooks website. Please visit out new website with more updated information and a better user experience: https://www.yalebooks.com
Portraits of Women in France, 1814-1914
Tamar Garb

Read this book online via the A&AePortal, our art and architectural history eBook platform. To learn more about how to access this book, please contact us.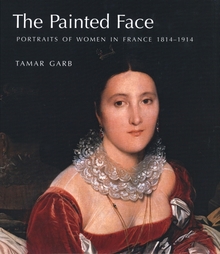 View Inside
Format:

Cloth


Price:

$70.00
Also Available in:
Art ePortal
The meaning of a painted portrait and even its subject may be far more complex than expected, Tamar Garb reveals in this book. She charts for the first time the history of French female portraiture from its heyday in the early nineteenth century to its demise in the early twentieth century, showing how these paintings illuminate evolving social attitudes and aesthetic concerns in France over the course of the century.

The author builds the discussion around six canonic works by Ingres, Manet, Cassatt, Cézanne, Picasso, and Matisse, beginning with Ingres's idealized portrait of Mme de Sennones and ending with Matisse's elegiac last portrait of his wife. During the hundred years that separate these works, the female portrait went from being the ideal genre for the expression of painting's capacity to describe and embellish "nature," to the prime locus of its refusal to do so. Picasso's Cubism, and specifically Ma Jolie, provides the fulcrum of this shift.
Tamar Garb is Durning Lawrence Professor of Art History, University College London. She is the author of, among other books, Sisters of the Brush: Women's Artistic Culture in Late Nineteenth-Century Paris, published by Yale University Press.
"In galleries or books we often look through portraits rather than at them, straining to reach the sitter's core of character while ignoring the factors that led to that place at that time.  Tamar Garb's study of portraits of women in France from 1814 to 1914 is lavish in its biographical detail of subjects and artists alike...a richly contextualized story of the fast-changing century that opens with Ingres and David and closes with Picasso and Matisse."---The Independent
"The excitement, the heroism, of Parisian painting just before the First World War provides a rouing finale to Tamar Garb's The Painted Face."  - Timothy Hyman, Times Literary Supplement
ISBN:
9780300111187
Publication Date:
September 26, 2007
288 pages, 9 x 11 1/2
140 b/w + 70 color illus.